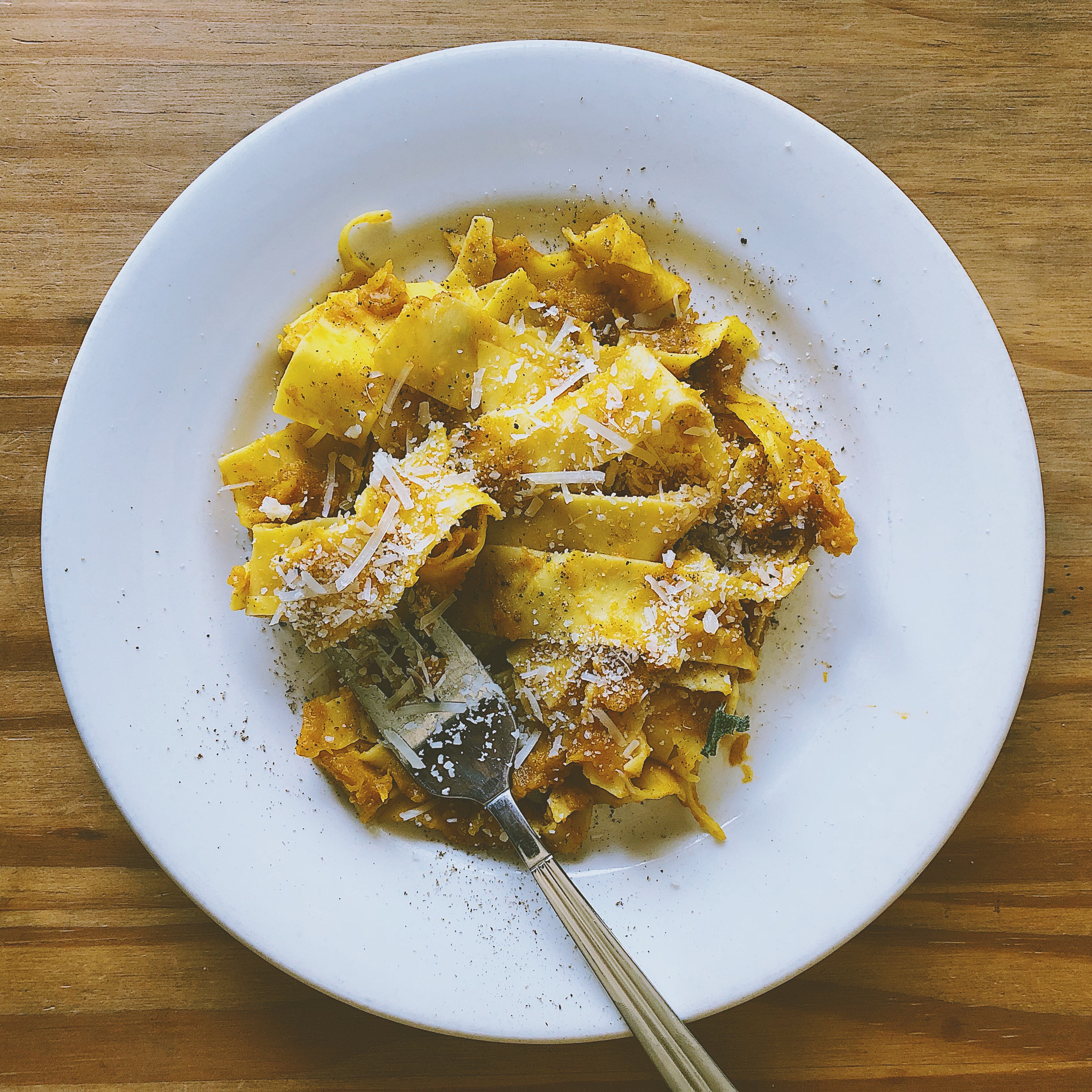 Now that it's October, all I do is dream of butternut squash, pumpkin, and sweet potato recipes. All orange everything. The holiday season is approaching and it is literally the worst time for a foodie like me to be a student, let alone a law student. Between eating and cooking and cooking and eating, who has time to become an expert on intestate succession? Me. That's who. I make time. But, hey you gotta eat right?
This pasta is super simple. The pasta takes about 5 minutes to boil al dente and the for the sauce, you roast the butternut squash and just throw everything else in the pot with it. Toss the pasta in the sauce and serve as a side or an entrée.
Butternut Squash and Sage Pappardelle
equipment | immersion blender (optional)
Ingredients
1 small-medium (about 1.5 to 2 lbs) butternut squash
2 tbsp olive oil
1 sprigs fresh sage
1 tsp salt + more for roasting
1 tsp freshly ground black pepper + more for roasting
250 g (about 9 oz.) egg pappardelle pasta
1 cup chicken stock
1 tbsp heavy cream (or half & half, milk, or coconut milk)
2 tsp ground sage
freshly grated parmesan, for serving
Directions
Step 1

To Roast the Squash: Preheat oven to 375 degrees. Line a baking sheet with aluminum foil. Cut the squash, separating the neck and the bulb. Cut both the bulb and neck of the squash in half and scoop out and discard the seeds from the bulb. Brush each half with 1/2 tablespoon of olive oil. Sprinkle flesh with salt and pepper and stick a sage leaf into each side. Set aside the remaining leaves on the sprigs. Place the squash flesh-side down on the baking sheet and roast for 50 minutes to an hour, until tender. Remove squash from oven and let cool. Scoop out flesh into a saucepan. Discard peeling and sage.

Step 2

Bring about 2 liters of water to a boil in a large pot. Add pasta and boil for about 5 minutes until al dente. Drain immediately and drizzle with olive oil to keep noodles from sticking. Set aside.

Step 3

Pour chicken stock into to a saucepan and turn heat to medium. Fully combine squash and stock by stirring and mashing any chunks of squash. If using an immersion blender, blend squash and chicken stock mixture for about 1 minutes until smooth. Add cream and continue stirring slowly for about a minute. Add remaining sprigs of sage, 1 tsp salt, and 1 tsp black pepper and turn heat to low.

Step 4

Toss pasta in sauce and serve immediately. Top with the remaining fresh sage (chopped) and parmesan.