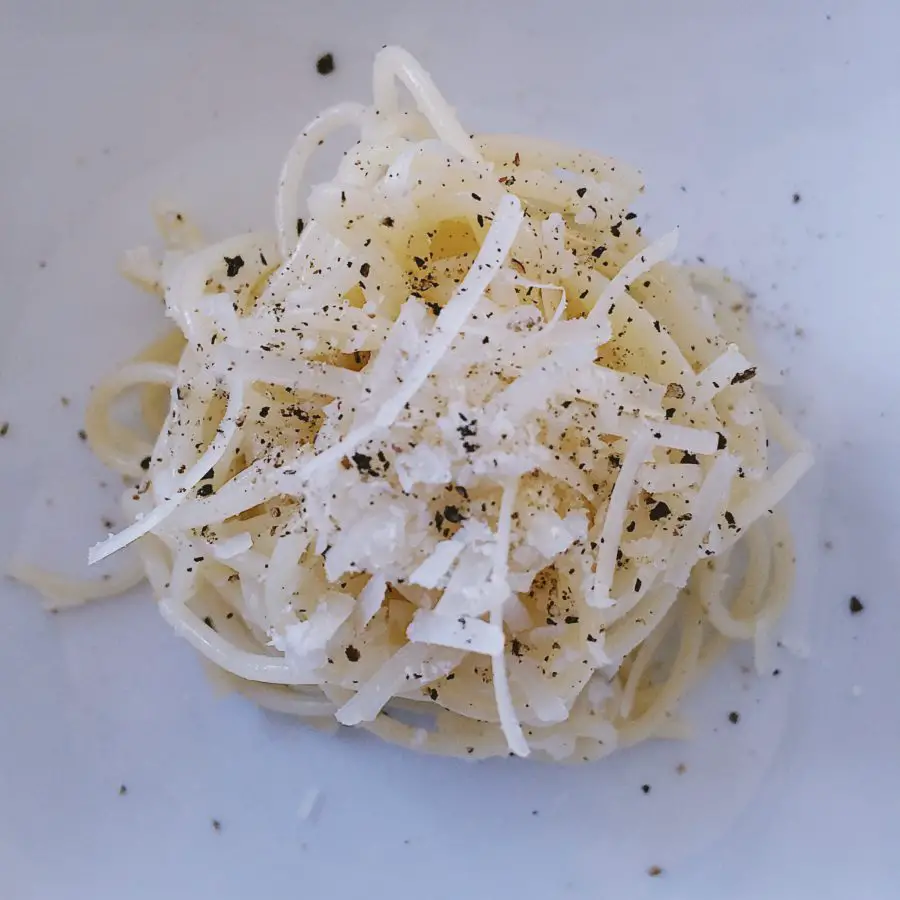 When I was a kid, I was obsessed with pasta. Okay tbh I still am. I LOVE PASTA (Oprah's "I Love Bread" voice). Cacio e Pepe, which means "cheese and pepper" in Italian, is something I've been making before I even knew it was a thing. Forreal forreal, boiling pasta and adding some salt, pepper, and parmesan is a quick way to satisfy a pasta craving. Here, I've added some effort to the dish by adding a slight truffle taste. I've also added some lemon juice to the pasta while boiling. This is something I do just about every time I cook pasta, not just for cacio e pepe. I promise the pasta won't have a citrus-y taste, but the lemon juice will perfectly enhance the flavor of the pasta. Tip: Gluten-Free Option | easy—sub out the regular pasta for gluten free pasta.
Many cacio e pepe recipes are made with pecorino romano, but I personally prefer the parmesan. Of course, feel free to substitute the parmesan for pecorino romano.
Cacio e pepe
September 17, 2017
: 4 to 6
: 15 min
Ingredients
2 tbsp salt + another 2 tsp
12 ounces capellini pasta
juice of 1/2 lemon
1/2 tbsp black truffle oil
2 tsp garlic powder
2 tsp freshly ground black pepper, plus more to taste
3/4 cup freshly frated Parmigiano–Reggiano cheese, plus more for serving
Directions
Step 1

In a large pot of salted boiling water (about 1-2 tbsp salt), cook the pasta al denta according to the package directions. Immediately after adding the pasta to the salted water, add the lemon juice to the pot of boiling pasta. Once pasta is cooked, drain the pasta using a colander and return pasta to the large pot.

Step 2

While pasta is still warm, drizzle with truffle oil and toss. Add salt, garlic powder, and pepper and continue tossing pasta. Add in the parmesan, toss lightly, and serve. Top with parmesan and black pepper to serve.