There's a special place in hell for women who don't help each other. —Madeleine Albright
As an avid self-proclaimed foodie, I don't know if I'm allowed to say this . . . but, I love cookbooks that focus on more than just food. Cherry Bombe celebrates Women + Food via its biannual magazine. But, it's the release of the Cherry Bombe cookbook that has been much anticipated in food-dom. It's a beautiful compilation of recipes and stories from 100 of the most creative and inspiring women in food today.
The book features cherished recipes from Chrissy Teigen, Padma Lakshmi, and Joy the Baker. One of my personal favorites is the Shroomy Cheeseburger with Maple Thyme Caramelized Onions. 
. . . Not to mention, it's pretty and pink, and looks hella good on my bookshelf.
Disclaimer: I made several small modifications when I made this burger. I'll walk you through them, but the original recipe found in the book is reproduced below. First, I wouldn't say that my mushrooms were "finely shredded." I gave them a nice chop. If you're not lazy like me, try to chop them several times to get them as small as possible. Mine were about the size of a chickpea and the mushroom flavor was really defined, which I didn't mind. If you want the mushrooms to become one with the burger, chop them a bit smaller.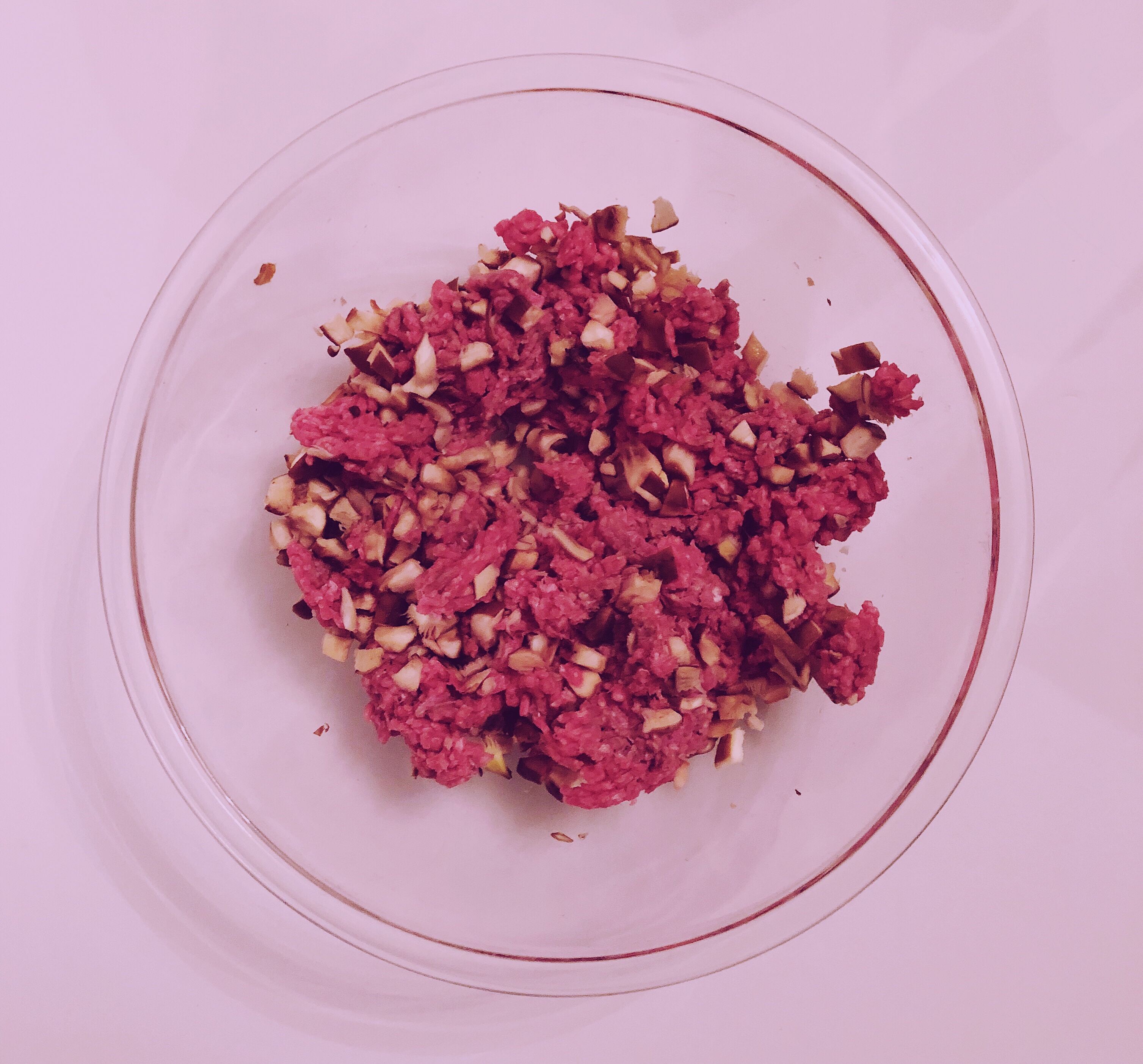 I also added about 1/2 tablespoon of olive oil into the mixture just to add some moisture. I also added a few shakes of pepper and some garlic powder (about a teaspoon). Per the recipe, once I prepared the burger mixture, I popped it in the fridge while I prepared by onions. Caramelized onions with maple? AND thyme? Sign. Me. Up. I literally had to stop myself from eating these before the burgers were ready. If you want to gradually add a bit more sweetness to your onions, add an extra teaspoon or so, or sprinkle some brown sugar right before moving them from the heat.
For the toppings, I opted for barbecue sauce atop my burger. I also used a buttery brioche bun, which I highly suggest.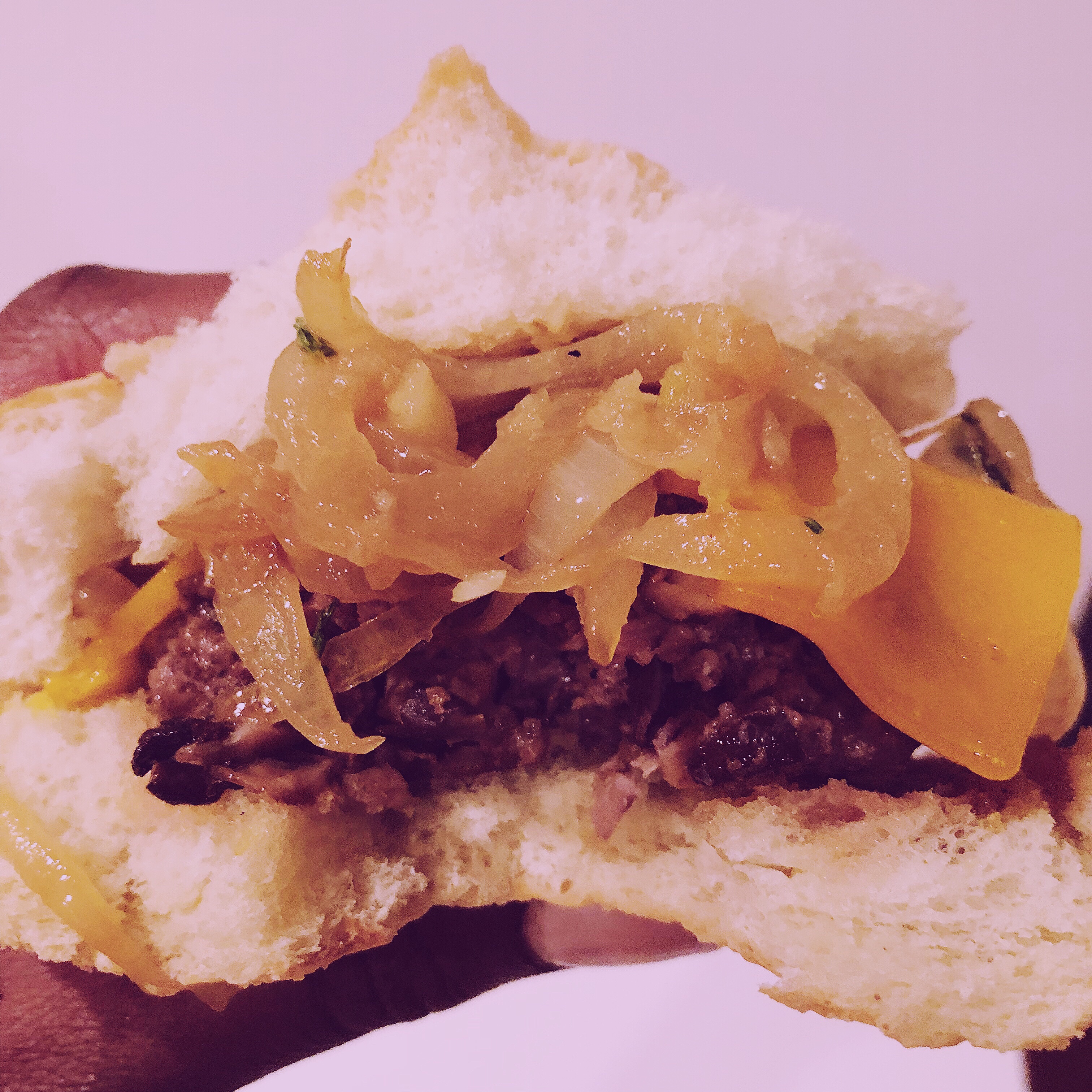 Shroomy Cheeseburger with Maple Thyme Caramelized Onions
Recipe by Erin Fairbanks
Ingredients
4 ounces button mushrooms, finely shredded
1 pound ground beef, 80/20 lean-to-fat ratio
Kosher salt
4 tablespoons (1/2 stick) unsalted butter
2 large Vidalia onions, thinly sliced
3 tablespoons maple syrup
2 tablespoons balsamic vinegar
2 garlic cloves, minced
1 teaspoon kosher salt
Freshly ground black pepper
1 teaspoon lemon zest
1 tablespoon fresh thyme, finely chopped
Kosher salt and freshly ground black pepper
4 slices cheddar cheese
4 burger buns
3 tablespoons mayonnaise (optional)
1 tablespoon ketchup (optional)
4 butter lettuce leaves
Directions
Step 1

Make the burgers: In a medium bowl, mix the mushrooms, beef, and a pinch of salt until well combined. Refrigerate the mixture for about 1 hour.

Step 2

Meanwhile, make the caramelized onions: Melt the butter in a large skillet over medium-high heat. Add the onions to the pan, turn the heat to medium low, and cook, stirring frequently, for 20 minutes, until the onions are soft and translucent but not browned.

Step 3

Add the maple syrup, vinegar, garlic, salt, and some pepper to the pan. Cook for 20 to 30 minutes more, or until the onions are soft, brown, and caramelized. The slower you cook them and the lower the heat, the better. When done, turn off the heat and stir in the lemon zest and thyme. Taste and season with a pinch more salt if necessary.

Step 4

Preheat oven to 350 degrees.

Step 5

Shape and cook the burgers: Remove the meat from the fridge and heat a cast-iron skillet over medium-high heat. Form the meat into 4 equal patties. Sprinkle the top and bottom of each with a pinch of salt and pepper.

Step 6

Drop your burger patties into the hot ungreased pan. Cook for 3 minutes, rotate the burgers (don't flip them yet), and cook for 1 minute more. Once the burgers have a nice dark-brown crust, turn down the heat slightly, flip the burgers, and cook to your liking, 2 to 4 minutes more. Place a slice of cheese on top of each burger halfway through. Remove the burgers from the pan, set on a plate, and loosely cover with aluminum foil. Allow the burgers to rest for 3 to 4 minutes.

Step 7

Split the buns, place them cut-side down on a baking sheet, and toast in the oven for 3 to 5 minutes. Meanwhile, in a small serving bowl, mix together the mayonnaise and ketchup (if using). Smear the mayonnaise mixture on one side of each bun, top with a lettuce leaf, then a burger, and finish with a big spoonful of onions.
I received this book from the Blogging for Books program in exchange for this review.