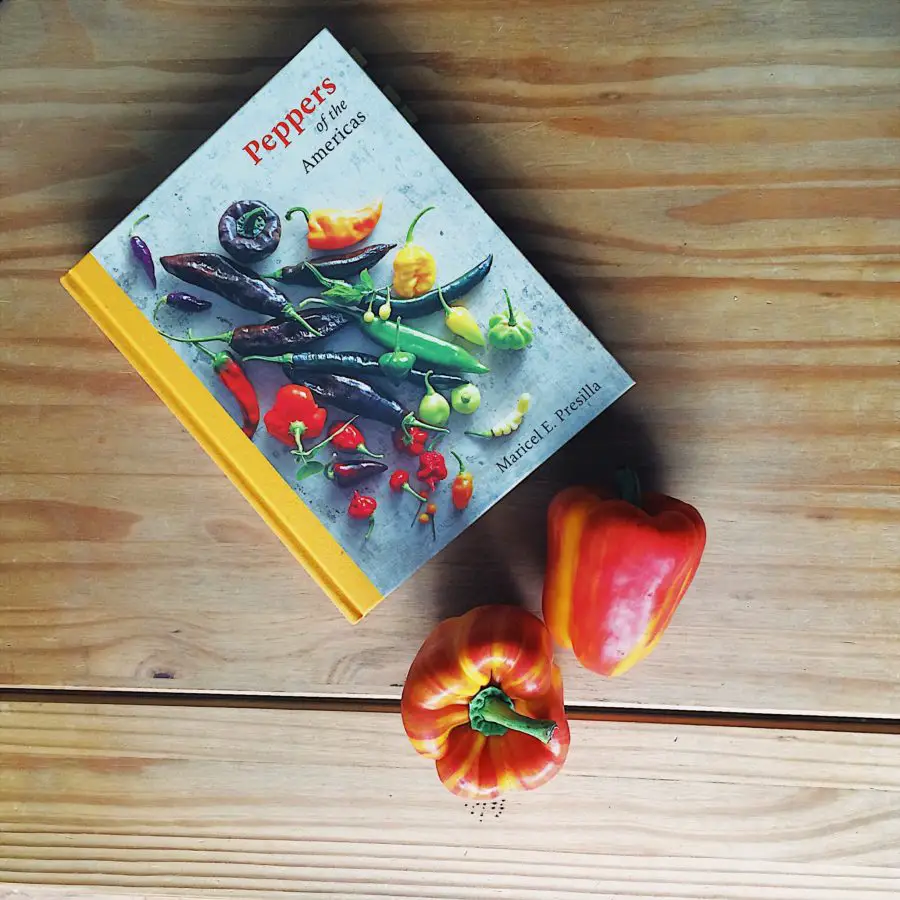 What surprised me about Peppers of the Americas is the number of pepper varieties that I did not even know existed. Not only do they exist, but they are all pretty distinct in there flavors. If you want a visually rich explanation of one of the most influential ingredients in the Americas, this is your book. From the Bolivian Rainbow pepper ornamental to the Peruvian Chinchi Uchu, Peppers goes through the characteristics of each pepper variety in great detail.
Although a bit complex, this all-inclusive ingredient book gives a pretty extensive and useful run down of all things peppers. The equipment used in the recipes and several of the ingredients can be a bit tricky to find. Don't worry, I've made this chimichurri recipe a bit more "basic" by offering Italian parsley as a substitute for the pepper leaves if you're unable to find them at your local market.
Funny story. Chimichurri has been the flavor of choice for my family's past three Thanksgiving dinners. I know Thanksgiving is months away but it's slowly becoming one of my favorite mixtures to top on chicken or turkey. After frying the turkey for the holiday, we finish the turkey with a chimichurri sauce to give it a little more flavor. It's delicious. So, I couldn't resist making a chimichurri sauce of my own and testing it over some cumin-rubbed chicken thighs—my favorite cut of chicken as they so easily keep moisture and flavor.  Quite frankly, I think it's nearly impossible to dry out a chicken thigh (although I am sure it's been done) especially when topped with an oil-based topping like chimichurri.
It came out perfectly. And I love it because it's easily adjustable. A sweeter-savory mixture is just as simple as a super spicy chimichurri. There's something for everyone. Roasting peppers on the other hand is something that scares people but shouldn't'. It's super easy and it's the perfect way to release the juices and flavors from a pepper. The Holland Bells are perfect served over a salad or some white rice.
---
Pepper Leaf Chimichurri Chicken
(adapted from "Pepper Steaks with Pepper Leaf Chimichurri")
Pepper Leaf Chimichurri
11 garlic cloves, finely chopped or pressed
4 oz / 115 g (1 small onion)
1 oz / 30 g finely chopped tender pepper leaves (or Italian parsley to substitute)
1 Tbsp finely chopped cilantro
1 Tbsp medium-hot ground red pepper (such as Korean, New Mexican red pepper flakes, panca peppers) or 2 tsp very hot cayenne
2 tsp ground cumin
2 tsp dried oregano
1/2 tsp hot or sweet smoked Spanish paprika (preferably pimentón de la Vera)
1/4 cup / 60 ml red wine vinegar
1 cup / 240 ml extra virgin olive oil
Roasted Bell Peppers
2 lb 3 oz / 1 kg (about 6) Striped Holland Bells (Enjoya Stripy Peppers)
1/4 cup / 60 ml extra virgin olive oil
Pepper Leaf Chimichurri Chicken. Preheat oven to 400 degrees. Season all sides of chicken thighs with cumin and salt. In a large skillet, fully cook on medium-high heat. Move chicken to a glass baking dish and cover with chimichurri. Finish in oven for about 10 minutes.
Blend the garlic, onion, pepper leaves, cilantro, ground red pepper, cumin, oregano, paprika, vinegar, and olive oil in a bowl and let rest for about 30 minutes.
Roaster Striped Holland Bell Peppers. Place whole peppers on a baking sheet and broil for about 20 minutes. Remove from oven and immediately cover baking sheet with foil or place peppers in a food safe plastic bag  for about 10 minutes to allow the peppers to steam (this will make it easier to peel off) the skin.
Peel peppers completely. Trim off about 1/2 inch from both tops and bottoms of the peppers. Remove the placenta and seeds. Make a slit along one side of each pepper so that you can unfold the body into a strip. Trim any prominent veins. Spread peppers flat on a baking sheet, skin side down and season with salt on both sides.
Heat olive oil in 12-inch skillet over medium hear. Add peppers to pan and panfry for 2 to 3 minutes, basting with about 1 tbsp of the chimichurri until golden and lightly charred in places. Serve with remaining chimichurri on the side.
I received this book from the Blogging for Books program in exchange for this review.