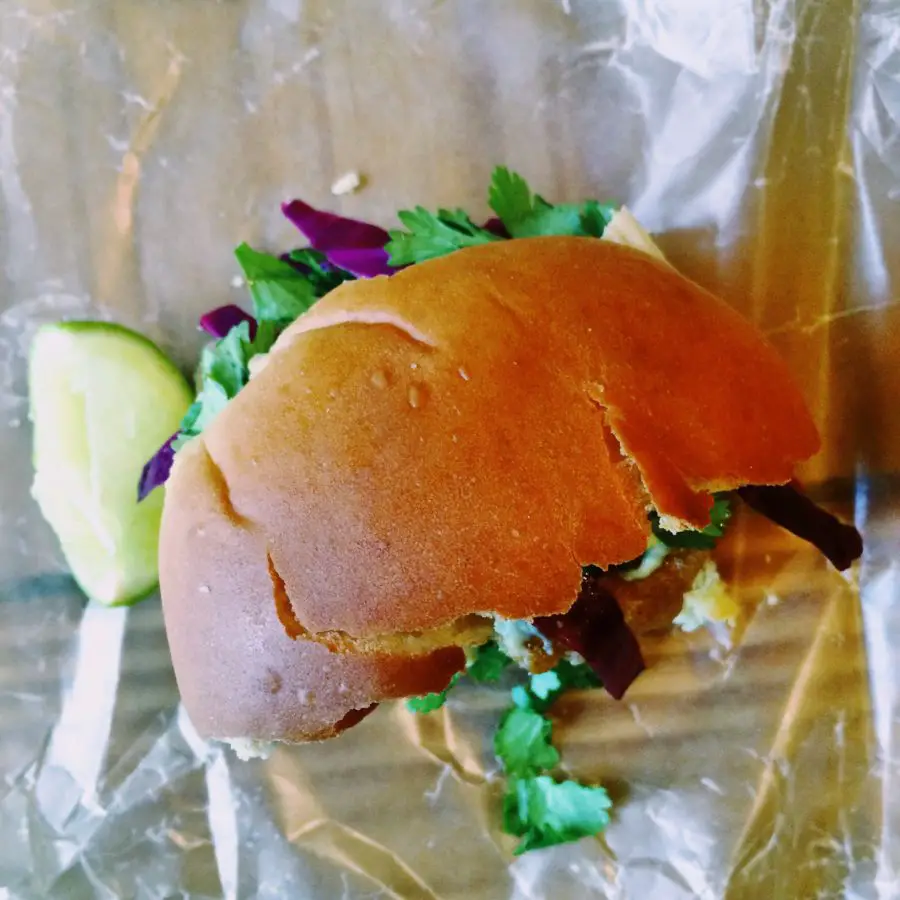 ---
Fishwich w Cabbage Slaw + Avocado Tartar Sauce
Fried Fish
vegetable oil or canola oil (for frying)
Filets of Cod (or a similar white fish, like Haddock)
1 cup flour
1 1/4 cup cold beer or sparkling water
1 tbsp cajun seasoning + 1 tsp
salt + pepper
Cabbage Slaw
1/2 purple cabbage round, sliced into strips
1/4 green cabbage round, sliced into strips
juice of 1/2 lime
salt + pepper to taste
Avocado Tartar Sauce
1/2 ripe avocado
1 cup mayonaise
1 tbsp dijon mustard
1 tbsp sweet relish
1 tbsp diced yellow onion
—
Brioche buns (or your favorite hamburger bun)
butter (optional)
fresh cilantro
Cabbage Slaw. In a small glass bowl, toss cabbage with lime juice, salt, and pepper. Set aside.
Fried Fish. Pour oil into an electric fryer until the oil is about 1/4 inch deep. The bottom of the fryer should be completely covered.  Turn the electric fryer to the frying setting (usually, about 425 degrees) and cover.
While the oil is heating, combine flour and beer in a large glass bowl.  The batter should be like a soupy (similarly to a pancake batter), but not too thin. Stir in 1 tsp of cajun seasoning.
Season both sides of fish with remaining cajun seasoning, salt, and pepper.  Using kitchen tongs, dip each piece of fish into the batter until completely covered. Immediately transfer to fryer and cook 3-4 minutes. Turn over each piece and continuing cooking until golden brown. Remove fish from oil and place on a cooling rack and allow excess oil to drain off of fish.
Avocado Tartar Sauce. In a small glass bowl, mash the avocado until smooth. Add mayonnaise, mustard, and relish. Toss in onions.
The Final Touches. Preheat oven to 350. Spread buns on a baking sheet opened and face up. Lightly butter the inside of each bun and toast in oven for about 5-7 minutes, or until crisp to your liking. Top each brioche bun with a piece of warm fish, a slather of avocado tartar sauce, fresh cilantro, and some cabbage slaw. EAT.