I'm pretty sure everyone I know is just about sick of my diet changes. One minute I'm pescatarian, the next I'm posting snaps of the lamb chop I just ordered at STK. I know. It's annoying. This time I really am sticking to a pre-holiday cleanse. I am sticking to a vegan diet for the two weeks leading up to Thanksgiving and a low-animal product diet leading up to Christmas. I've increased my water intake and vowed to avoid coffee and alcohol until Christmas. For  law student preparing for exams, this is definitely a challenge. With that being said, I scoured my internet and my mom's recipe books looking for vegan recipes that looked somewhat exciting. I'm the person that rolls their eyes whenever something is labeled gluten-free, dairy-free, or basically food-free. The last thing I want is to spend the entire holiday season eating flavorless meals. I also don't want to spend a month feeding my body junk simply because it doesn't have animal product. Because, trust me, if I could I'd live off of bread and pasta for a month and be happier than ever. Over the past week I've forced myself to incorporate various ingredients and flavors into my diet and I LOVE it.
This soup is accidentally and naturally vegan meaning I take any additional steps or substitute any ingredients. That's the best kind of vegan recipe if you ask me. To be honest, I've always found lentil soups to be quite boring. But, this is at least one lentil soup I can get behind. It is one soup that my dad, who doesn't believe in meatless-meals, could not get enough of. It's a crockpot recipe that basically requires you to just dump everything in a let it cook. Even the lentils. I used red lentils which are cook pretty quick and require no pre-soaking. This soup gives off an aroma that is just as irresistible as the flavors. Its colors and comfort makes it perfect for the season.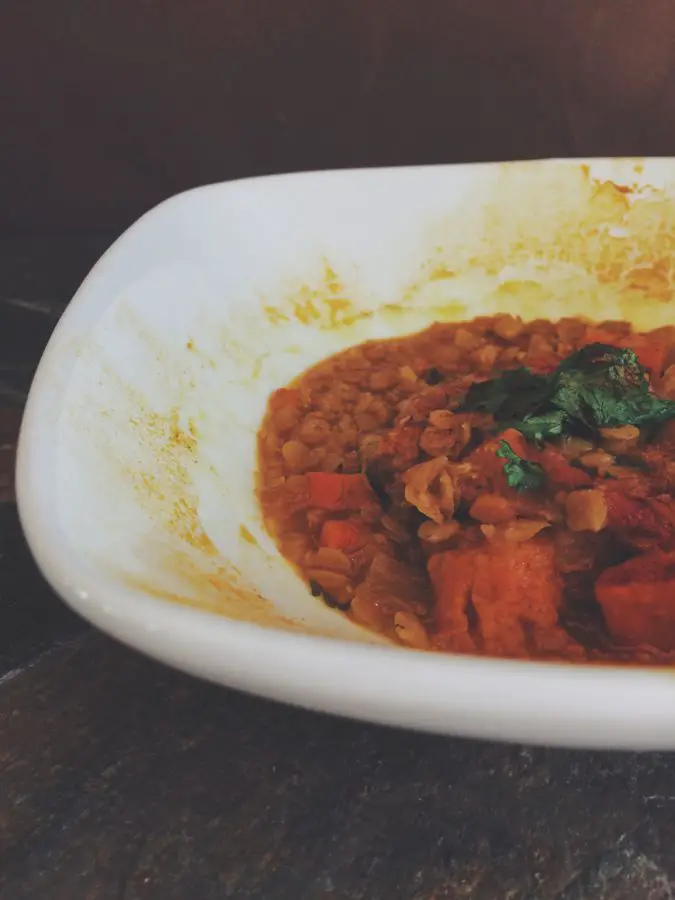 Moroccan-Inspired Lentil & Sweet Potato Soup
November 13, 2016
: 6 to 8
: 20 min
: 30 min
: 50 min
equipment needed | large crockpot (or, alternatively a soup pot)
Ingredients
2 tbsp olive oil
3 large carrots, diced (1 1/2 cups)
2 tsp turmeric
2 tsp cumin
1 tsp ground coriander
1 tsp smoked paprika
1 cup chopped yellow onion
1 tbsp fresh ginger, peeled and minced
3 cloves garlic, pressed
6 cups vegetable broth (1.5 QT)
1 can diced tomatoes (14.5 oz)
1.5 tsp ground cinnamon
salt and pepper, to taste
2 large sweet potato, peeled and diced into cubes
2 cups red lentils
1/2 cup fresh cilantro
Directions
Step 1

In a medium frying pan over medium-high heat, heat olive oil. Add carrots, turmeric, cumin, coriander, paprika and sauté 5 minutes.

Step 2

Add onion, ginger, and garlic and continue saute for 2 minutes.

Step 3

Add carrot mixture, vegetable broth, tomatoes, cinnamon, and salt and pepper to crockpot and turn crockpot on high.

Step 4

In the same frying pan, saute sweet potatoes on medium heat for about 7-10 minutes until slightly tender.

Step 5

Add sweet potatoes to crockpot, then add the raw lentils.

Step 6

Allow the soup to come to a simmer and cook for about 25-30 minutes, stirring occasionally until the lentils are tender and the potatoes have softened.

Step 7

After about 30 minutes, reduce the crockpot temperature to low and stir in the cilantro. The soup will continue to thicken as it cools.