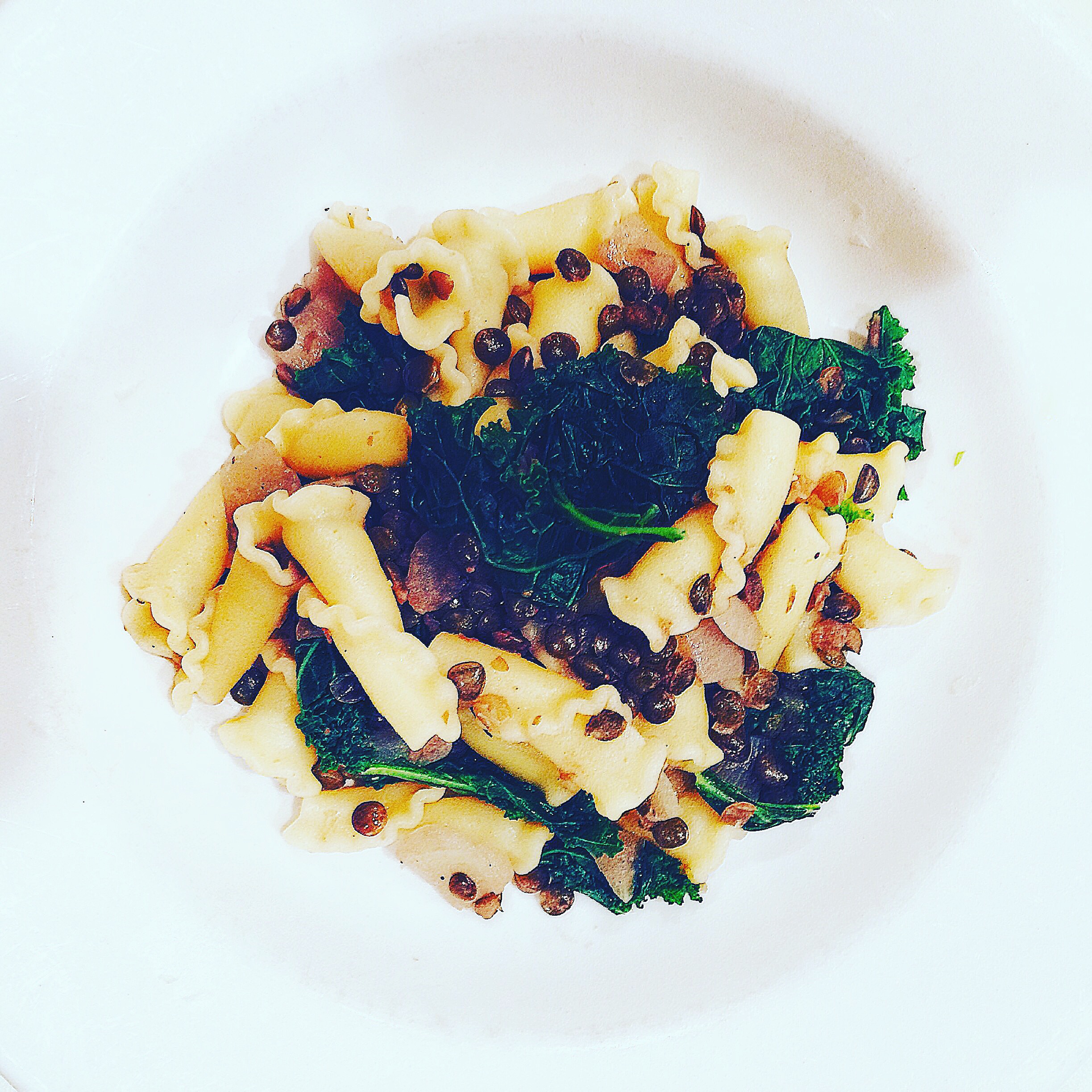 There was a time when I used to be obsessed with pasta. I don't think my obsession really ever went away, but for a good reason. Pasta dishes can range from being really simple and quick to intricate and complex, but both can be equally delicious. That's what I love. This pasta dish is pretty easy and on the healthier side (at least that's what I told myself), as there aren't too many ingredients and the recipe is adjustable. It can be vegetarian, and even gluten-free if the pasta is substituted.
A few things before getting started. Any time I use dry seasonings, I first place them in my hands and crush them into the dish that I am preparing. The oils and heat from your hand help to release the flavor and aroma of the seasonings. Tuscan kale (or lacinato kale) can also be used in this recipe. It's much smoother compared to the curly kale, but it has a slightly bitter taste. Because I always have an abundance of curly kale in my fridge, I used that instead. Lastly, and luckily, the French green lentils do not require soaking, only a quick rinse.
Pasta with Lentils & Kale
3/4 cup French green lentils
3 cups water
3 Tbsp extra-virgin olive oil
1 large sweet onion, finely chopped
3/4 to 1 lb kale
1 lb campanelle pasta
juice of 1/2 lemon
salt & pepper, to taste
pork or chicken Italian sausage (optional)
Toasted Parmesan Bread Crumbs
5 slices of sourdough bread
2 Tbsp salted butter
2 tsp garlic powder
2 tsp Italian seasoning
1/4 cup grated parmesan
Pasta with Lentils & Kale. In a medium saucepan, combine lentils, water, and a pinch of salt. Simmer uncovered until tender for about 20 minutes. Remove from heat. While lentils simmer, heat olive oil in a deep skillet over medium-high heat, then sauté onions with salt and pepper for about 1 minutes. Reduce heat to low and cook, covered, stirring occasionally for about 7 minutes. Remove lid and stir in lentils, including some of their liquid. While onions cook, de-stem the kale and coarsely chop leaves. Cook pasta in a large pot of boiling water until al dente, add salt and lemon juice to the boiling pasta. One minute before pasta is finished, stir in kale and boil. Drain pasta and kale in a colander and add the pasta mixture to the lentils and cook for about 1 minute. Top with bread crumbs and serve with Italian sausage (optional).
Toasted Parmesan Bread Crumbs. Preheat oven to 400º F. Place bread on a microwavable plate and place multiple thin slices of butter on each slice, microwave for about 30-45 seconds. Remove bread from microwave, bread should be saturated in butter (somewhat soggy). Transfer slices to a baking sheet and sprinkle with garlic powder and crushed Italian seasoning. Heat in oven for about 10 minutes. Remove bread from oven and, using your hand, break into smaller chunks. Place chunks in food processor and blend until the bread chunks become crumbs. Toss bread crumbs with grated parmesan and sprinkle over pasta.