There is literally nothing that I like more than to dump a whole bunch of seasonings in a bag full of chicken and go about my day. It's hand-off chicken. All the seasoning work is done through time and patience. It's the best.
Last fall, I bought a bottle of saffron on impulse. It was like $14 for a small test tube sized container (pictured below).
FOURTEEN DOLLARS.
That's when I found out saffron is like gold in culinary world. So this is like a 'Making Dinner for Bae' type of meal. Ya'll thought truffles and caviar were expensive? Nah. By ounce, saffron is the most expensive food in the world. Luckily, you don't need a lot of to change the game, so you won't be dropping truffle-type bread. Saffron comes in little reddish threads (never buy ground saffron) and it is extremely fragrant and strong. It is mostly used in rice dishes. If you've ever had an authentic paella, you've probably tasted saffron. To release its flavor, it's best toasted or soaked (to create a saffron liquid) before incorporated into any dish.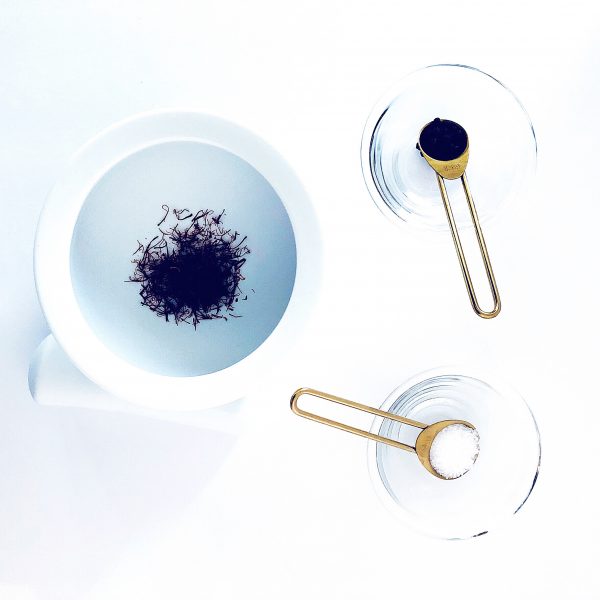 Preparing the Saffron Spice Blend
A mortar and pestle is the best way to prepare your saffron for the main event. Funny story though. I picked up this porcelain mortar and pestle for about 8 bucks at Home Goods. The lady at the check out shaded me slightly. As I was paying for my stuff, she was like "I always see these things and I'm like what in world to people use these for?!" LOL. I've never been so offended and flattered at the same time. Flattered because obviously I guess I am a chef genius in the kitchen who uses a mortar and pestle on the regular (if I don't call myself a chef genius, who will?). But actually kinda offended because I don't feel like this is a crazy thing to have in your kitchen . . . no? maybe? It probably is a bit obscure, but who cares. Shrugs and saffron. Quite frankly, I think it is an underused kitchen tool. Grinding spices with a mortar and pestle releases the flavor from spices in a way that cannot even compete with just sprinkling them straight outta the container.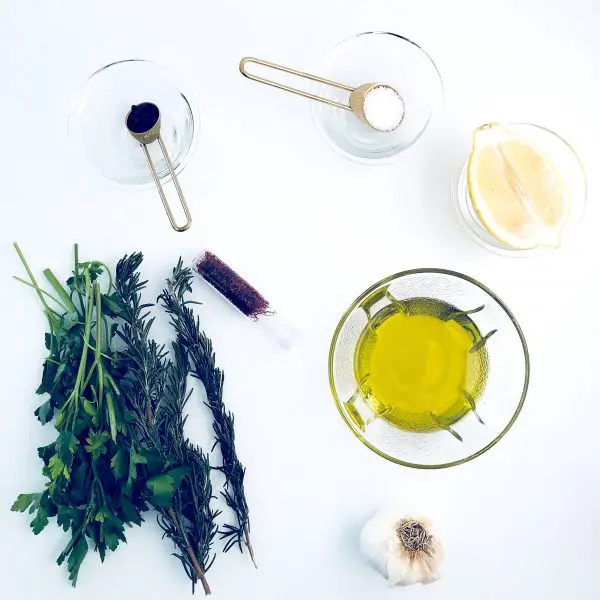 If you haven't had a chance to pick up a mortar & pestle of your own–no worries at all. I have m&p and non-m&p directions (for those of you who secretly agree with the lady at Home Goods).
Mortar & Pestle Users : You know what to do. After toasting the saffron, add it to the mortar and pestle along with the coarse salt and whole peppercorns. Grind until the blend reaches a fine consistency.
Non Mortar & Pestle Users : If you're using coarse salt and whole peppercorn, place them in a small plastic ziploc bag with the saffron. Using a blunt object, like a rolling pin, a cast iron pan, or a strong coffee mug, to grind the spices into a finer grain.
Another replacement for the mortar and pestle is to combine the saffron with fine-grain versions of salt and pepper (fine salt and freshly ground pepper) in a small bowl and use the back of a spoon to blend the spices and release the flavors.
Marinading the Chicken
Once you have the spice blend ready to go, you can start preparing the chicken for marinade. I bought a whole chicken that was already divided into pieces. Less work for me. I placed the chicken in a large gallon-sized plastic bag and added all of my marinade ingredients to the bag. Seal the bag tight and swish the seasonings and liquid around to make sure each piece of chicken gets all that seasoning. Leave no chicken unseasoned.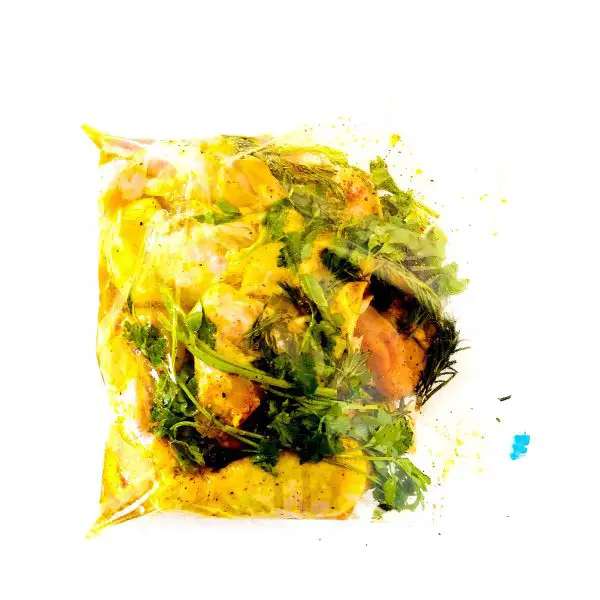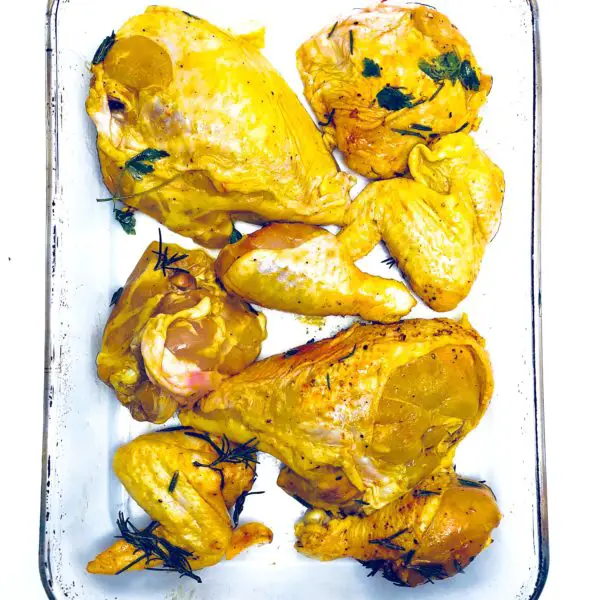 Roasting the Chicken
When you are ready to roast, lightly grease a large glass baking dish–large enough to not overcrowd the pan. Each piece of chicken should be able to lay flat on the pan. Preheat the oven to 400 degrees. Sprinkle a pinch of kosher salt on the chicken and roast for 60 to 70 minutes.
Saffron Roasted Chicken
January 22, 2018
: 24 hr
: 1 hr 10 min
: 25 hr 10 min
Ingredients
whole chicken, cut in pieces
1 teaspoon saffron threads
1 teaspoon coarse kosher salt
½ teaspoon whole black peppercorn
6 tbsp olive oil
juice of half a lemon
7 cloves garlic, smashed
4 sprigs fresh Italian parsley
3–4 sprigs rosemary
a pinch of kosher salt
Directions
Step 1

In a small saucepan, toast the saffron on medium heat for about 2 minutes until fragrant. Transfer to mortar & pestle and grind into a fine spice blend. (If you do not have a mortar & pestle, transfer to a small bowl. Add salt and pepper—use fine-grained salt and freshly ground pepper instead. Using the back of a spoon, crush the spices together creating a spice blend. Set aside.)

Step 2

Place chicken pieces in a large, gallon-sized plastic Ziploc bag. Add olive oil, lemon juice, spice blend, garlic, parsley, and rosemary. Seal the bag and swish the marinade around to evenly coat the chicken. Marinade for at least 24 hours and up to 2 days.

Step 3

When ready to cook, preheat oven to 400 degrees. Place chicken in a large glass baking dish. Sprinkle chicken with a pinch of kosher salt and bake for 60–70 minutes, until thoroughly cooked.