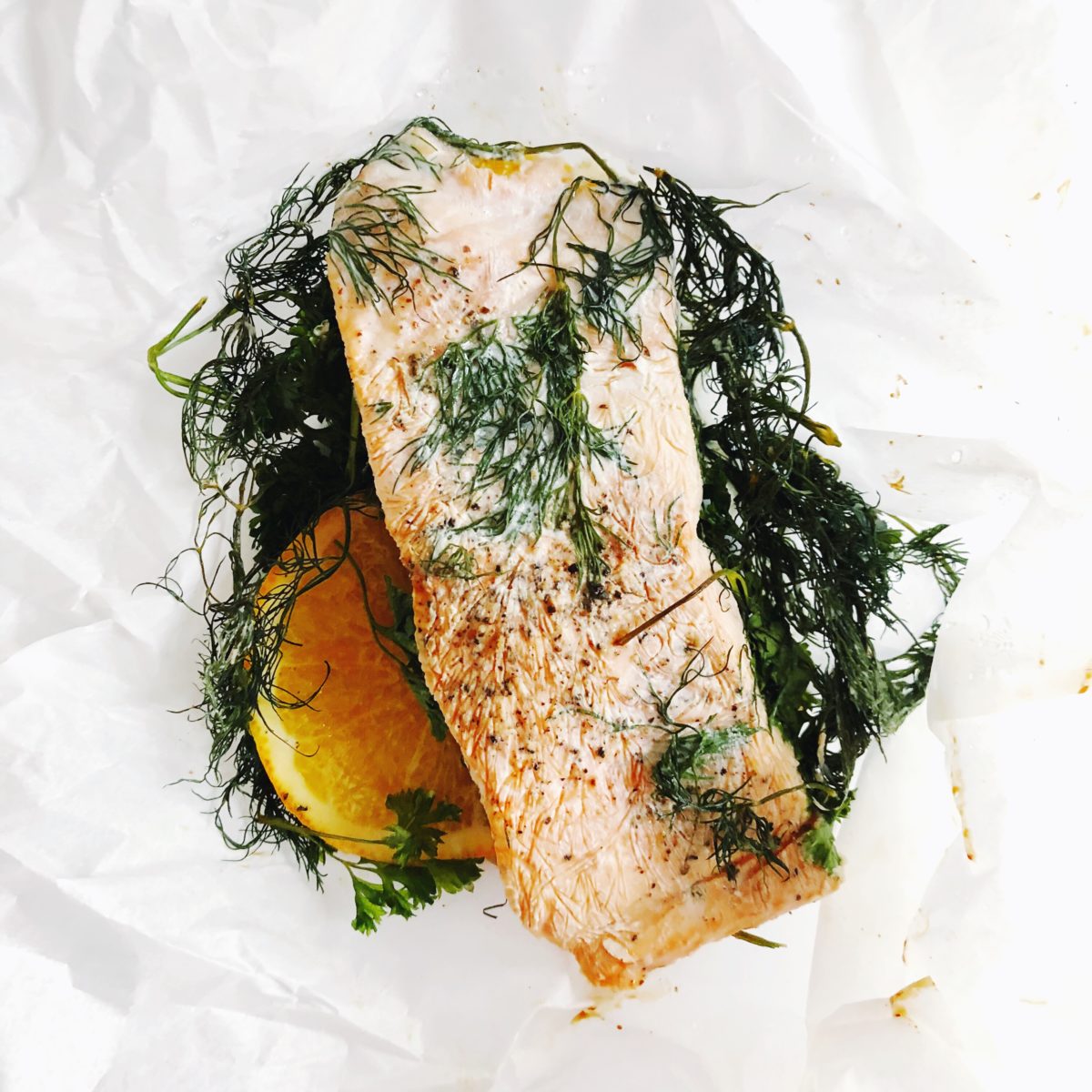 On Mondays, I eat healthy.
Usually after stuffing my face with junk all weekend. I can't be the only who does this. So, behold salmon en papillote, which literally means "salmon in paper." I love this version of salmon because it sounds much more complicated than it is. And, it cooks so quickly. The citrus and herbs add so much flavor, and the best part is you get to choose your own combo. I used fresh dill and parsley, and lemon and orange slices for my citrus, but pretty much any one works.
Salmon en Papillote
Ingredients
4 salmon fillets, at least 4 oz (skin-on preferred, but skin-off works too)
Salt and freshly ground pepper
Fresh herbs and/or cut vegetables
Slices of lemon and/or orange, and a half of lemon
Directions
Step 1

Heat the oven to 400 degrees. Cut 4 large square-shaped pieces of parchment paper, and place them aside.

Step 2

Preparing one fillet at a time: Fold a square of parchment in half down the middle. Add about 1/4 teaspoons olive oil to the paper and spread (optional). Place a fillet on one half of the paper, with seasonings and fruit garnishes. Using the lemon half, squeeze a few drops of juice onto the fillet. Fold the other side over and fold the edges of the paper in a pleat pattern to "seal" it closed (do not actually seal the paper closed with kitchen string or tape).

Step 3

Place the salmon packages on a sheet pan or in a large glass baking dish and bake for about 15 minutes, depending on how done you like your salmon.