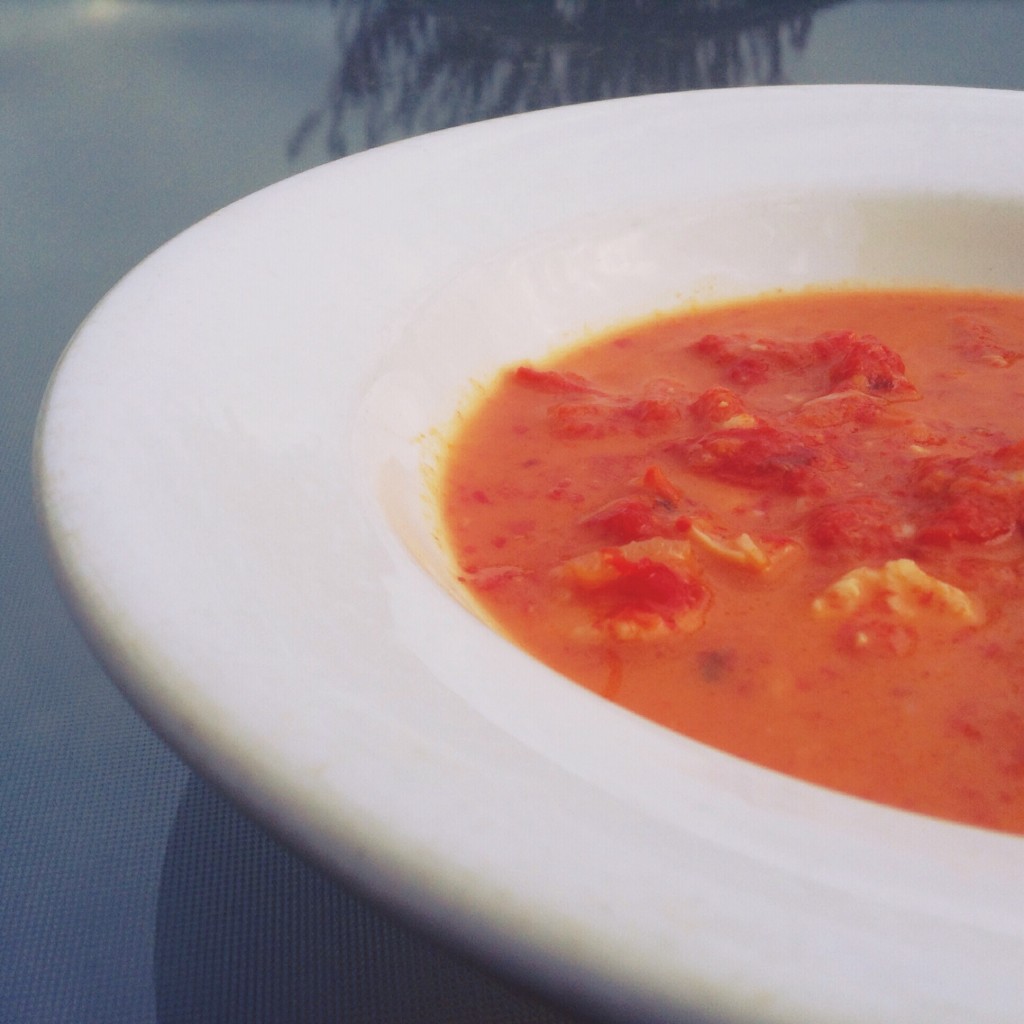 This decision to try this dish was inspired by my alma mater where this exact soup was served in the business school café and made to absolute perfection. And when I say perfection, students would line up outside of the door and around the corner just to get a bowl of this delicious savory soup.  I already knew that I would try this recipe a few more times given that it was the first time I ever used the broiler (for roasting the peppers) and  it's perfectly light for spring eating.
I used a medium, aged Gouda cheese that seemed to be perfect as an ingredient (versus smoked Gouda, which I think would have probably been a little too strong in this mild soup). However, the most difficult part about this soup is creating the perfect texture from the roasted peppers.
Takeaways | Less chunky and more creamy (without being milky), the more Gouda the merrier, smaller pieces of roasted red peppers create a smooth, yet more exciting texture
Test Kitchen is my perfect platform for sharing my culinary fails. I watch a ton of cooking shows, try a ton of recipes, and make a ton of mistakes. The last thing I want to do is give the impression that I'm a perfect or all-knowing cook. Because, trust me, that you weren't the only one who completely botched the recipe for the 3-tiered lemon blueberry cake you found on Pinterest. For some reason these dishes just didn't quite make it to the recipe index, either the pictures didn't come out to my liking, the taste was slightly off, or just because, I've decided to give these recipes another try on another day.
---

Test Kitchen est ma plat-forme idéale pour partager mes plantages culinaires. Je regarde à beaucoup d'émissions de cuisine, essaye beaucoup de recettes et fais beaucoup d'erreurs. La dernière chose que je veux faire est donner l'impression que je suis une cuisinière parfaite ou omniscient. Puisque, croyez-moi, vous n'étiez pas le seul qui a raté complètement la recette de la trois niveaux gâteau de myrtille et citron que vous avez trouvé sur Pinterest. Pour une raison, ces plats n'avaient tout simplement pas atteint à l'index de recette, soit les photos ne sont pas sorties à mon goût, le goût du plat était moins bon que d'habitude, ou tout simplement parce que, j'ai décidé de donner à ces recettes un autre essai sur un autre jour.
---
Click here to see the full recipe index
Also, be sure to follow along on Facebook, Bloglovin, & Instagram!