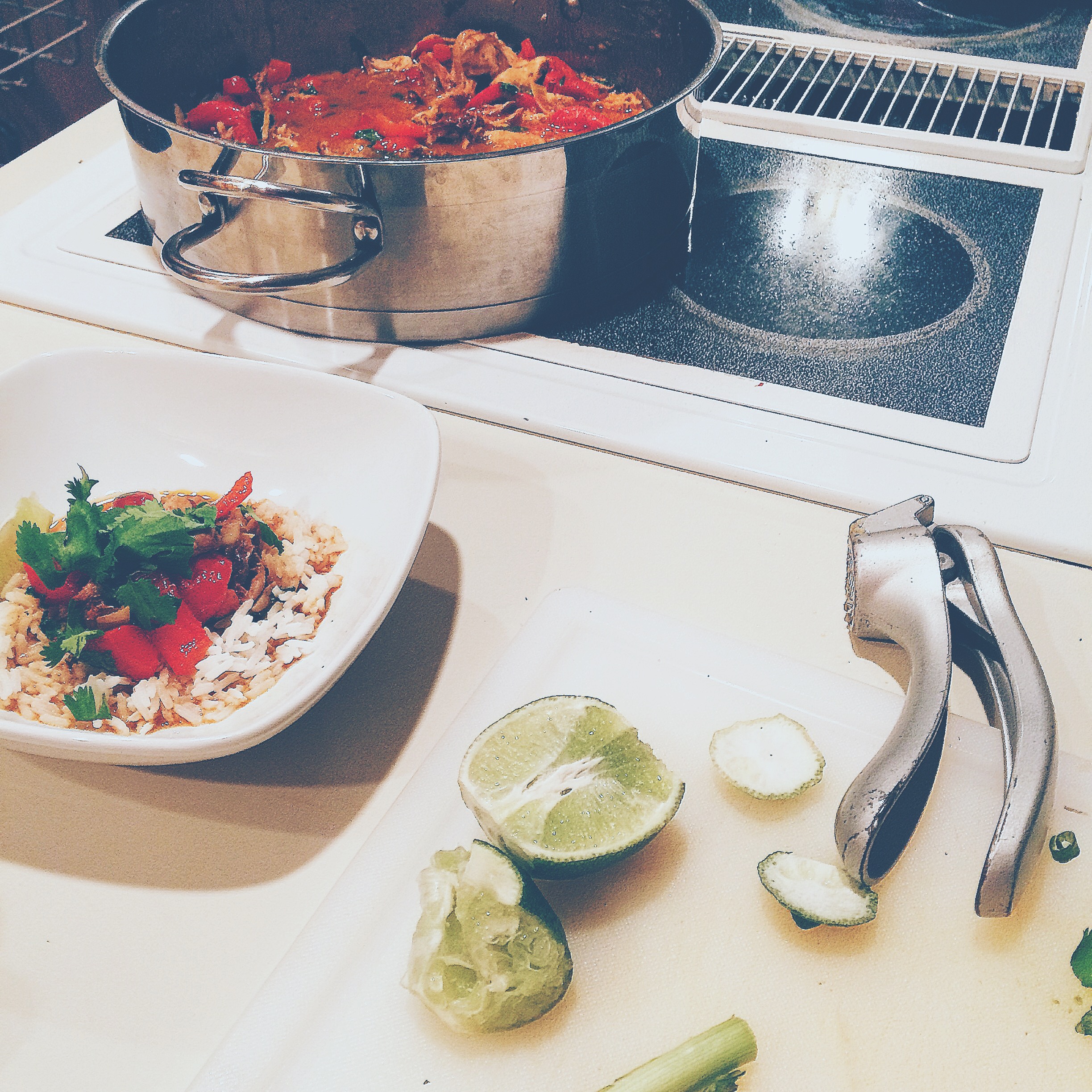 The week leading up to a holiday is always awkward when it comes to cooking. I haven't stopped thinking about what to make for Christmas dinner since the day after Thanksgiving. The awkwardness comes with the meals in between, because every meal after Thanksgiving is just a pregame for the next big holiday meal. The week before Christmas is especially annoying because I don't want to eat anything that is too similar to what I'll be eating for Christmas dinner. This means that the traditional holiday ingredients that I usually use around this time are off the table when it's this close to the holiday, including sweet potatoes and anything cranberry really. This might just be me, but I really take Christmas dinner that seriously. This Thai Coconut Red Curry was the perfect solution. It's an easy dish to double and keep over a few days to give yourself a cooking break. Plus, it still gives off the warm, comfort food[ie] feeling that we all want around this time of year.
The best part about dishes like this is that the leftovers are even better as the ginger and garlic have had time to soak in. I decided to use chicken thighs because they hold flavor so well and I didn't want the chicken to be dry and flavorless as soon as I added it to the curry pot. When cutting the chicken, think shredded chicken–but, not too shredded if you want larger pieces of chicken in the curry. The chicken can also be substituted with shrimp, or for a completely vegetarian curry, you can use vegetable broth and tofu.
Thai Coconut Red Curry (w/ Chicken)
Serves 4 to 6
cookware | a large frying pan, a large saucepan or pot
–
2 tbsp olive oil (or coconut oil) + 1 tbsp
2–2.5 pound chicken thighs, boneless and skinless
1 tbsp paprika
2 tsp garlic powder
2 tsp onion powder
2 tsp salt
1 tsp pepper
2 red bell pepper, sliced
½ yellow onion, sliced
2 cloves garlic, pressed or minced
1 tsp fresh ginger, grated
½ cup scallion, chopped
2 tbsp red curry paste
2 cups chicken broth
1 can coconut milk (13.6 fl oz)
1 lime (extra limes for serving, optional)
½ cup chopped cilantro
2 cups jasmine rice (or your rice of choice, basmati works well too)
Place chicken thighs in a frying pan coated with olive oil. Season with paprika, garlic powder, onion powder, salt and pepper. Cook thoroughly and set aside to cool. In a large pot with the remaining 1 tbsp of oil, sauté the bell peppers and onions until softened for about 5 minutes on medium-high heat. Add garlic and ginger, continue to sauté. Add scallions and red curry paste, continue to cook stirring frequently. Add chicken stock and coconut milk, simmer for 5 minutes. While simmering, remove chicken from the frying pan and cut into thin strips (slightly thicker than shredded chicken). Add the chicken to the curry pot. Add the juice of ¼ a lime and fresh cilantro to the curry pot. In a separate saucepan or rice cooker, cook the rice. Serve the coconut curry over cooked rice.