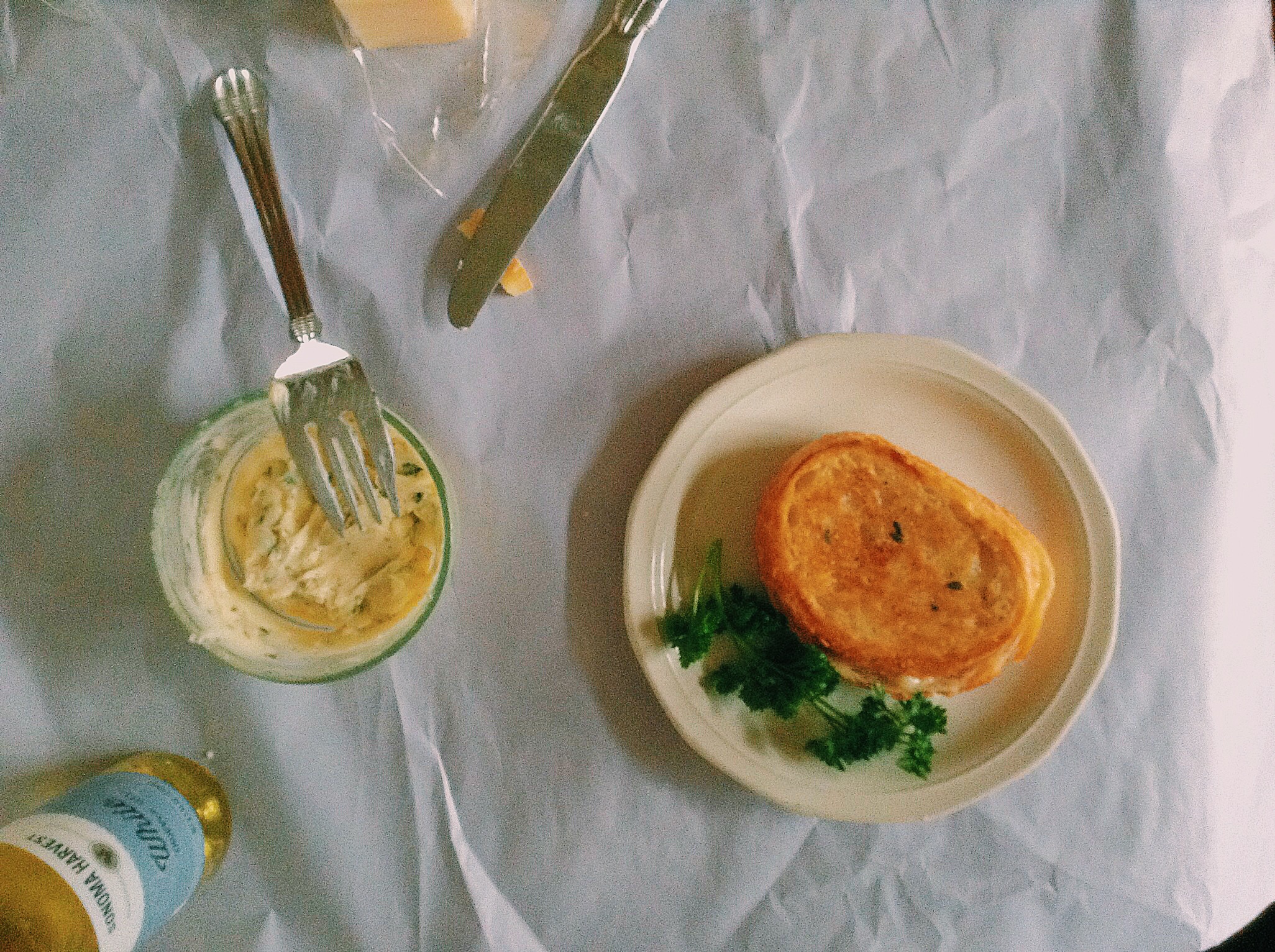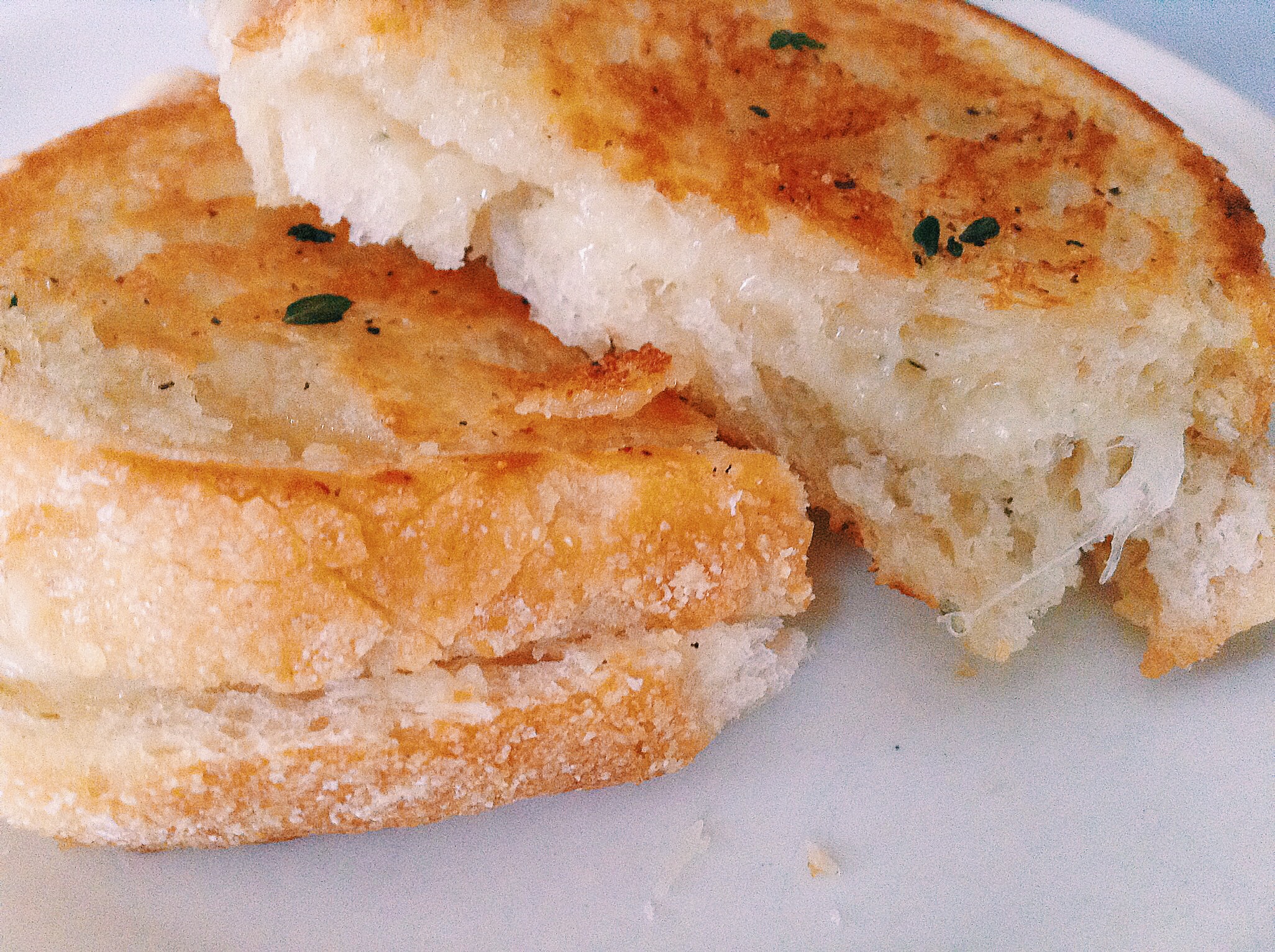 You're here because you saw the word 'truffle.' I completely understand. You should know right off the bat that $1000 truffles were not used in the making of this meal. Is it just me or are truffles becoming a thing? Kind of like the recent bacon frenzy that has taken over every recipe known to foodies across the world. Truffle fries. Truffle Mac-n-cheese. Truffle donuts. (Do those exist?) I'm not complaining. I love the truffle flavor and I've been waiting to get my hands on some truffle oil for a very long time. But, I wanted to do something a little different with it. Something you don't see the truffle flavor paired with everyday. So, I created the perfect comfort food for these cloudy and rainy DC days––a White Truffle Grilled Cheese Sandwich.
I take my food very, very seriously. I'm that friend that has to make every dish special from the first ingredient used to the very plate you will eat from. If you ask me to make you a small snack (maybe some crackers with peanut butter?), I'm that friend that will give you homemade cinnamon graham crackers with maple infused almond butter. Simple does not have to be boring. So, of course, I had to add a little bit of flare to the classic grilled cheese sandwich.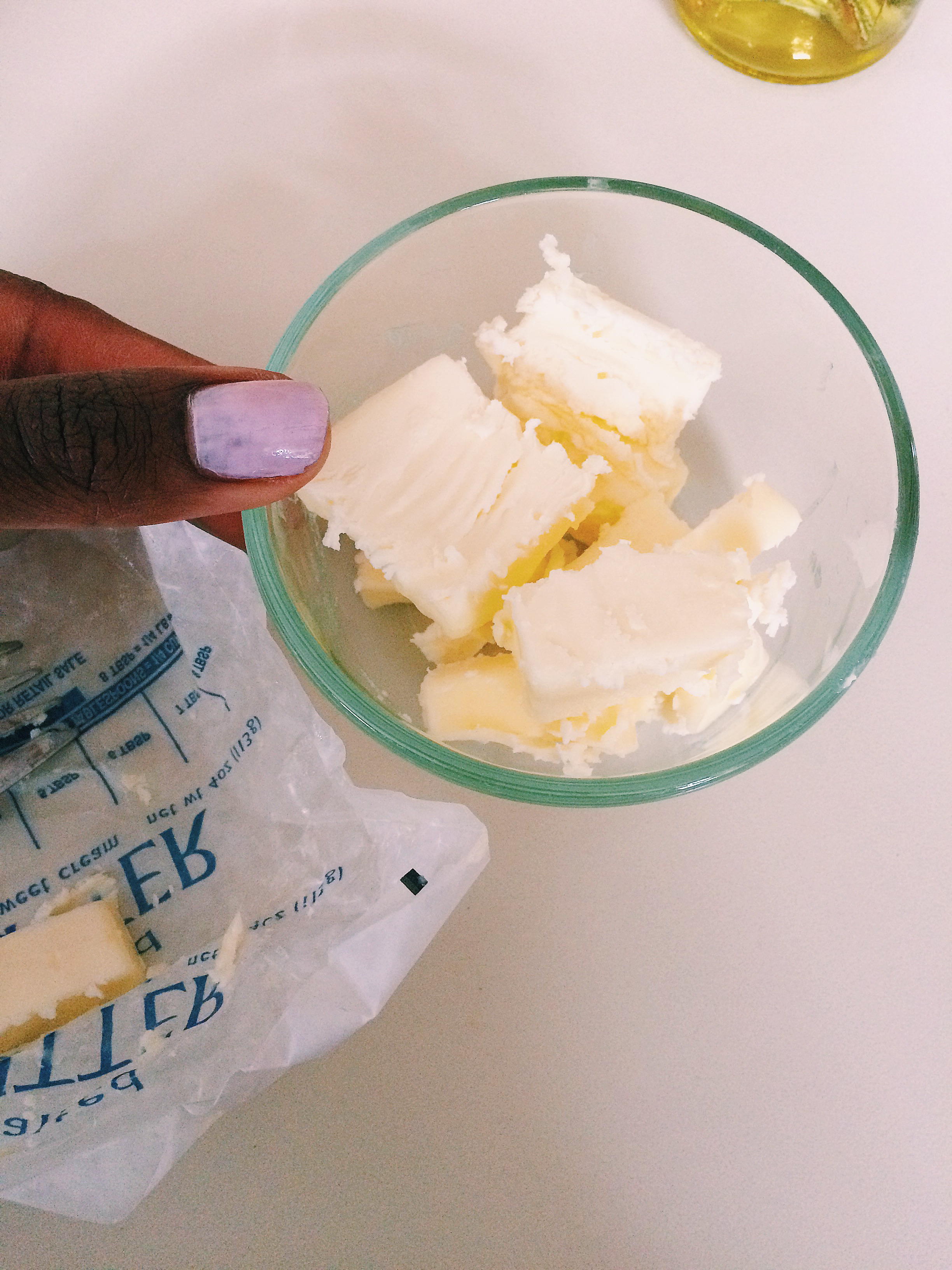 The great thing about this grilled cheese is that there is nothing extra to learn. I took the same exact steps as I would if I were going to make a regular 'ole grilled cheese sandwich. I buttered the bread, threw some cheese on it, "grilled" it on a skillet, drizzled some oil on it and WALA MAGIC! (*Future voice*)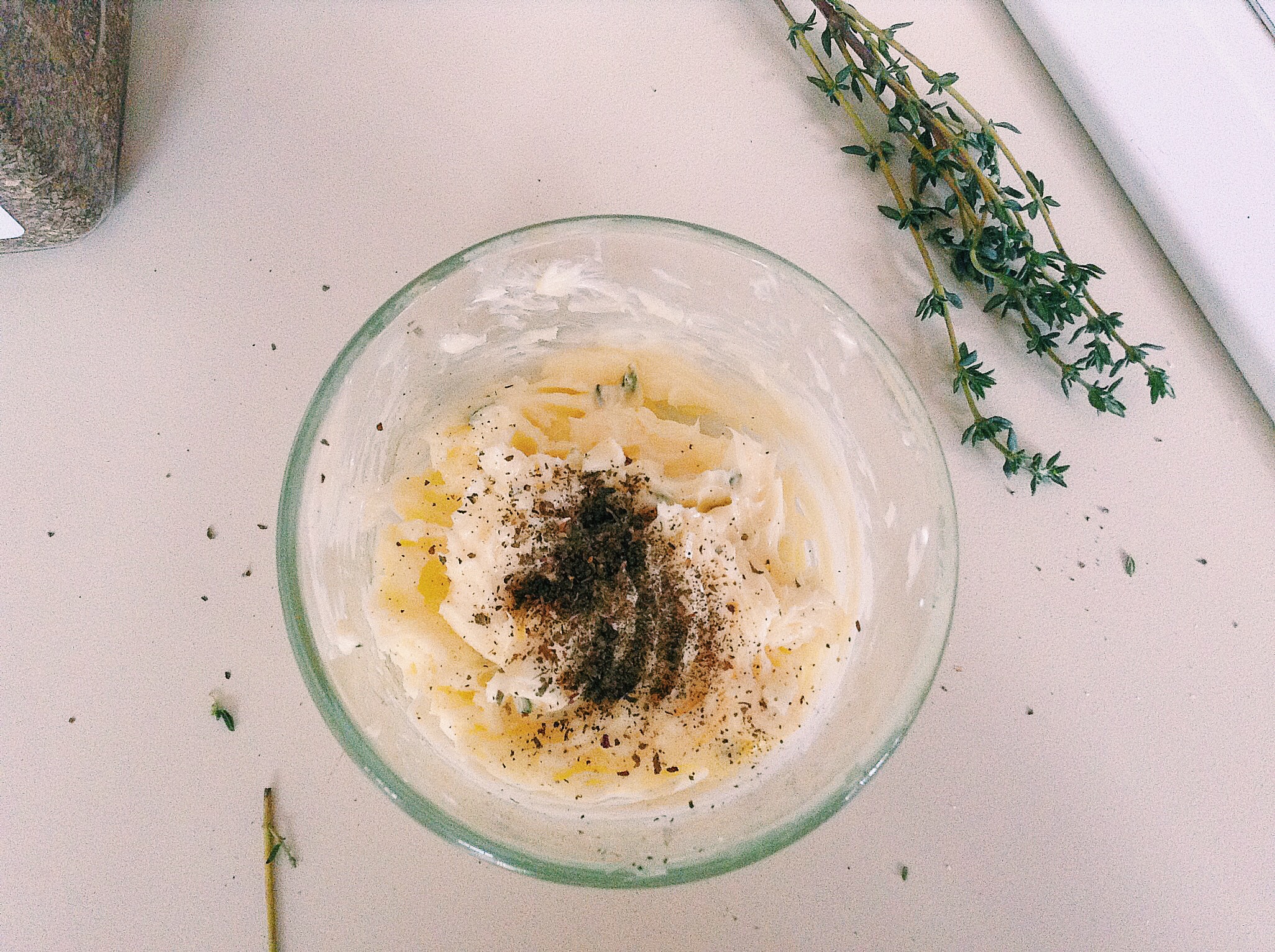 I started out with making a simple herb butter. Flavored butters are such an easy way to spice up any dish. Mixing the butter works best when the room is just slightly below room temperature. You can allow the butter to sit out for a bit or you can microwave the butter on a defrost setting for about 10 seconds before adding the herbs.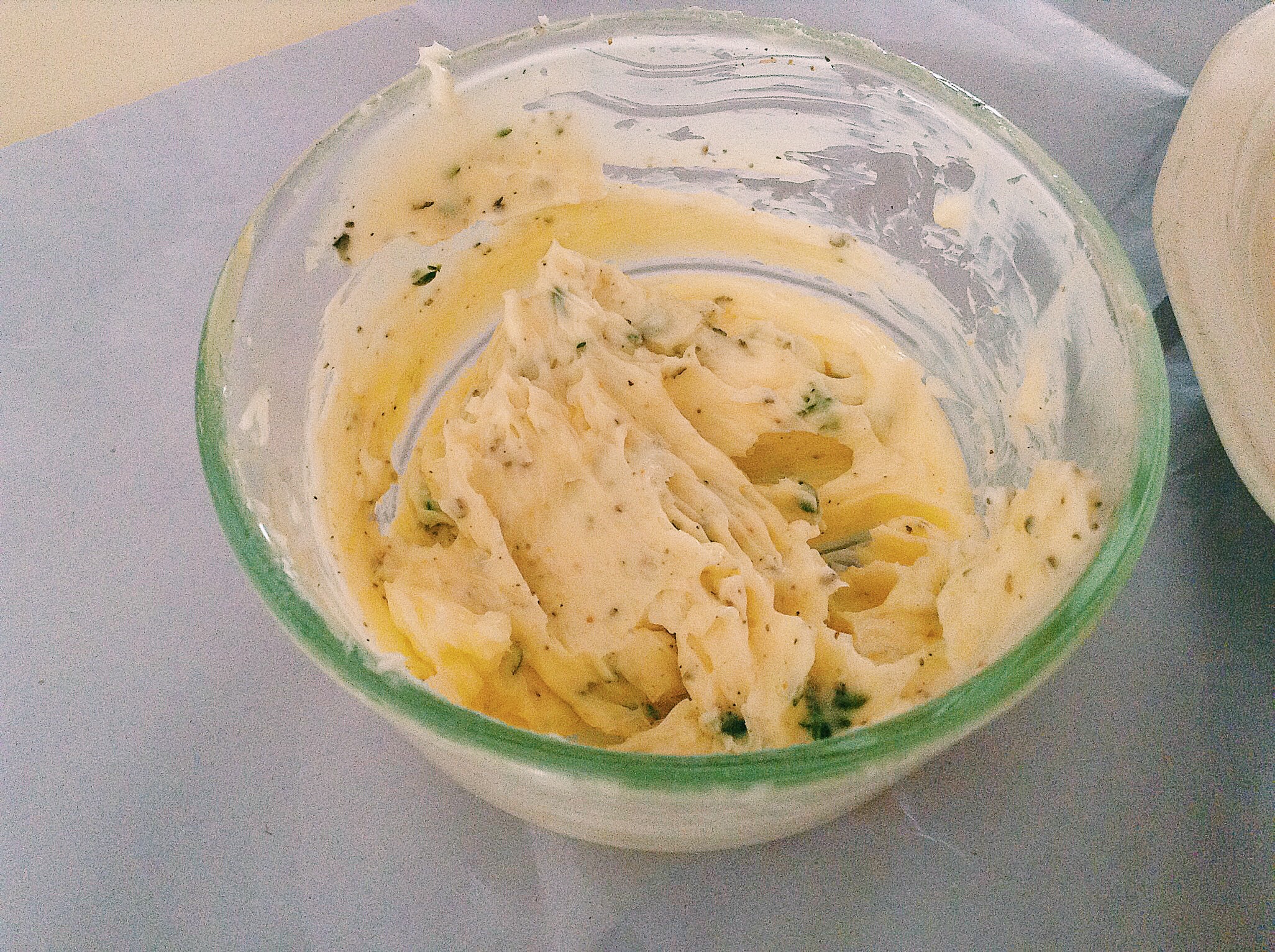 Asked verbatim by my foodie friend and HUSL classmate, "What's the bread situation?" Sourdough. But, you can use any firm bread that will hold the butter and cheese without getting to soggy or thin . . .gross. You cannot go wrong with a loaf of sourdough.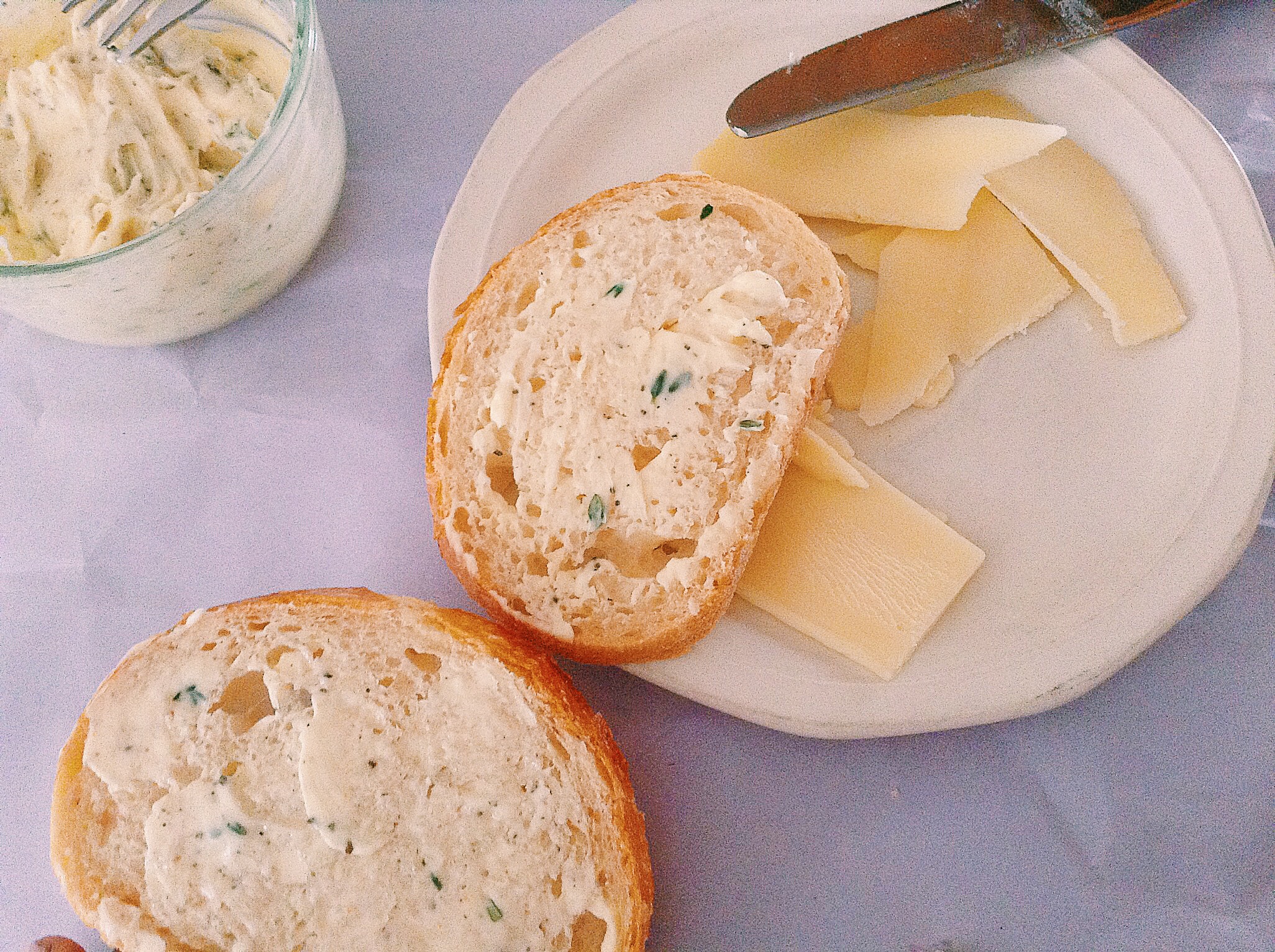 I used one of my favorite cheese combinations––Cheddar and Gruyere. Cheddar and Gouda also make a great pair if you want to try something a little different. I always taste the cheeses before using them so get the perfect ratio. Make sure you allow the cheese to get as close to room temperature as possible before making the grilled cheese. Using cheese straight out of the refrigerator can make for an uneven grilled cheese with overcooked bread.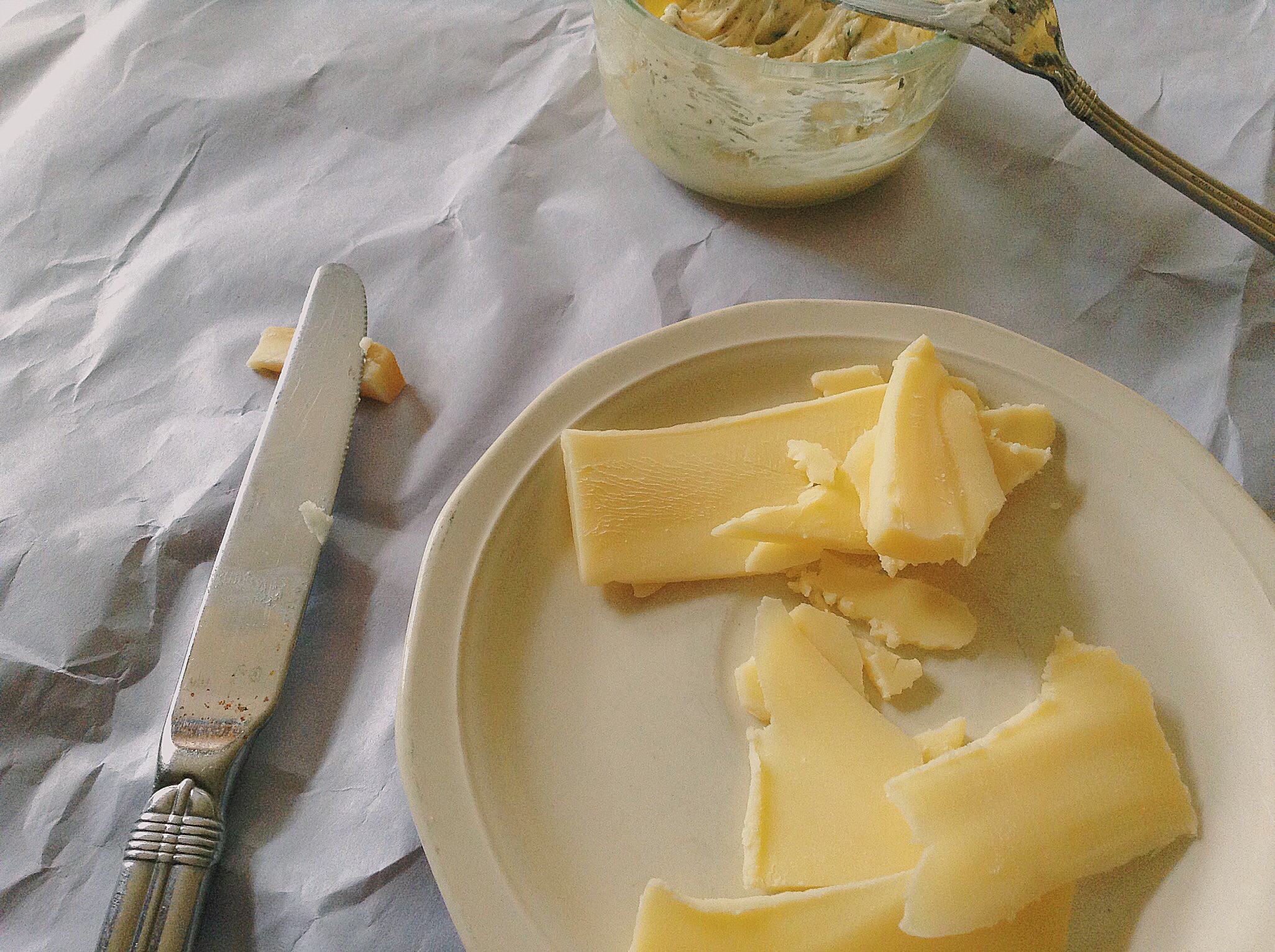 I don't like a ton of cheese on my grilled cheeses, just enough for the flavor. As you can see, I only use a few slices from each cheese, but you can definitely add to taste.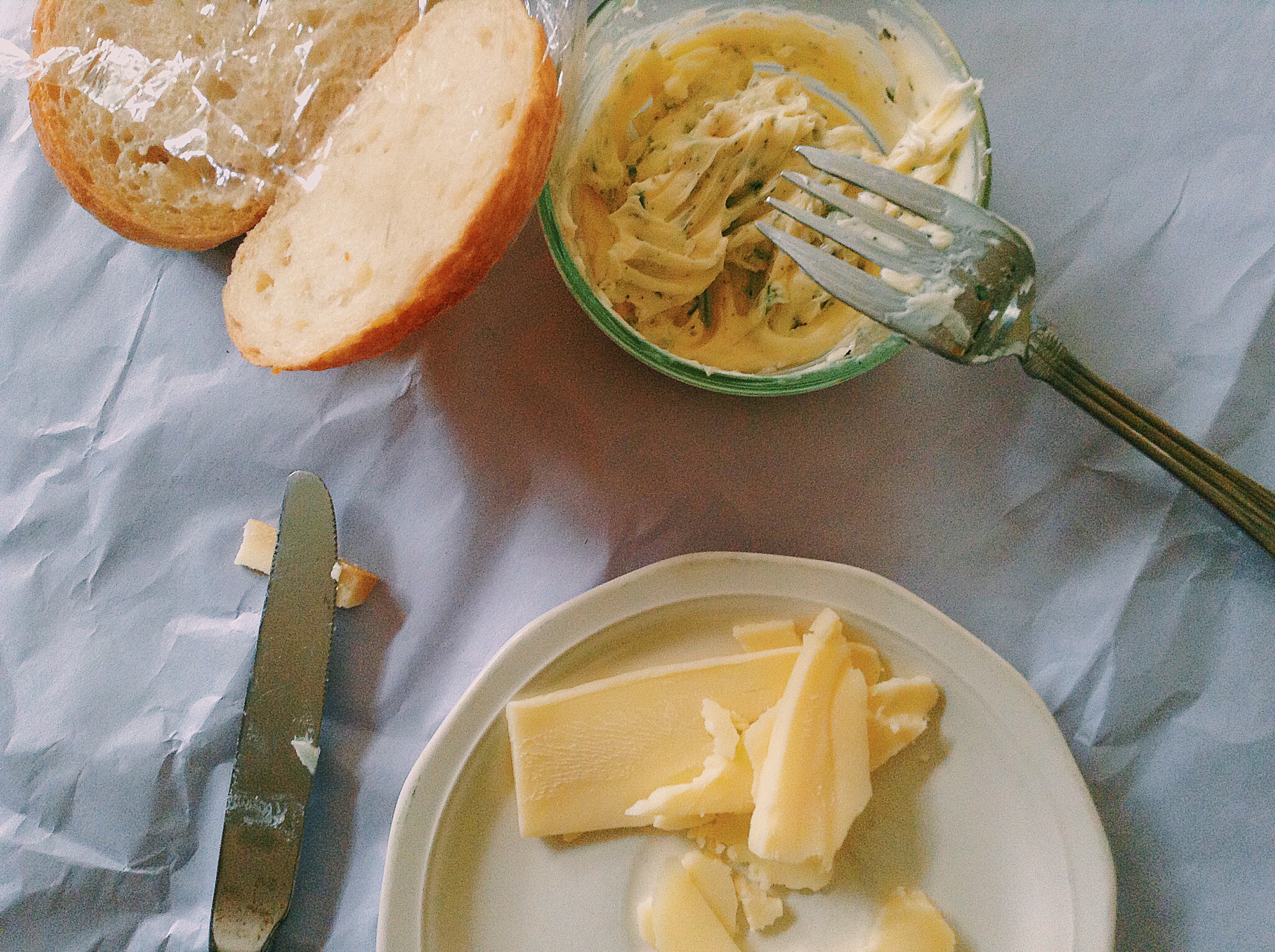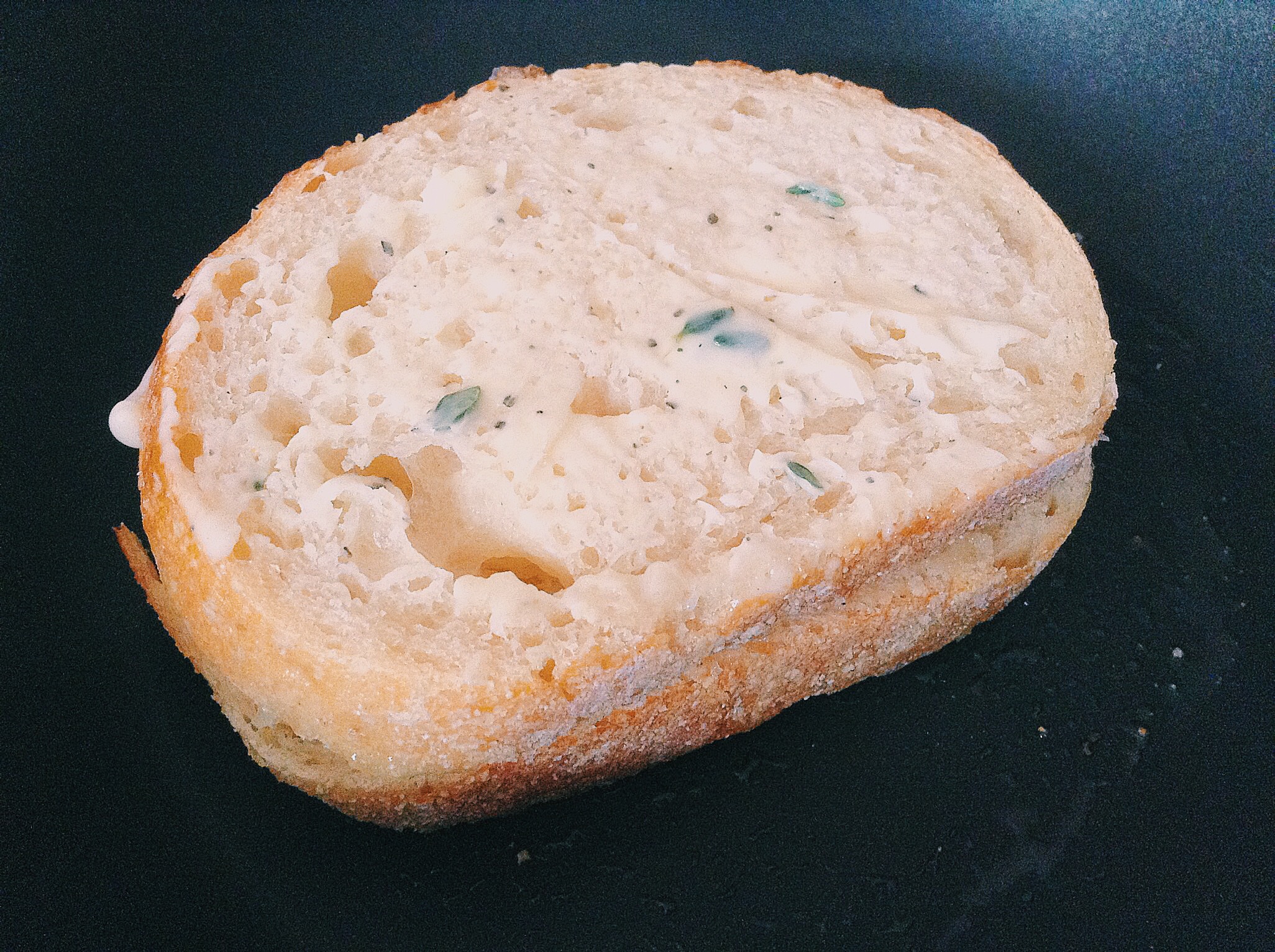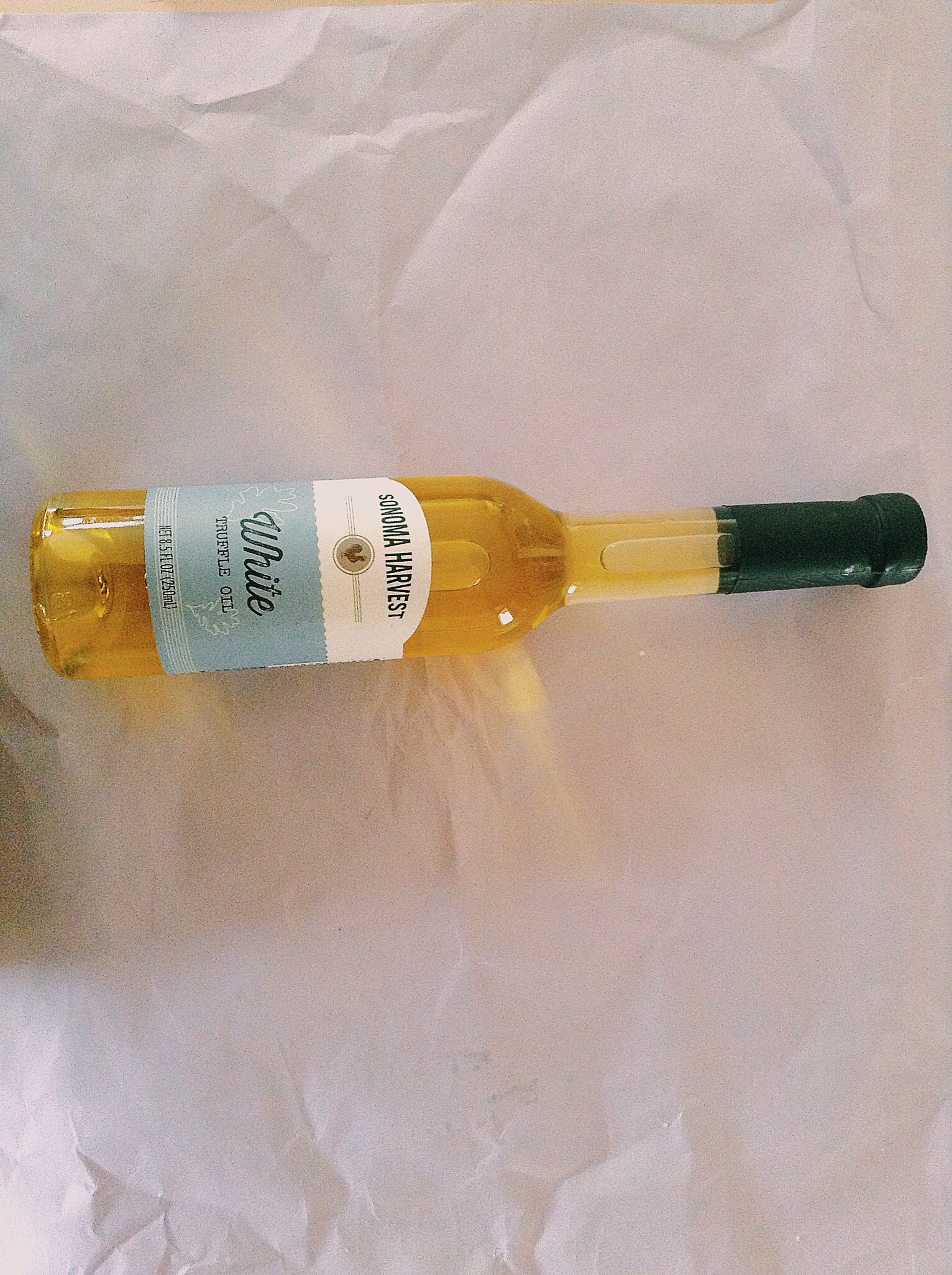 Truffle oil is not nearly as expensive as the truffles themselves. I bought this bottle of truffle oil for $5 at the closest Home Goods store. It's a great place to find specialty items that would be full price at your local market. Remember, truffle oil is a finishing oil not a cooking oil. It is to be drizzled over cooked dishes, i.e. fries or pasta. Cooking with truffle oil . . . I don't even want to go down that road. Just don't do it!
Just as you are about to serve, but before removing the sandwich to the serving plate, drizzle a few drops of truffle oil on the bread on both sides. If you are heavy handed, pour a little in a small dish first and use a tiny spoon to lightly drizzle the sandwich. The low heat from the pan will release the truffle flavor, but high heat will ruin the flavor––so be careful!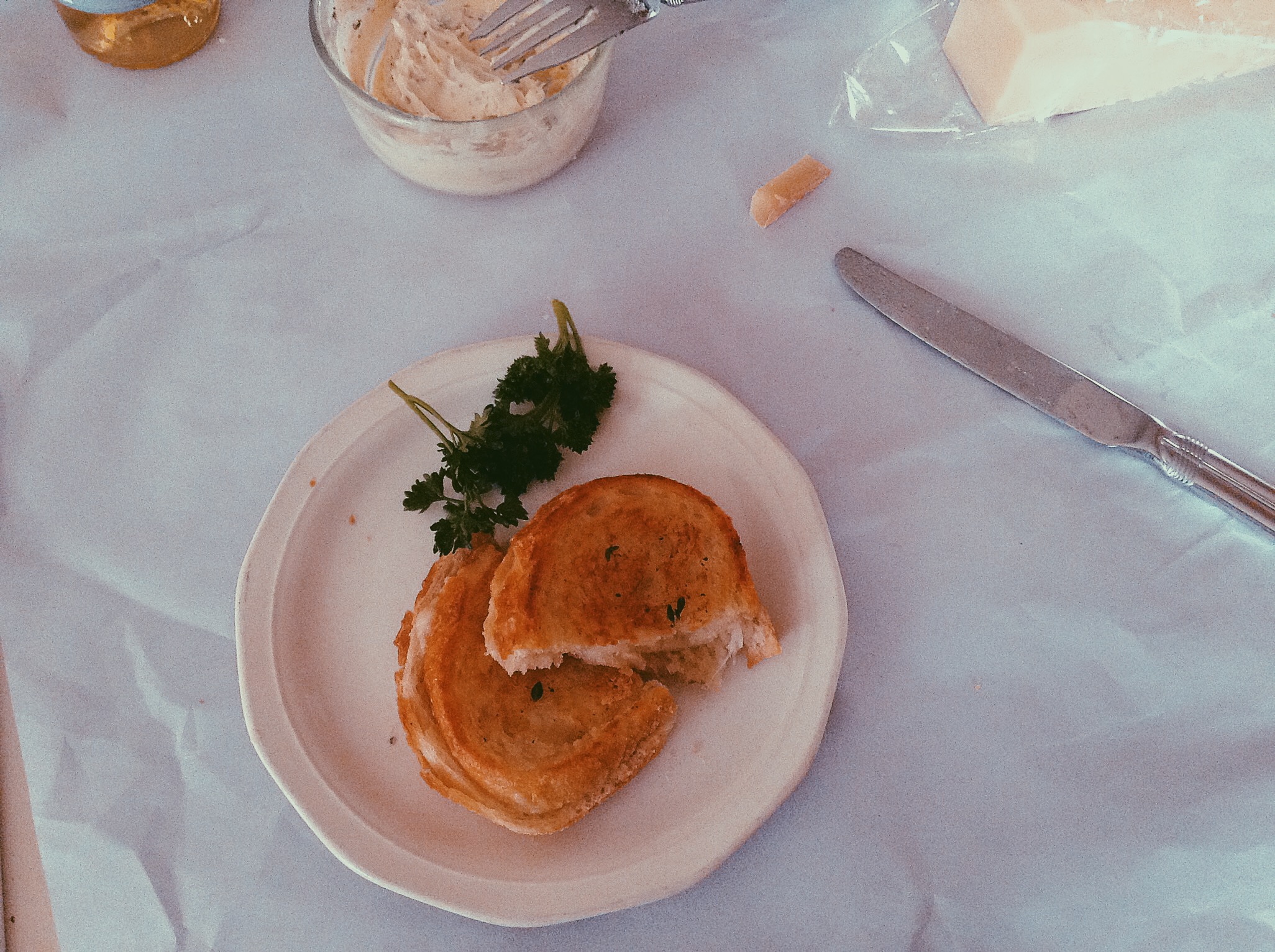 | WHITE TRUFFLE GRILLED CHEESE |
Herb Butter
4 tablespoons butter, salted
1/4 teaspoon garlic powder
2 sprigs thyme
1/2 teaspoon dried basil
1/4 teaspoon marjoram
Grilled Cheese
2 slices sourdough bread (or another firm bread)
Herb butter
3 thin slices gruyere cheese, medium
3 thin slices white cheddar cheese
1/4 teaspoon white truffle oil
—
Combine butter and the remaining herb butter ingredients in a small dish.
Heat 1 teaspoon butter in a small nonstick skillet over medium-high heat. Spread a layer of herb butter on one side of each slice of sourdough bread. Place one slice of bread in the skillet, non-buttered side facing up. Place the cheeses on the bread in the skillet and top with the second slice of bread, buttered side facing up. Flipping as needed, cook on medium-high heat for about 3 to 5 minutes, or until both sides are golden brown and the cheese is completely melted.
Leaving the sandwich in the warm skillet, remove the skillet from the heat. On each side of the sandwich, lightly drizzle the truffle oil on the bread. Serve immediately.