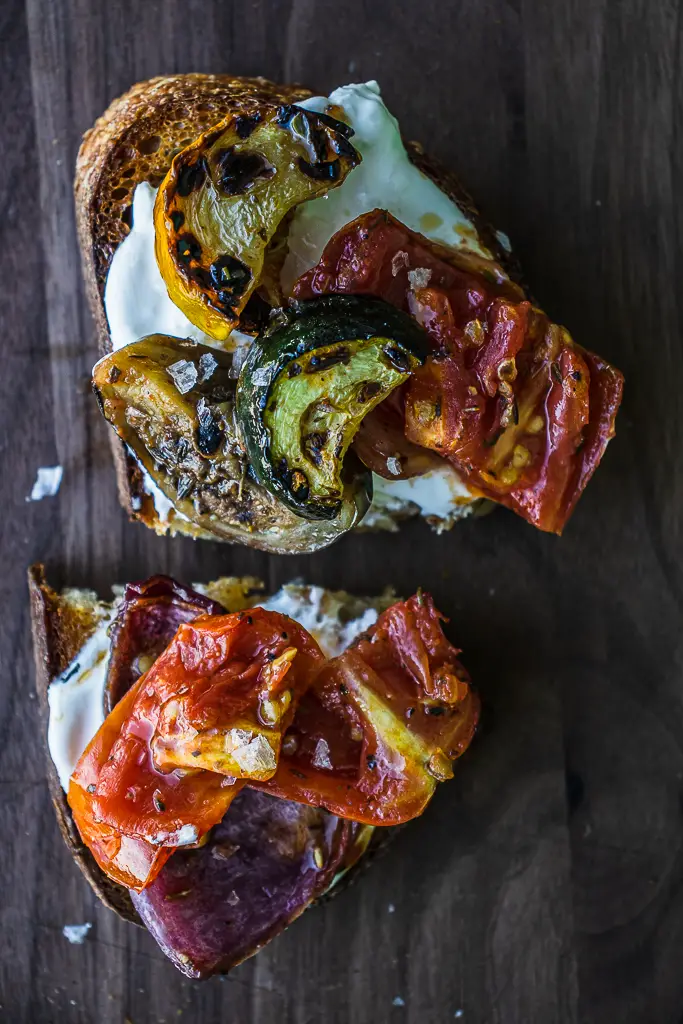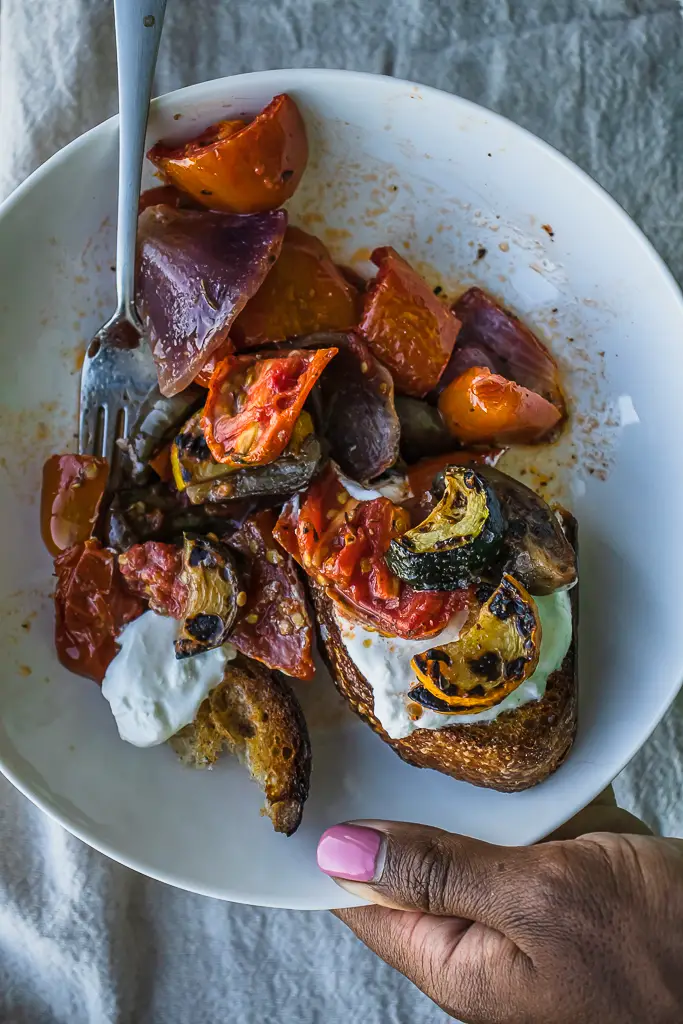 I have always had a feeling that in another life I was supposed to be French. French cooking was one of my first exposures to international cuisine and it is an undertone to several of my recipes. Every once in a while I have to visit France in the only way I know how without actually visiting France.
What is Ratatouille?
Ratatouille is a classic French Provençal dish (originating in Nice) made of slowly cooked summer vegetables.  Typically, the staple vegetables are tomato, eggplant, and squash along with garlic and onions.  Sometimes there will be bell peppers or other vegetables, but there are always fresh herbs to top it off.  I wanted to modernize it a bit. Or really millennial-ize it. Because what is more millennial than putting a whole bunch of delicious things on bread, calling it toast, and making a meal out of it? So, naturally, I added burrata, more olive oil, and flaky sea salt – a trio that, on its own, will always get my attention.
My favorite dishes are ones that don't require stringent rules or methods (French cooking often does).  Dishes that taste different each time you make them. Ones that can be adapted to varying palettes and still be delicious.  Ratatouille is that girl.  A mélange of slowly roasted late-summer vegetables are topped with fresh herbs.
The Few Things You'll Need
I am realizing this as I write it now: This dish requires very little equipment.  Almost nothing and certainly nothing that a standard home kitchen would not have.  Just a cutting board and a sharp chef's knife for cutting the vegetables. You'll also need 10- or 12-inch cast-iron skillet or a large baking dish that is suitable for slow cooking in the oven.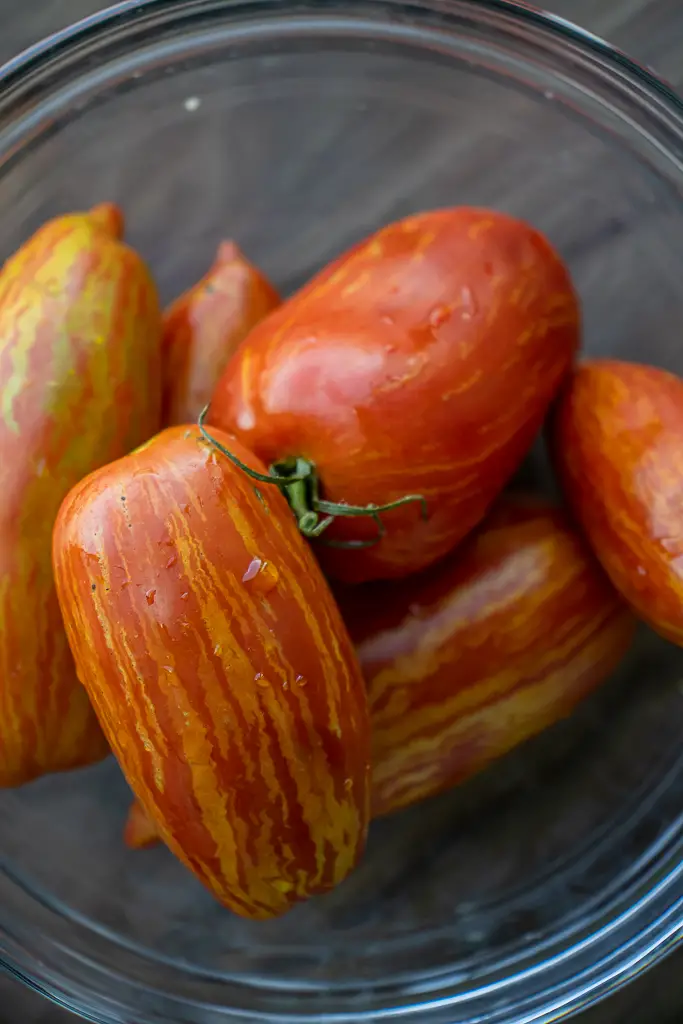 Fresh Ingredients Matter, Per Usual
Because Ratatouille is more about the ingredients than the process, I highly encourage starting with a trip to your local farmer's market if that option is available.  Fresh, local ingredients can make all the difference in a dish like this one.
I used speckled Roma tomatoes, fairytale eggplant, and zucchini and yellow squash from my local farmer's market at Union Square in New York.  I even purchased a loaf of Pain au Levain (a type of French sourdough) from Bread Alone Bakery, which made for a perfect toast base.
A Few Notes on Process
Crisp Eggplant
The process starts with making sure the eggplant gets as crisp as possible.  I know eggplant is not typically a favorite and it is often described as rubbery or slimy.  We are not having that, I promise.  The key is to salt the cut eggplant and removing as much water as possible prior to adding it to the heat source.  Once you generously salt the eggplant, you'll see water droplets coming from the eggplant after about 10 to 15 minutes.  Use a clean and dry paper towel to pat and gently squeeze the eggplant to absorb the extracted water.  Then add the eggplant to the hot skillet to allow it to sear and char on the outside.
Good Quality Olive Oil
Everyone says this all the time.  But I promise, you'll want to you the best olive oil you can find (and reasonably afford) because the olive oil is not just a base for sautéing – it's an ingredient just like the garlic or onion and its flavor will be just as pronounced.
Store the ratatouille (apart from the cheese and bread) in an airtight container in the fridge for up to 4 days.  To serve again, you can reheat it or simply allow the vegetables to come to room temperature.
The Sweet Brown Butter and Thyme Toast
This is my favorite part because it adds slight sweetness to the toast, which is perfect if you love sweet and savory combos like I do. Skip the honey if you prefer a purely savory taste.  While the ratatouille slow cooks, brown some butter and transfer to a small bowl.  Add in some dried or fresh thyme and allow it to cool in the fridge for 10 to 15 minutes. Once it starts to solidify, you can stir the honey into the butter or drizzle atop the buttered bread before adding the burrata and veggies.  The latter is better if you are serving additional people, who may prefer the savory over sweet/savory combo.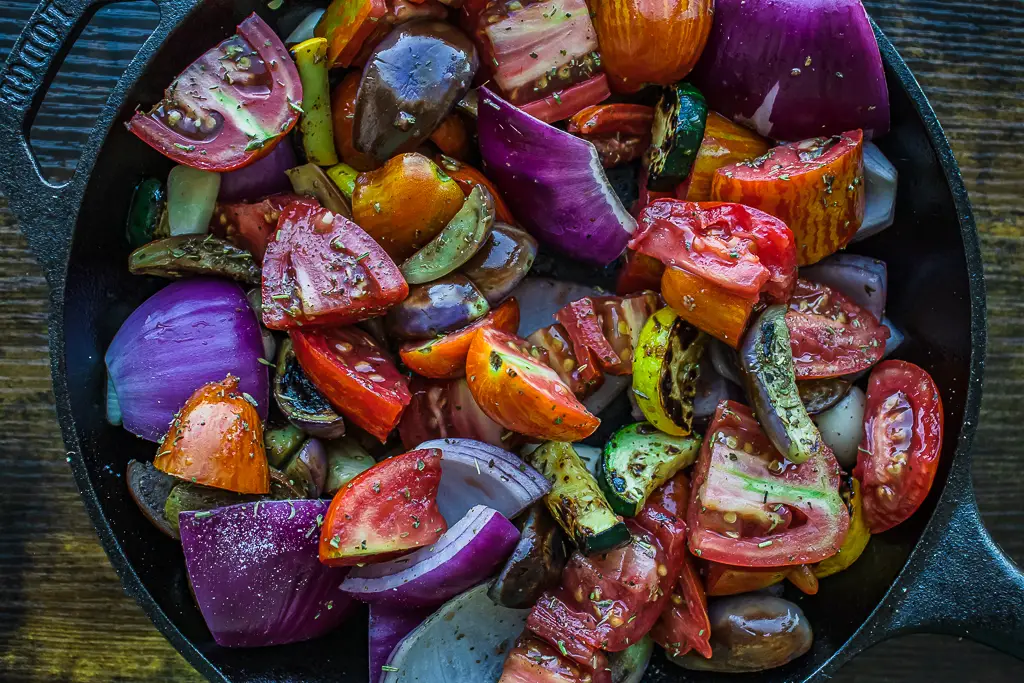 The Vibes
In case you need a reason to eat toast for dinner, here are a few vibes that overlap with this dish.
Lots of Vegetables from the Farmer's Market
There are times when I have a ton of farmer's market vegetables, especially tomatoes or squash, and I need to make a dish that will allow me to use them all up.  Ratatouille is an easy way to make a bulk helping of vegetables that you can eat over the course of several days.  Serve as toast one day and the next it's a side accompanying honey and thyme chicken.
A Late-Summer Gathering
Okay, so you probably already have the charcuterie board together, but you need something for the vegetarians or vegans (sans burrata).  This is the one.  A colorful and hearty toast that presents just as nicely as a meat and cheese board.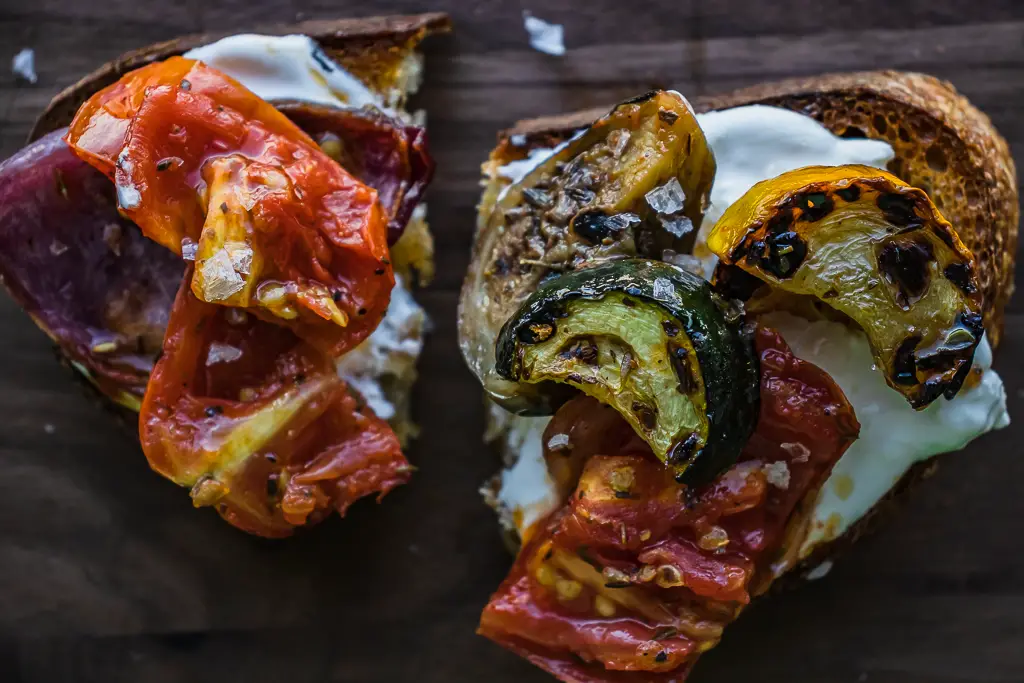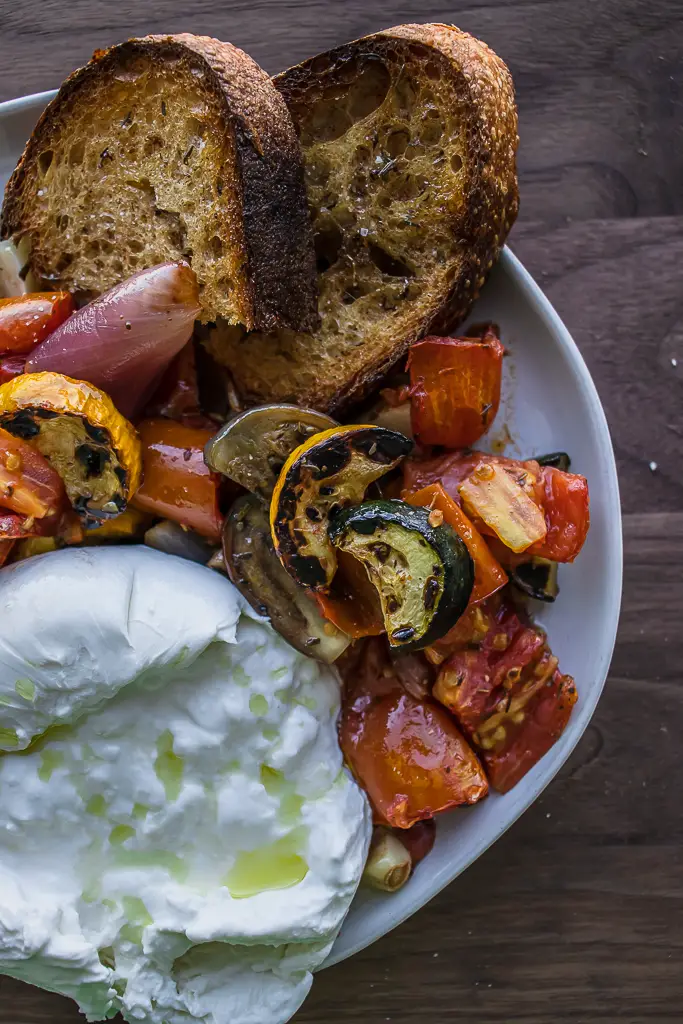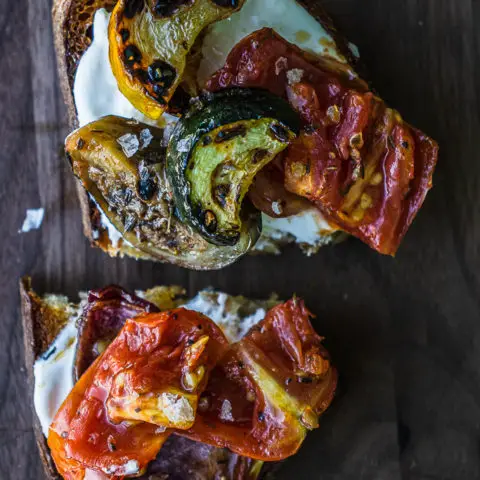 Charred Ratatouille and Burrata Toast
Yield:
Makes 3 to 4 servings (6 to 8 pieces of toast)
Cook Time:
1 hour
30 minutes
Ratatouille is a classic French Provençal dish of slowly cooked late-summer vegetables. The eggplant and squash are first charred in a cast-iron skillet then tossed with fresh tomatoes, onion, garlic, herbes de provence, and lots of good olive oil before roasting in the oven for a little over an hour. Thick-cut French bread and creamy burrata cheese serves as the base for the toast. Top with the vegetables, fresh herbs, a drizzle of olive oil and flaky sea salt.
Ingredients
1 cup graffiti or fairytale eggplant, cut into 1-inch chunks or wedges
½ teaspoon kosher salt, plus more to taste
1 teaspoon good-quality olive oil, plus 3 tablespoons
½ cup zucchini, sliced into ¾-inch thick half-moons
½ cup yellow squash, sliced into ¾-inch thick half-moons
1 small red onion, quartered
4 cloves garlic, halved or cut into large chunks
1 to 1 ¼ cups tomatoes, cut into large chunks
2 teaspoons Herbes de Provence
Freshly ground black pepper, to taste
A loaf of good-quality sourdough bread (preferably from the bakery)
4 tablespoons (½ stick) butter
1 sprig of fresh thyme (or a pinch of dried thyme)
½ teaspoon raw honey
Fresh burrata cheese
Fresh herbs, like basil, oregano and/or thyme (optional)
Instructions
1. For the Charred Ratatouille: Transfer the eggplant to a bowl and toss with ½ teaspoon kosher salt. Set aside for 10 to 15 minutes. The eggplant will start to release water. Use a paper towel to pat the eggplant removing excess water.

2. In a cast iron skillet, heat 1 teaspoon olive oil on medium-high heat. Add the zucchini and yellow squash in a single flat layer (a bit of overlapping is fine, but most pieces should be flat in the pan). Char on high-heat undisturbed for 2 to 3 minutes turning as the pieces become slightly charred/blackened on one side. Remove from the pan and set aside.

3. Add the eggplant to the hot cast iron skillet and char for about 2 to 3 minutes. Turn off the heat and add the zucchini and yellow squash back to the skillet. Toss in onion, garlic, and tomatoes. Season with herbes de provence and black pepper.

4. Heat oven to 375 degrees F. Transfer the skillet to the oven and roast for about 30 to 40 minutes. The vegetables should have reduced in size. Add remaining 3 tablespoons of olive oil and additional kosher salt, to taste, and continue roasting for another 30 to 35 minutes.

5. For the Sweet Brown Butter and Thyme Toast: Brown ½ stick of butter in a saucepan. Transfer to a shallow bowl and allow to cool. Stir in the thyme. Transfer to the fridge for about 15 minutes to cool. Cut the bread into 2- to 3-inch-thick slices. Lay flat on a parchment-lined baking sheet.

6. Remove the butter from the fridge and stir in ½ teaspoon honey. Generously butter the tops and bottoms of the bread slices. Toast in the oven for 7 to 10 minutes until the butter is fully melted and the bread is crunchy and lightly browned.

7. To Assemble the Toast: For each person, plate 1 to 2 pieces of warm toast. Spread each slice with about a tablespoon of the burrata cheese. Top with the ratatouille vegetables, sprinkle with flaky sea salt and freshly ground black pepper, and finish with torn basil or other fresh herbs.