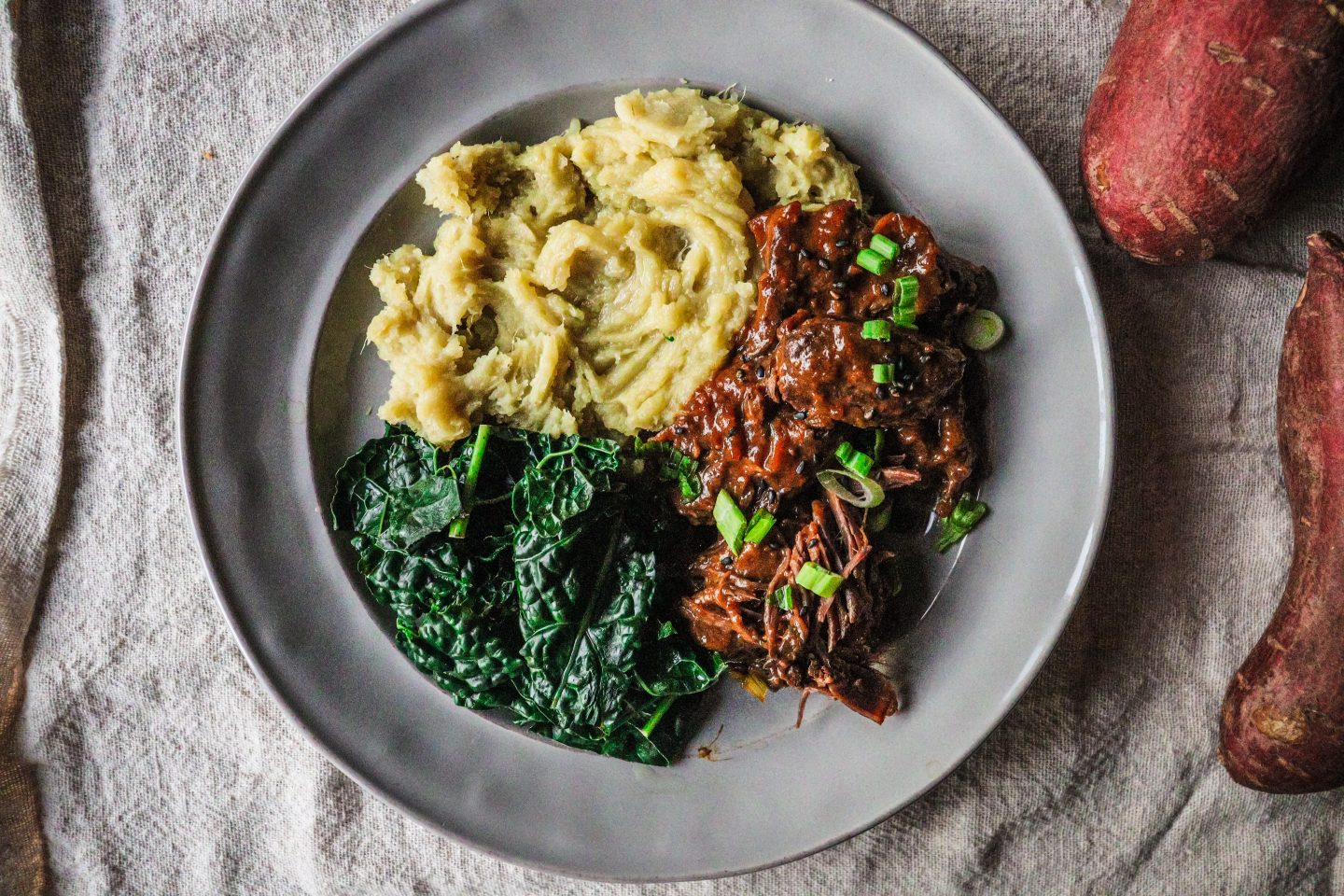 Braised Short Ribs
Selecting Short Ribs
While I typically prefer bone-in cuts of meat, I'm not super picky when it comes to short ribs. Bone-in short ribs will likely give you a healthy source of collagen and added flavor from the bone marrow. Boneless short ribs are hassle-free when it comes to serving, as you don't have to worry about removing the bone or portioning out the meat accordingly.
Braising, A Love Story
Braising is my favorite cooking technique to obsess over in the fall and winter seasons, especially on a cold rainy or snowy Sunday afternoon. "To braise" may sound like a something only chefs do, but I wager that many home cooks and simply call it slow cooking. I did for a while. Growing up, I do not know that we referred to braising as often as we did commonly-known techniques, like sautéing or roasting. Still, it happened every once in a while particularly with a pot of collard greens. Depending on what we are cooking, braising may require a ton of prep or minimal effort. It nearly always involves a mélange of inspiring flavors that meld beautifully over the course of several hours. There is nothing more warm and comforting than braised meat served with the warm braising liquid.
Braising is a slow cooking method of combination roasting and steaming. Meats and some vegetables are braised by browning them on the stovetop over high heat and simmering and slowly cooking in a flavorful liquid (typically stock/broth, wine, or even coconut milk). Braising is similar to stewing, but braising is accomplished with less liquid that does not fully cover the food, and usually a method reserved for larger cuts of meat.
To braise, you must have one very important thing: time. Braising is a slow cooking technique and rushing the process, especially when braising short ribs or any meat, will only lead to sub-par results. The heat and braising liquid work together to break down the collagen making tough cuts of meat as tender as possible.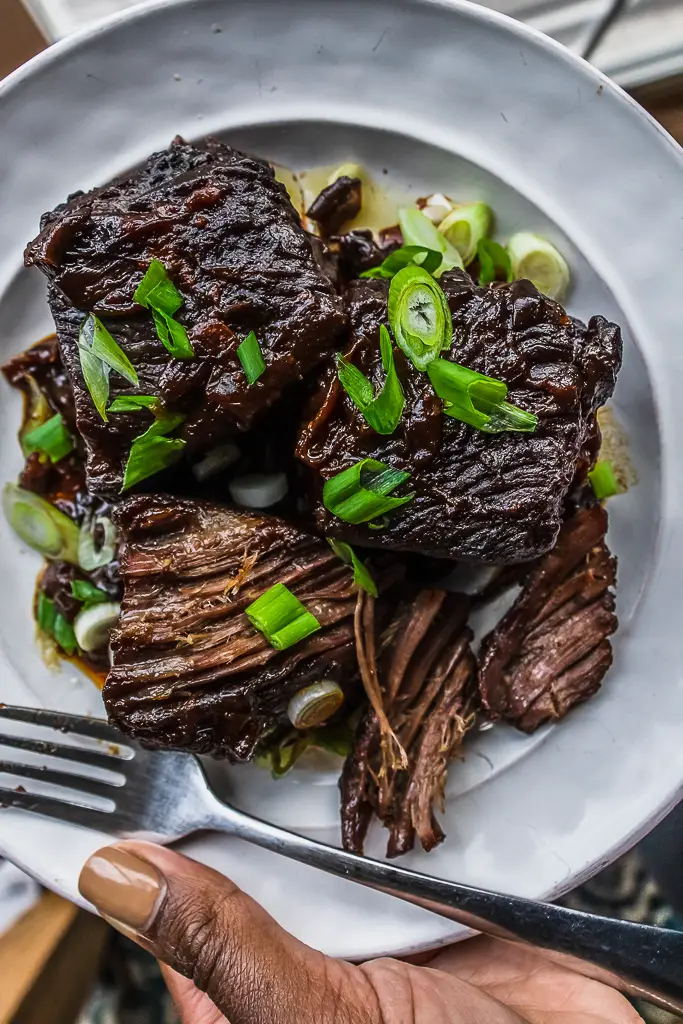 Preparing the Short Ribs
Start by Searing the Short Ribs in a Dutch Oven. Coat the bottom of an enameled Dutch oven with a high heat-tolerant oil, like vegetable or grapeseed. Bring the temperature to high before adding the short ribs. When the short ribs enter the pan, they should rapidly sizzle immediately. This is how you know you are getting a great brown sear.
Make the Braising Liquid. The braising liquid is star of this dish. The "mirepoix" is just a simple mix of garlic, onion, and leeks. The base of the liquid is chicken stock, and store-bought is fine. I find store-bought chicken broth to be of better taste and quality than store-bought beef broth. So, while you can use beef broth here, I think chicken broth will yield tastier results. For the miso, I prefer using red miso for this dish. Typically red miso is strong and more robust in flavor than white miso. Short ribs can handle the strength of red miso (for lighter or more subtle dishes, like fish or most vegetables, I'll use white miso). Incorporate the soy sauce, rice vinegar, mirin.
Tuck the Short Ribs in the Braising Liquid and Braise in the Oven. Technically, you can braise on the stovetop or in the oven. I think the oven is more consistent. While oven temperatures do vary, Stovetops vary quite drastically. I once tried braising on a stovetop that was impossible to bring to a temperature lower than a boil. Boiling and braising cannot co-exist. Braising requires lower heat and a steady simmer. For the first 2.5 hours of cooking, you'll want to keep the Dutch oven covered, then uncover for the last 30 to 45 minutes to reduce any excess liquid and get a nice browned finish.
Once finished, you can either serve the short ribs from a serving platter or plate them and top them with freshly sliced scallions.
Mashed Murasaki Sweet Potatoes
Murasaki potatoes, or Japanese sweet potatoes, will change all things you ever thought you knew about sweet potatoes. The potatoes have a magenta, purple-esque exterior and a creamy yellow-hued interior. I find Murasaki potatoes earthier sweetness compared to the orange-fleshed sweet potatoes.
The Mashed Murasaki Sweet Potatoes are the understated star of this dish. These sweet potatoes are heavenly when paired with the miso gravy that is the braising liquid from the short ribs. Savory-sweet deliciousness. They are arguably not as gorgeous as the short ribs, but this dish would not be what it is with out them.
The first step is preparing the dashi broth because why use regular water when you can infuse the potatoes with umami.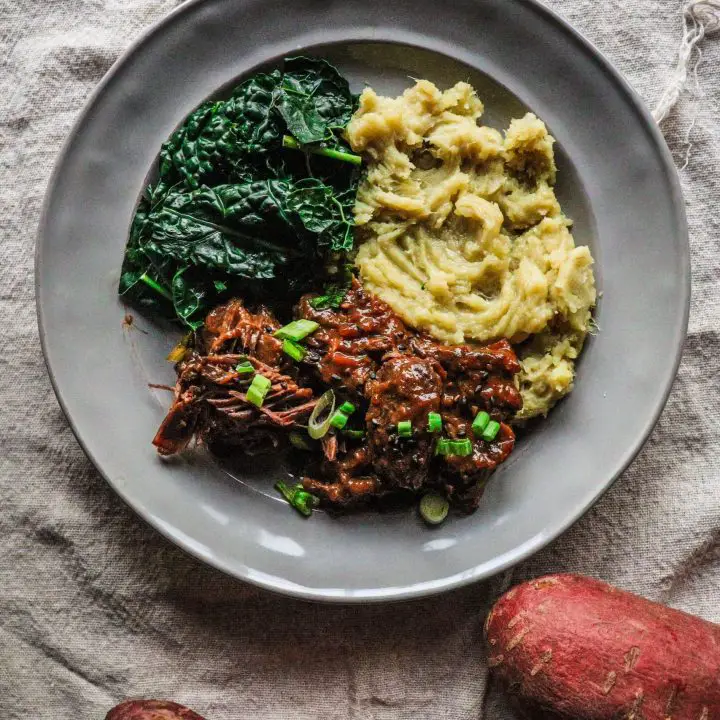 Miso Braised Short Ribs with Mashed Murasaki Sweet Potatoes
Cook Time:
4 hours
15 minutes
Additional Time:
2 minutes
Total Time:
5 hours
2 minutes
Braised short ribs are always accompanied by warmth and comfort, which makes them the perfect fall and winter meal. These short ribs are braised in a miso- and soy-based liquid and served as a meaty gravy alongside umami-infused mashed murasaki sweet potatoes.
Ingredients
3 lbs beef short ribs, boneless or bone-in and trimmed of excess fat
1 tablespoon kosher salt
1/2 teaspoon freshly ground black pepper
1 teaspoon vegetable or grapeseed oil
1 yellow onion, chopped
4 cloves of garlic, minced
1 leek, thinly sliced
3 ½ cups chicken broth or stock
¼ cup gluten-free soy sauce
2 tablespoons mirin
2 tablespoons rice vinegar
1/3 cup red miso paste
3 scallions, thinly sliced
1 teaspoon black sesame seeds (optional)
4 cups of water
2 dashi packets
2 to 3 lbs Murasaki sweet potatoes
4 tablespoons butter, plus extra for serving
½ cup heavy cream
Instructions
1. For the Miso Braised Short Ribs: Up to 24 hours before cooking, trim excess fat from and salt the short ribs generously with a tablespoon of kosher salt.

2. Preheat the oven to 325ºF. In a large Dutch oven, heat a vegetable or grapeseed oil over high heat. Working in batches to not overcrowd the pan, sear the short ribs on all sides for about 1-2 minutes on each side.

3. Remove the seared short ribs from the heat and set aside on a plate. In the same Dutch oven, sauté onions for 1 to 2 minutes over medium-high until they begin to soften. Add leeks and continue stirring for another 1 to 2 minutes until the leeks begin to soften. Add garlic and toss continuously for another 30 seconds to keep the garlic from burning.

4. Add chicken broth or stock, soy sauce, mirin, and rice vinegar, and bring to a low simmer. Stir in miso paste using a spoon to break up and fully incorporate the paste. Tuck the short ribs into the liquid and pour in any juices that accumulated on the plate. The liquid should cover only halfway or three-quarters of the short ribs – it should not fully cover them.

5. Bring the liquid back to a low simmer, cover the Dutch oven with a lid and transfer to the oven to braise for 3 to 3 ½ hours. Start to check the liquid around the 2-hour mark. Around the 2 ½ to 3-hour mark, remove the lid and continue cooking until much of the liquid has reduced. The short ribs are finished when the meat is fork tender and, for bone-in short ribs, when the meat is separating from the bone.

6. For the Mashed Murasaki Sweet Potatoes: In a large stockpot, bring 4 cups of water to a boil. Reduce to a simmer and steep two dashi packets in the water for about 3 to 5 minutes. Remove the dashi packets and add the potatoes. Add more water to just cover the potatoes and bring the water to a rolling boil. Boil for 30 to 40 minutes until you can very easily pierce the potatoes with a fork or butter knife.

7. Transfer the potatoes to a large mixing bowl and allow to cool for about 10-15 minutes until they are cool enough to peel by hand (the skin should nearly fall off). Use a fork or potato masher to mash the potatoes. While the potatoes are warm, mix in butter and heavy cream. If you prefer a smoother consistency, use an immersion blender or handheld mixer to whip the potatoes. Serve with short ribs and top with extra butter to taste.