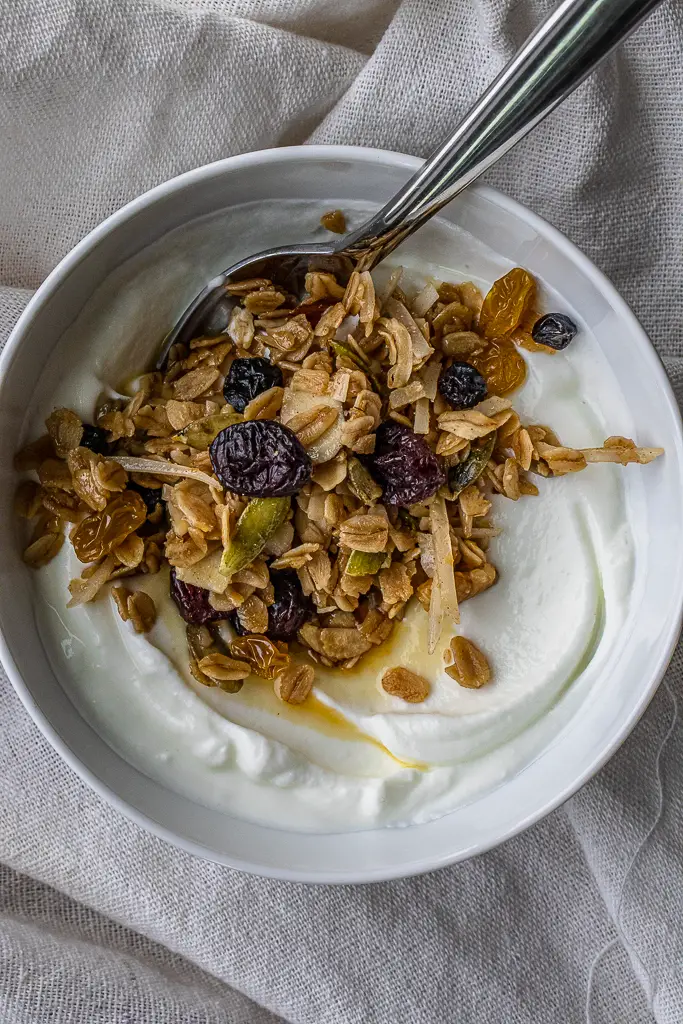 I strive to be the person that does nothing but meditate and lounge on Sundays because I have already thoroughly prepared for the week. 
Unfortunately, that is often not the case.  
As an attorney, I work long days Monday through Friday and my work often rolls over into my Saturdays. So, my Sundays can be a bit stressful because I am typically trying to fit all my errands and tasks from the week into a single day. I do not recommend that method – it is complete and utter chaos. 
This Sunday Granola is something I like to make on Sundays because it makes me feel organized.  
I often grab some Greek yogurt on my weekday mornings as a quick and high-protein breakfast. Nobody likes plain Greek yogurt. I mean, even if you do, we can all admit that yogurt with all the toppings and things is much more fun.  
This granola is packed with high-nutrient nuts and seeds as well as dried fruit, coconut, and gluten-free oats. The base is a mixture of maple syrup, honey, and brown sugar. There are notes of cinnamon, cloves, and ginger, for a warm and comforting flavor.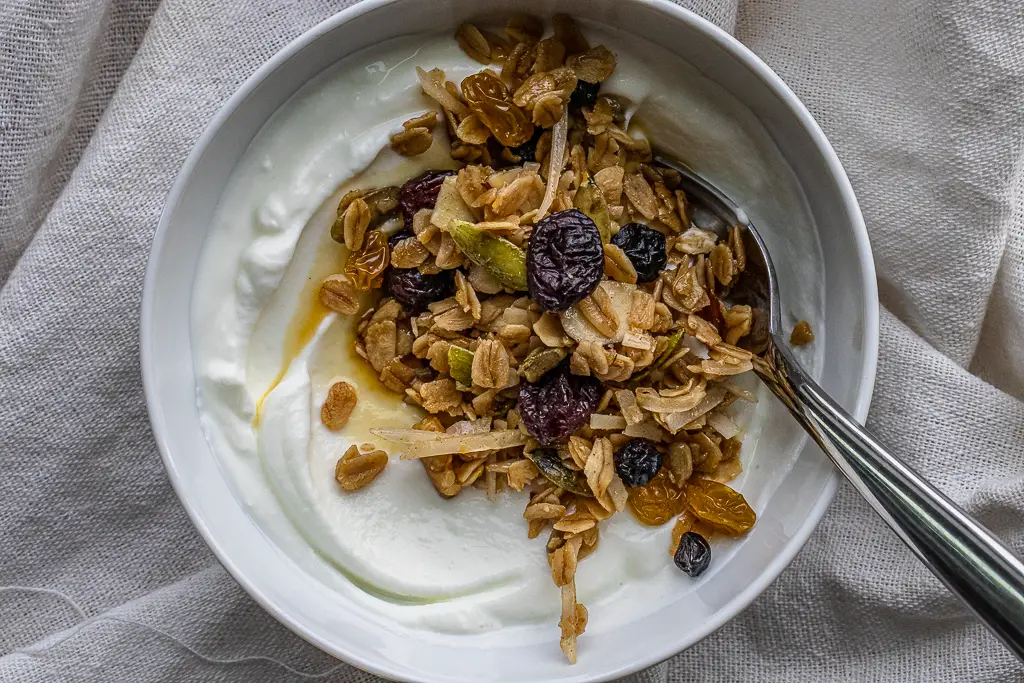 I adapted this recipe from the Red Truck Bakery Granola recipe from the cookbook of the same name. It is one of my most cherished cookbooks because the Red Truck Bakery is just a short drive from my hometown in Virginia. 
It is a bakery known quite well for its pie, which has the approval of President Barack Obama. The homemade granola should not be overlooked. Andrew Zimmern described it as the best granola in North America. He's right. 
Of course, it is good enough to throw in trail mix or to top yogurt parfaits. But you will not fully come to understand how good this granola is until you find yourself eating handfuls of it from the palm of your hand.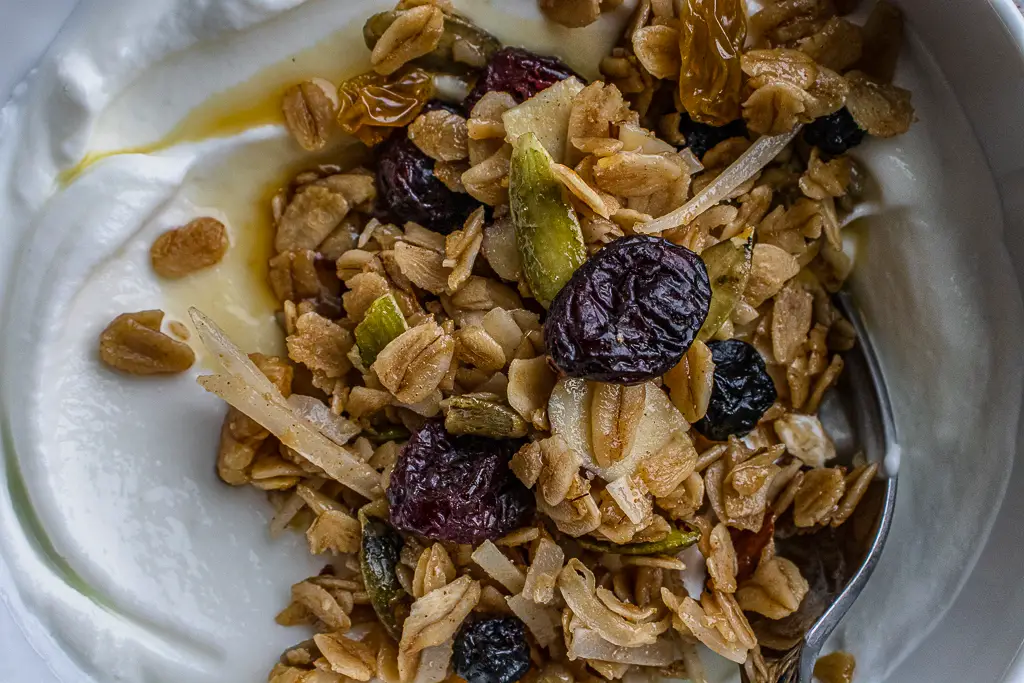 The Granola Modifications 
I made a number of modifications to the original recipe so, this is the version that I make more regularly. Although, if you do have the Red Truck Bakery Cookbook, I recommend first making the original recipe. 
The original recipe makes 12 cups. Dear God, how dangerous it would be if I had 12 cups of this stuff just available at any time. I live alone so 12 cups of granola is a bit much for just me. I find that even 6 cups make enough to last 2 to 3 people several days. I have scaled the recipe down to yield approximately 6 cups, which is more than enough to take me through a week – for snacking and yogurt-topping purposes. 
To scale back on the yield, I lowered the quantity of coconut, almonds, walnuts, and sunflower seeds BUT I added some pumpkin seeds. I have been obsessed with nutrient content of pumpkin seeds lately — a great source of fiber and magnesium. 
For the liquid base, which is canola oil, maple syrup, honey, and vanilla in the original recipe, I swapped out canola oil for coconut oil and butter. You can use just coconut oil but I used an 80/20 combination of coconut oil and coconut butter. 
For the dried fruits, I kind of went rogue – tossing in whatever I felt like. After all, the dried fruits get added after the granola is baked. I am partial to golden raisins, so I use only those and nix the dark raisins. I always have dried cranberries on hand, so those get added to the bunch. Very seldom do I have dried cherries, so those are often excluded unless I happen to have them on hand.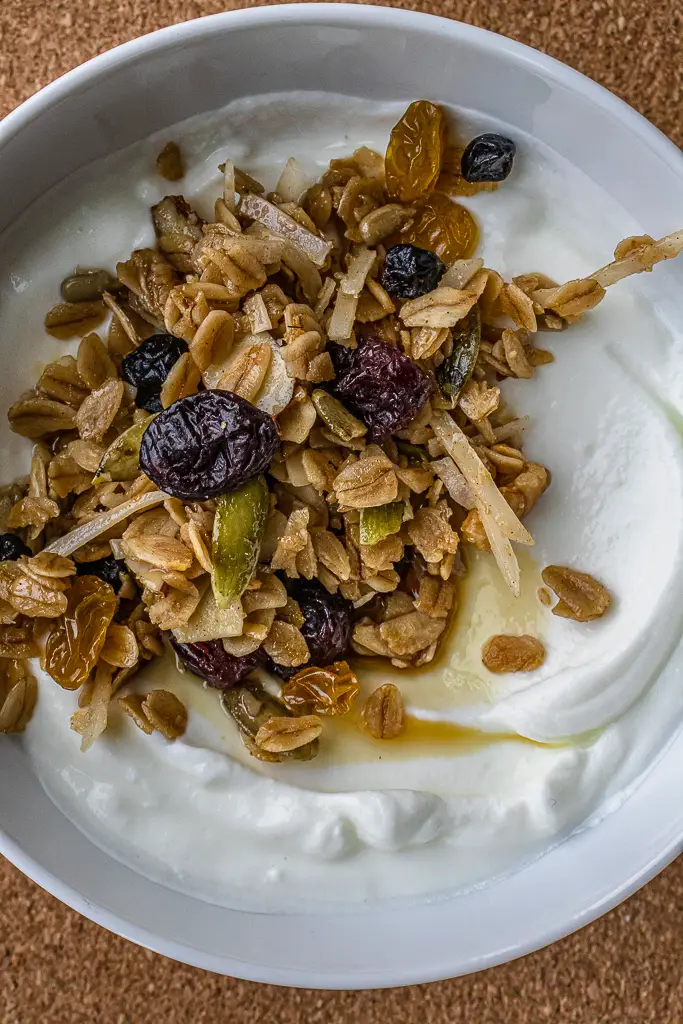 Eating Granola 
I know this sounds like a section about how to eat granola. But that's only because it's a section about how to eat granola. Unsolicited of course. 
Like I said earlier. Straight from the palm of the hand is always an option. 
For me, I love topping my Greek yogurt with fresh berries and this Sunday Granola for some crunch. Perhaps some cinnamon or powdered ashwagandha and a drizzle of honey or maple syrup. Tossing some into your favorite cereal or eating the granola as cereal. 
If you're an açaí bowl person (I often have spurts of açaí bowl obsession – they come and go), granola atop an açaí bowl is phenomenal.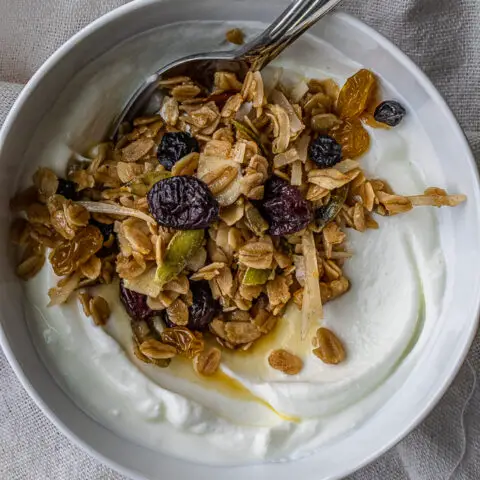 Sunday Granola
Total Time:
1 hour
30 minutes
Sunday Granola is a recipe adapted from Red Truck Bakery Granola from the Red Truck Bakery Cookbook. The Red Truck Bakery Granola is the best homemade granola recipe in the world. When I know I will be having Greek yogurt as my breakfast for the week, I will make this batch of granola on Sunday to make my breakfast a bit more exciting. My recipe uses a coconut oil base instead of canola oil, incorporates pumpkin seeds, and scales the recipe down to about 6 cups. 
Ingredients
Nonstick cooking spray
½ cup unsweetened or sweetened shredded coconut
½ cup sliced almonds
½ cup walnut halves, coarsely chopped or crushed
¼ cup sunflower seeds
¼ cup raw pepitas or shelled pumpkin seeds
¼ teaspoon kosher salt
2 tablespoons brown sugar, light or dark
¼ teaspoon cinnamon
⅛ teaspoon cloves
⅛ teaspoon ground ginger
¼ cup coconut oil or coconut butter, room temperature or slightly warmed
⅓ cup maple syrup
⅓ cup raw honey
1 ½ teaspoon vanilla extract
2 cups gluten-free old fashioned rolled oats
2 tablespoons dried blueberries
2 tablespoons dried cranberries
Scant ¼ cup golden raisins
Scant ¼ cup chopped dried dates
Instructions
Preheat the oven to 250 degrees Fahrenheit. Coat a rimmed baking sheet with nonstick cooking spray.

In a large mixing bowl, combine coconut, almonds, walnuts, sunflower seeds, and pumpkin seeds.

In a small or medium mixing bowl, whisk together salt, brown sugar, cinnamon, cloves, ginger, coconut oil, maple syrup, honey, and vanilla. Add the wet mixture to the dry mixture of nuts and seeds and use a large spoon to toss the mixture coating the nuts and seeds. Add the rolled oats and continue tossing.
Spread the granola mixture into a flat layer onto the baking sheet and bake for 15 to 20 minutes. Remove from the oven and toss the mixture around using a spoon. Bake for another 15 to 20 minutes before taking it out to toss around again. Finally, bake for another 5 to 10 minutes until the granola is a golden brown to deep brown color. Leave on the baking sheet to cool completely.
Once cooled, toss in the dried fruits, and break up any large clusters of granola. Transfer to a large mason jar or another airtight container and store at room temperature for up to a week.
Notes
This is one of the rare times that I do not recommend line the baking sheet with parchment paper. In order to get a crisp and browned granola, you will want direct heat from the aluminum pan. 
If using coconut butter, try to incorporate much of the oil if the butter mixture has separated. Coconut oil and coconut butter are firm when at cooler temperatures. It might be easiest to warm up the coconut oil or coconut butter in the microwave for a few seconds to bring it to room temperature or slightly warm. This will make it easier to mix into the granola mixture without having clumps of oil / butter.