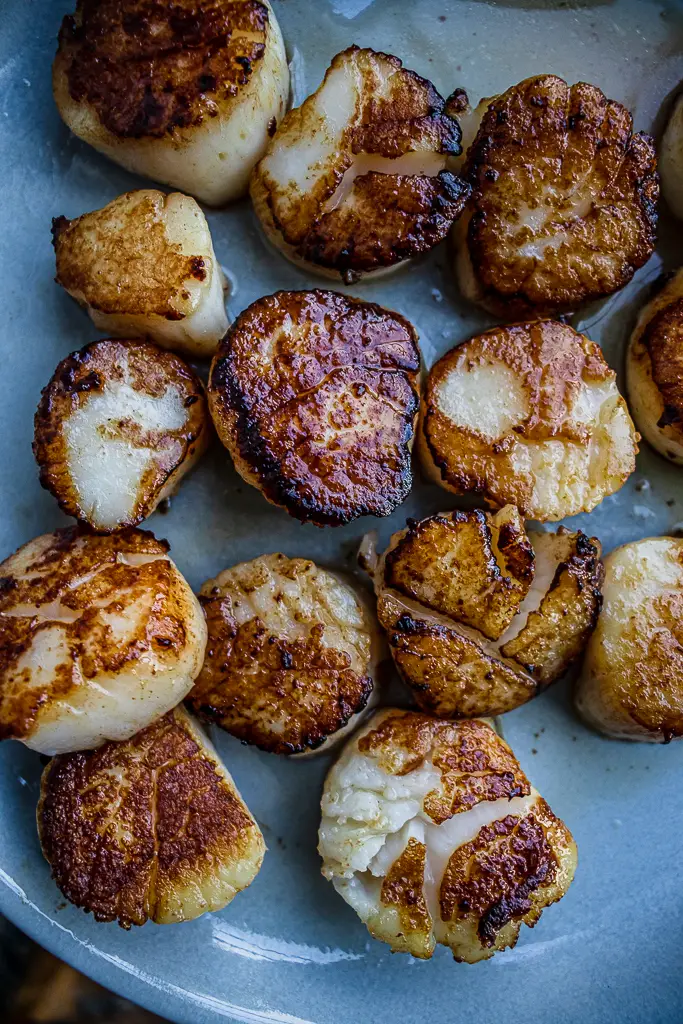 "Seared scallops require only a good cast iron skillet & minimal labor."
If I could only eat one protein for the rest of my life, it would very likely be scallops. Seared scallops to be specific – a dish that requires only a good cast iron skillet & minimal labor. Because I want everyone to enjoy scallops as much as I do, here are some of my tips for cooking (and eating) scallops. 
Selecting Scallops
Opt for Dry Scallops
Dry scallops have not been treated with water and will be easier to dry out in order to achieve the perfect, brown "crust."  
Wet scallops and previously frozen scallops have a higher water content and tend to release water during the cooking process even after patting them dry. It will be more challenging to achieve a perfect sear with wet scallops.  
BAY SCALLOPS VERSUS SEA SCALLOPS 
Bay scallops are much smaller than sea scallops. That is the primary difference. Other than that, they also tend to be a bit chewier and sweeter than sea scallops. 
Cooking Scallops
Use a Cast Iron Skillet
Very rarely do I have strong opinions about cooking methods and such. When it comes to cooking, I believe everything is a suggestion and you can either take it or leave it based on your own preferences, BUT there is one hill I am willing to die on: There is no better way to sear scallops than in a well-seasoned cast iron skillet. Preheat the cast iron skillet with a thin layer of high-heat-tolerant oil (my go-to is grapeseed oil or ghee) over medium heat. The oil should glisten. A cold skillet may cause the scallops to stick to the pan. 
If you are not using a cast-iron skillet, you will want to use a pan that conducts heat well. A stainless-steel skillet would be my second choice or a good-quality nonstick skillet. You can still get a perfect sear! 
the dryer, the better
Cardinal Scallop Searing Rule: The dryer the scallop, the better the sear. Scallops can have some dirt and/or sand residue. If so, I opt for cleaning with a damp paper towel as opposed to dousing them in water. You do want to make sure you remove any dirt or grit, but you don't want the scallops to absorb a ton of water & become soggy.  
If you need to rinse them, pat them dry with a paper towel and let them dry out for several minutes before seasoning and cooking. If you have time, you can even sit them in the fridge in an uncovered bowl to help dry even more but bring them back to room temperature before cooking. 
Scallops don't require an elaborate recipe
Scallops themselves are the star of nearly any dish so you don't really need to season them with a ton of flavors. A perfect starter recipe is to simply lightly coat dry scallops in olive oil and season with salt, pepper, and a few shakes of paprika.  
Add a very thin coat of grapeseed oil (or another high heat tolerant oil) to the pre-heated skillet and sear on both sides for 2 to 3 minutes each until opaque. Turn off the heat and, while the pan is still hot, add some butter, chopped garlic and parsley, and red pepper flakes. 
Don't Overcrowd the Pan
As with searing anything, the key is to gently place the scallops in the pan without overcrowding. Don't shuffle or toss them around. Allow them to cook undisturbed before flipping and searing the other side. 
Scallop Recipes
As a summer baby, fall has always been my second favorite season. If I can't soak up all of the sun by somebody's pool or on somebody's beach, then I'll gladly take all of the…