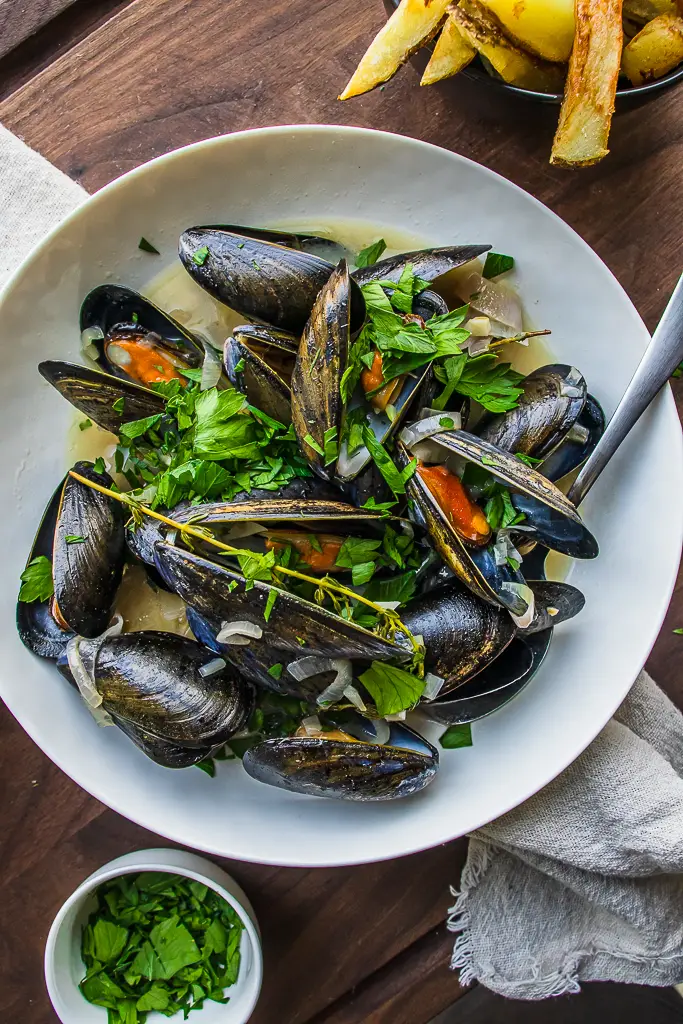 "I will never forget the day I went to the train station with no destination in mind and randomly bought a ticket to a nearby town called Dieppe . . . where I had the best steamed mussels I have ever had in my life."
Living in Rouen for four months was one of my best travel experiences to date.
I will never forget the day I went to the train station with no destination in mind and randomly bought a ticket to a nearby town called Dieppe (also in the Upper Normandy region of France). 
In a small restaurant in Dieppe is where I had the best steamed mussels I have ever had in my life. And that's when I fell in love with moules frites.
Moules Frites originated in Belgium but given the proximity and the inevitable blending of cultures, the dish quickly found its way to France. It's exactly what it sounds like: Mussels served with fries. The key (and all the flavor) is in the broth. Traditionally, the mussels are steamed in a wine-based broth with simple ingredients like garlic and onion. Depending on the region, the flavors can vary.  In Normandy, where apples are abundant, a creamy cider-based broth replacing the wine is not uncommon. That's what makes them Mussels à la Normande, or mussels from Normandy.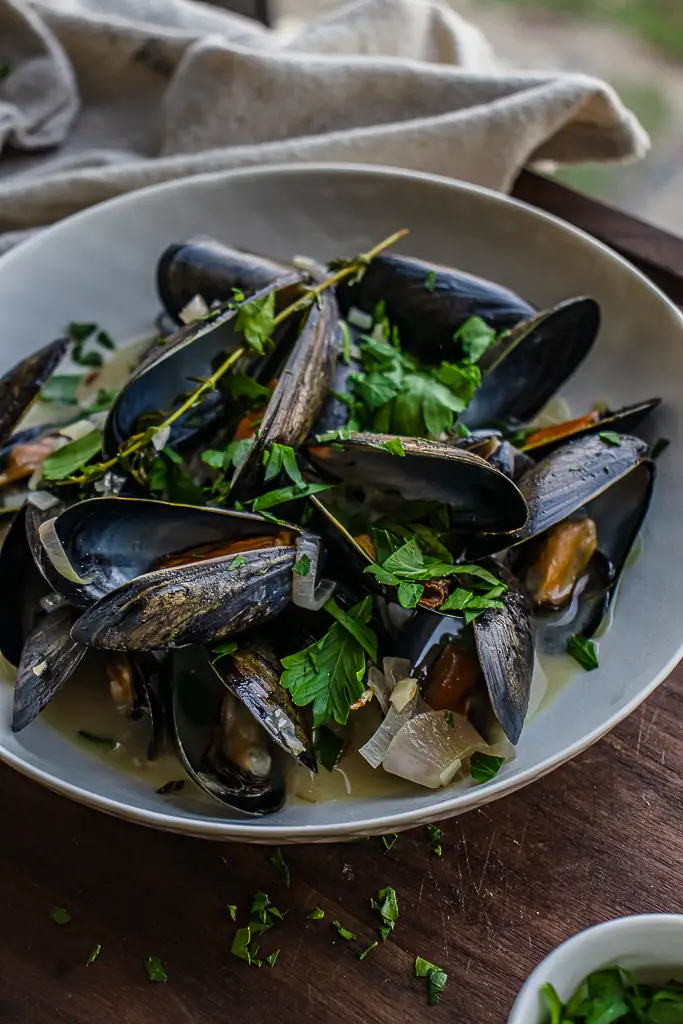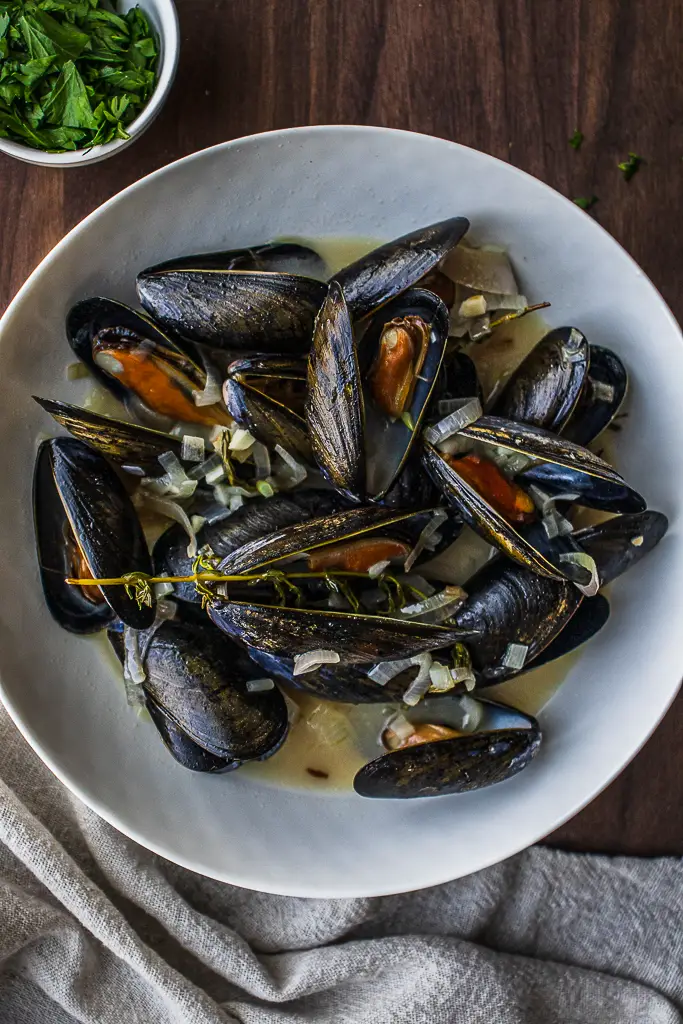 A Quick Primer on Mussels
Making mussels at home may sound complicated, but you'll come to find that steamed mussels is one of the easiest dishes you can have in your repertoire. They require very little prep and only a few ingredients, probably most of which you already have in your kitchen.  I have a full guide on selecting and preparing mussels because I make them often ever since I discovered how affordable and easy they are to make at home.
Use the freshest mussels you can find.  From a local seafood market or over the seafood counter at your local grocery store. To ensure freshness, I typically buy mussels as close as possible to the time you're planning on cooking them.
Until you're ready to cook them, keep them cold and wet but not covered in water. I store them in a mesh wrap or netting, which is how they are often sold.  I then store the mussels in a small/medium bowl lined with a dry paper towel to catch excess water. Cover the bowl with a damp paper towel (wring it out so it's fully saturated but not dripping with water). Store the mussels in the back / coldest part of your fridge.
Always clean and inspect mussels before cooking them. Fresh, live mussels should have a mild ocean smell (think briney, not fishy). If anything smells rancid, throw them out. The shells should be tightly closed. Discard any mussels that are cracked or opened prior to cooking. Before throwing out an opened shell, give it a firm tap to see if it closes back up. If so, it's still alive and fresh enough to cook.
To eat mussels, hold a mussel/shell in your hand. Use fork or your other hand to open the shell more widely, pull out the meat, dip it into the broth, and eat. The shell should already have a gap where it opened during cooking. Opening a mussel after cooking should require minimal force. If you come across a mussel that did not open in the cooking process, discard it.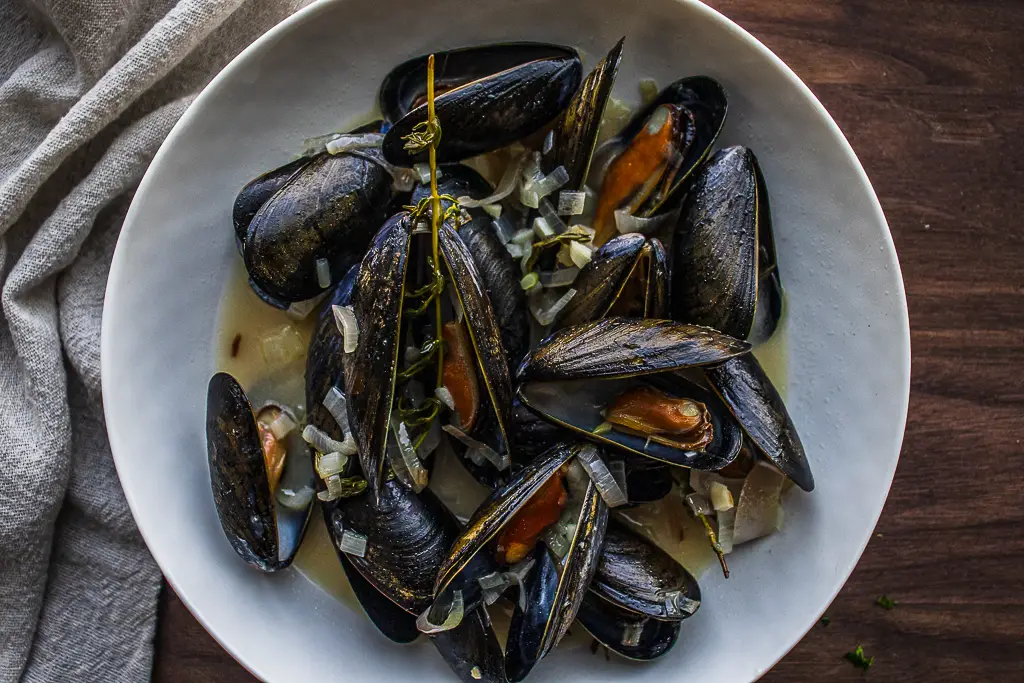 "If you wouldn't drink it, then don't cook with it."
Any Steamed Mussels Recipe Counts
Any steamed mussels recipe will work here as long as they are served with fries for "moules frites."  Literally, there are so many to choose from.  Steamed mussels recipes are typically require minimal ingredients that create a phenomenal flavor. So go with whatever vibes you're feeling. Here are some of my personal favorites:
Mussels à La Normande
This is the recipe found below. Mussels steamed in an apple cider-based broth. The fun things about this one over the other mussels recipes is that the broth is truly cider-based — there is no chicken stock or broth, which I sometimes feel can be used as crutch to balance out any strong flavors.
Hard Apple Cider: This is the star of the broth.  Unlike my other mussels recipes that also incorporate a bit of chicken broth or stock, Normande broth is all about the cider and the cider alone.  Pick a good quality one – it does not need to be expensive.  Good ciders don't have to be.  If you're unsure, give it a taste.  My cardinal rule for cooking with cider (or wine or beer) is: if you wouldn't drink it, then don't cook with it.
Crème Fraîche: This is what makes the broth just slightly creamy.  The fat from the cream (and the butter) balances out the acidity from the cider making for a perfect combination.  I started to keep crème fraîche on hand especially in the autumn months after realizing that I have a tendency to incorporate in my fall recipes like this Roasted Butternut Squash Soup that I won't eat without a dollop of crème fraîche and crispy pancetta.
Steamed Mussels in a Creamy White Wine Sauce
If you're new to mussels or just a sucker for classics like me, I highly recommend starting with a more commonly found, wine-based recipe (in the U.S. anyways), like my Steamed Mussels in a Creamy White Wine Sauce.  One of my top 3 favorite mussels recipes for sure.  The ingredients are simple:
Good Quality Butter and Olive Oil: You should always use the best quality cooking oils you can get your hands on, but this is especially important when preparing steamed mussels because the dish is so simple, and the ingredients are minimal. So, the quality of your ingredients will truly shine through.
Shallots & Garlic: This is an unmatched duo when it comes to mussels.
Chicken Broth or Stock: Technically, broth is likely the better option here, but I have used both and achieved equally delicious results.
White Wine: For mussels, I often opt for a dry pinot grigio or sauvignon blanc. Again, taste before using. It does not need to be expensive, but it should be something worthy of a glass.  If so, I highly recommend pouring yourself a glass while cooking.  Cooking with wine
Heavy Cream: Heavy cream is incorporated to add a creaminess and richness to the broth.
You cannot go wrong with this combination of ingredients, and it's perfect for doubling and making a larger batch of mussels for a group of people or small dinner party. I find that the ingredients are affordable and you usually don't use the entire bottle of wine or cream making the smaller serving – so easy to double.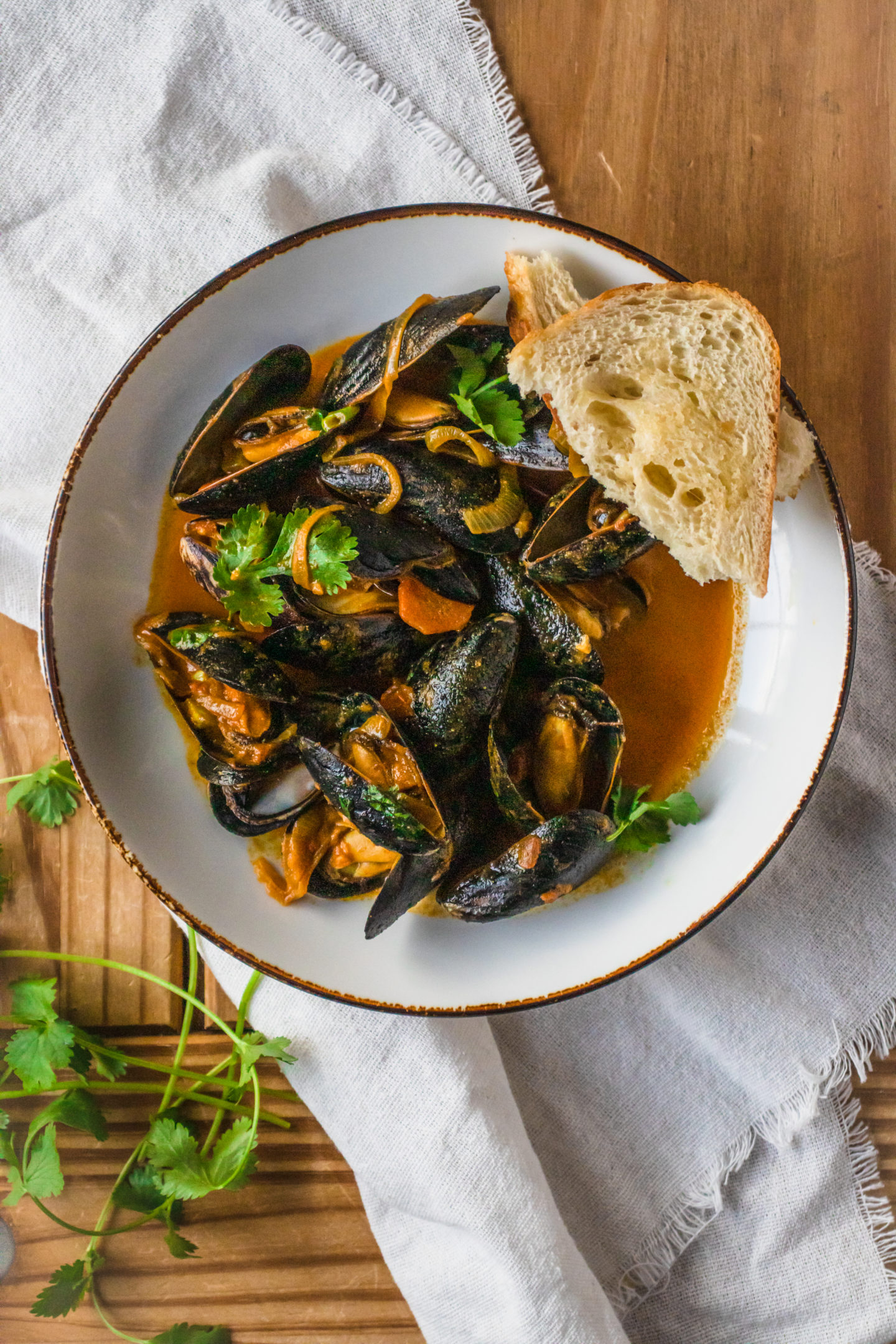 Curried Mussels
Arguably my favorite steamed mussels recipe (I know I say this about every one): Curried Mussels steamed in a coconut milk-based broth flavored with onions, garlic, ginger, tomatoes, and curry powder. 
When I started building this dish, I modeled the flavors toward more of an Indian-style curry, with the exception of the coconut milk. I serve curried mussels with toasted bread or parboiled potatoes but, for moules frites, just swap out the bread or potatoes for fries.
The great thing is that if you're not in the mood for making French fries or you're cutting back on fried foods or you are just in a time crunch, you can use the same russet potatoes to parboil as the side to curried mussels. Or you can serve them with a few pieces of toasted and buttery bread.
Mojo Mussels with Lots of Garlic
My Mojo Mussels with Lots of Garlic are inspired by Cuban mojo, a blend of garlic and citrus flavors that is more commonly used as a marinade for meats, especially chicken and pork. Like most of my mussels recipes, Mojo Mussels do not require a ton of ingredients and most probably are already found in your kitchen.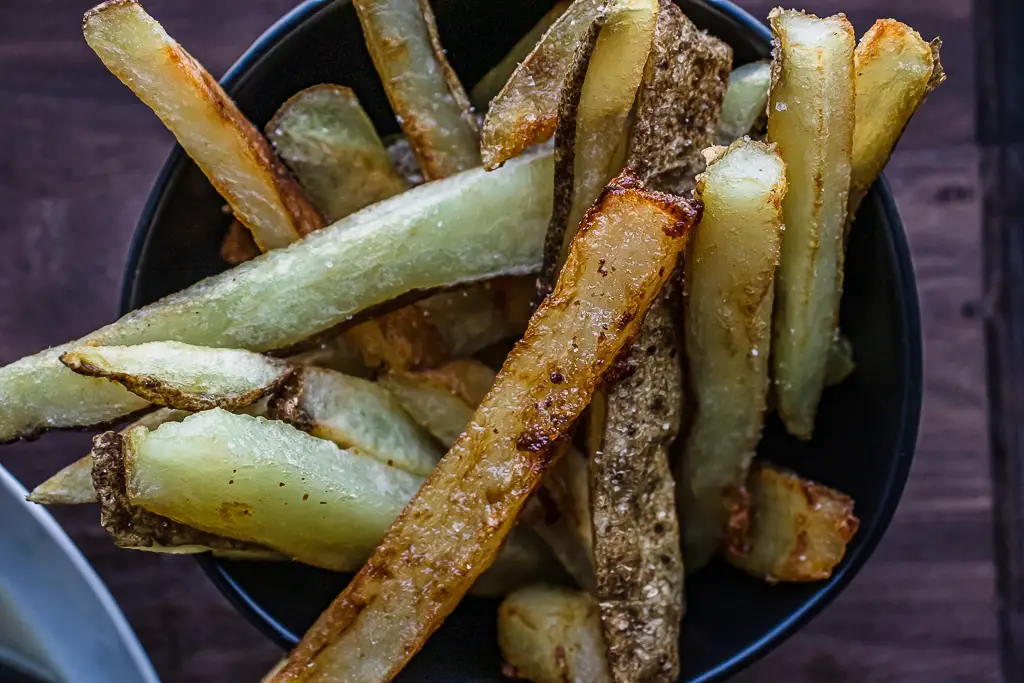 Fresh Hand-Cut Fries
I would not underestimate the beauty of homemade fries. It may seem like a chore that can be simply replaced with a frozen or otherwise instant variety. Resist the urge because the double-fry method will leave you wondering why you ever settled for subpar fries.
Cutting the Potatoes: The best part about hand-cut fries is you can cut them according to your preference—no more arguing over whether thick-cut fries are superior to shoestring (they are, to be clear).
The Double-Fry Method: This method requires two rounds of frying. The first round involves frying the potatoes for about 6 to 8 minutes allowing the potatoes to cook fully.  They will still be a bit pale and un-crisp at this point.  Instead of frying them for additional time in one sitting, you'll remove them and allow them to cool and send them back to the hot oil for a second round of frying.  It is during the second round that the potatoes will brown and crisp up into perfectly crunchy fries.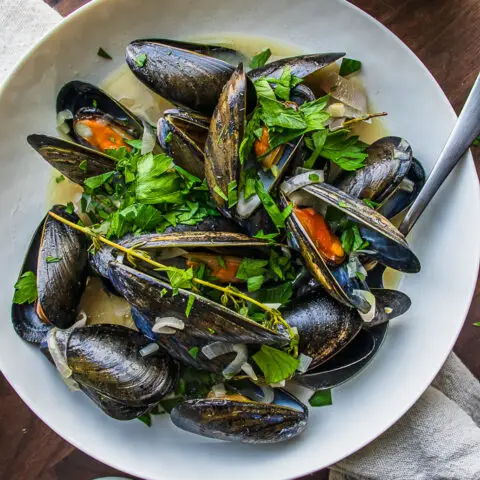 Moules Frites
Yield:
2 to 3 dinner servings; 3 to 4 appetizer serviings
Additional Time:
10 minutes
Total Time:
1 hour
25 minutes
If I had to eat one dish for the rest of my life, it would be moules frites, or mussels with fries. Any steamed mussels recipe work here as long as they are served with a healthy portion of preferably hand-cut and homemade fries. I made Mussels à la Normande, which are steamed mussels in a creamy apple cider-based broth with crème fraîche. For the crispiest fries, I used russet potatoes and fried them using the double-fry method.
Ingredients
Peanut oil or canola oil, for frying
½ to ¾ pounds russet potatoes per person, cut into fries
Kosher salt
1 to 1½ pounds fresh mussels
2 tablespoons butter
2 shallots, thinly sliced
3 cloves garlic, chopped or minced
1⅓ cup hard apple cider
1 bay leaf
4 to 6 sprigs fresh thyme
A few turns of freshly ground black pepper
1½ tablespoons crème fraîche
¼ cup fresh parsley, chopped
Instructions
1. For the Fries: Fill a Dutch oven between ¼ and ½ ways up with peanut or canola oil. Heat until the oil until it is at a rapid simmer when a potato is dropped in.
2. Working in batches, use tongs or a spider strainer to slowly add in a few handfuls fries. Fry for 6 to 8 minutes and then transfer to a baking sheet lined with a wire rack. The fries will be pale and not yet crispy. Allow to cool for about 5 to 7 minutes while bringing the oil back up to temperature.

3. Add the fries back to the oil for a second fry for another 6 to 8 minutes until they begin to brown and crisp up. Transfer back to the wire rack and sprinkle with salt while hot. Optional: Heat oven to 200 degrees F and transfer fries to the oven to keep warm while preparing the mussels.

4. For the Mussels à la Normande: Clean and inspect mussels to ensure each one is fresh and alive, and clear of any dirt or mud. Remove the beard and discard any mussel with an open or broken shell as well as any mussel that is unusually heavier than the others (as it's likely filled with mud). Set aside.

5. In a stockpot, Dutch oven, or deep enameled cast iron pan with a lid, melt butter over medium heat. Sauté shallots for 1-2 minutes until slightly softened. Add garlic and continue sautéing for another minute.

6. Add the apple cider and tuck the bay leaf and fresh thyme into the liquid. Stir in salt and black pepper. Bring to a simmer and gently add the mussels and lightly toss into the liquid (they won't be covered by the liquid).
7. Cover with a tight-fitting lid and steam the mussels for 5 to 7 minutes undisturbed until the shells have opened. (At 5 minutes, if many of the shells are still closed, cover again and continue steaming for another few minutes. Make sure the liquid is at a simmer, as the heat from the steam is what opens the mussels.)

8. Once the mussels have opened, uncover and lower heat to low-medium. Push the mussels to the sides of the pot creating a space in the middle. Stir in the crème fraîche until dissolved. Toss the mussels around to coat with the broth. Top with fresh parsley. Spoon mussels and broth into individual serving bowls and serve with fries.
Notes
• I recommend making the fries first (as listed in the instructions), as the double-fry process will take slightly longer than steaming mussels. Fries are easier to keep warm without overcooking or just re-heat. Mussels, not as much. You'll want to serve the mussels fresh from the pot even if the fries require some re-heating.