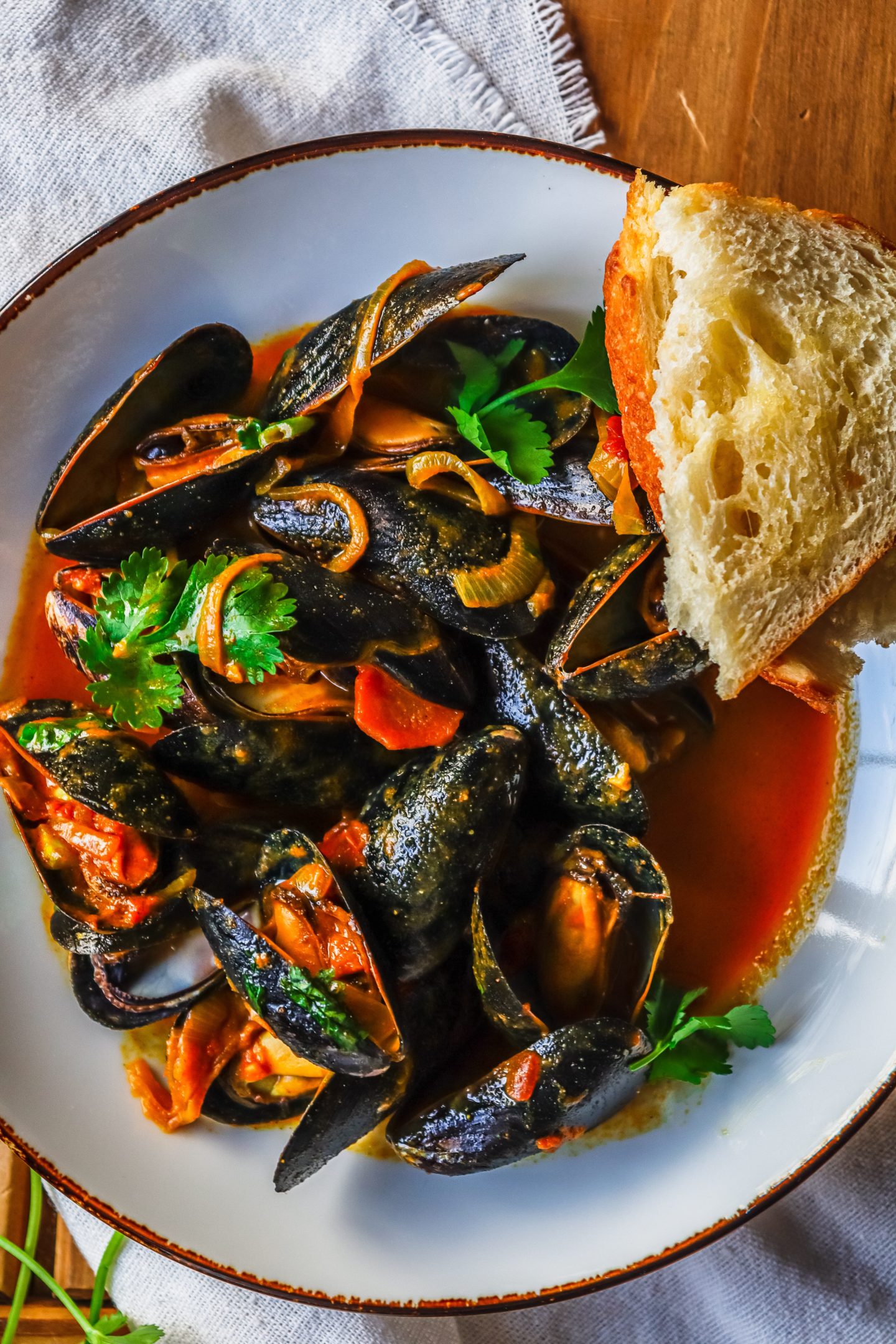 Have y'all ever made a dish and then completely surprised yourself with how good it was?  That's me and these curried mussels. 
These mussels are steamed in a coconut curry-based broth served with crusty bread or parboiled potatoes.  (I've tried both ways and can attest that both are phenomenal ways to enjoy the curry broth.)
My love for mussels started with moules frites — mussels and fries, a very popular in Belgium and the coastal regions of France.  In France, the mussels are typically prepared in a wine-based broth with classic flavor pairings like stock and garlic and butter. 
So, I was a little nervous at the idea of completely changing the flavor profile for mussels. Not because other flavor profiles don't look delicious, but because I love white wine mussels too much.  I would hate to make mussels and not love them.
But these? I LOVE.  
I am literally that person licking the bowl to make sure that no curry broth is left behind.
How to Prepare Mussels
In a previous post, I walked through how to prepare mussels, but here's another brief overview:
Buy mussels as close as possible to the time you're planning on cooking them.  I typically buy mussels in the morning or early afternoon of the same day I plan to cook them, especially when they're from the grocery store as opposed to a fish market where they'd be much fresher/recently harvested. You can buy them the day before but be sure to inspect them more closely before cooking to ensure freshness.
Until you're ready to cook them, keep them cold and wet but not covered in water. I store them in a mesh wrap or netting, which is how they are often sold.  I then store the mussels in a small/medium bowl lined with a dry paper towel to catch excess water. Cover the bowl with a damp paper towel (wring it out so it's soaked but not dripping with water). Store the mussels in the back / coldest part of your fridge. Never store mussels in a plastic bag.
Always clean and inspect mussels before cooking them. Lightly brush each one with a vegetable brush or using your hands to get rid of any dirt or mud. You can run them (individually or in a colander) over a soft stream of cold water.
Fresh, live mussels should have a mild ocean smell. If anything smells rancid, throw them out. They should be tightly closed. Discard any mussels that are cracked or opened prior to cooking.
Right before cooking, remove the beard. Yes, I said beard. It's a little hairy fiber that you might see attached to the shell. Pinch and tug at it firmly to remove it.
When the mussels are done steaming, they'll open! It's that easy and that process should take about 5 minutes over full steam in a covered pot. If you come across a mussel that didn't open in the steaming process, don't force it open – discard it.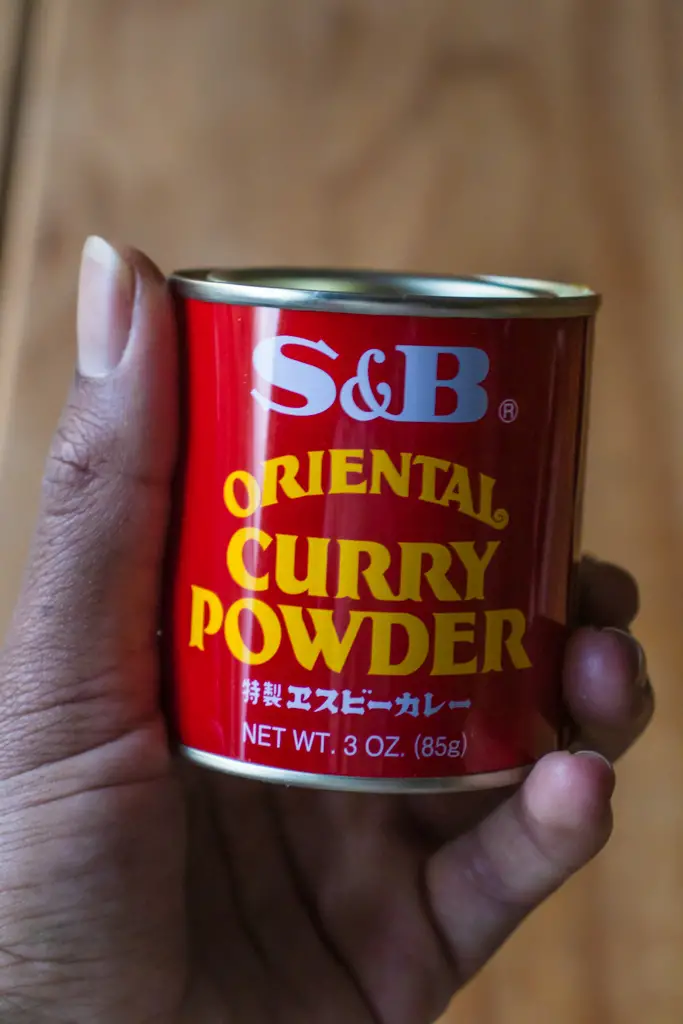 The Curry Broth
Curry and mussels are a match made in curry-heaven.  When I started building this dish, I modeled the flavors toward more of an Indian-style curry, with the exception of the coconut milk.  That's where the flavors began to evolve, pleasantly so.
The broth is really simple.  I started by sautéing carrots in ghee / clarified butter.  I added onions, garlic, and ginger, tomato paste, diced tomatoes (from the can), and curry powder.  I always sauté the tomato and tomato paste for a little bit to get rid of any possible metallic-ey taste – which I typically can't even taste but other swear that they do.
For the liquid — coconut milk and chicken broth (vegetable broth for my pescatarian friends).  If you're not afraid of a little dairy, you can certainly use cream instead of coconut milk for a truly creamy curry broth.
Bread for Dipping
The best part about mussels is having a piece of crusty bread to soak up the delicious broth.  I always go for breads with hard exteriors and softer interiors.  Spread butter on each piece of bread and toast in the oven for extra crunch. 
If you don't have any crusty bread on hand for dipping into the curry broth, parboil some diced potatoes and add to the broth once the mussels are gone.  Dice up one or two russet potatoes into cubes and add them into boiling water for a few minutes before draining.  Salt them and serve with the curry. The potatoes will help you soak up the rest of the broth and they even make for a more complete and heartier meal.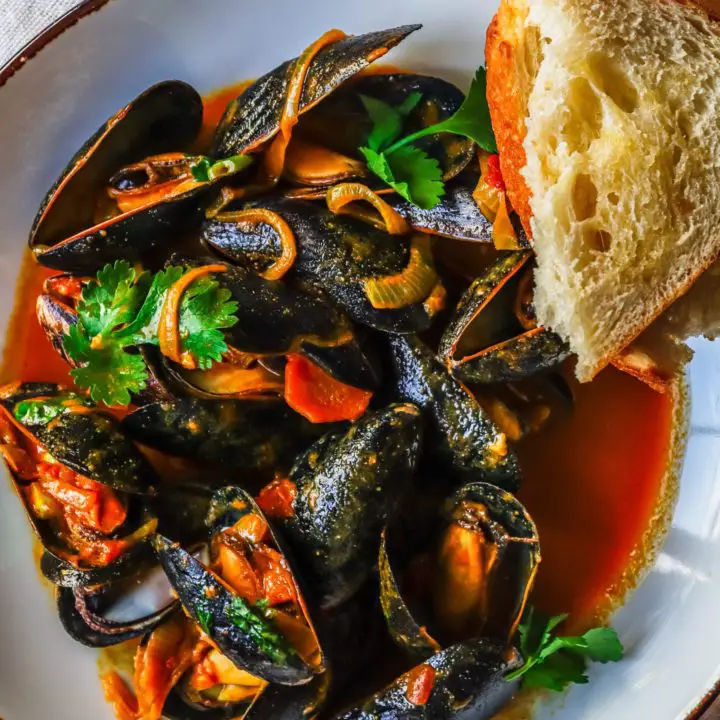 Curried Mussels
These mussels are steamed in a coconut curry-based
broth served with crusty bread or parboiled potatoes. 
Ingredients
1.5 to 2 pounds mussels
1 teaspoon ghee (clarified butter) or butter
½ cup carrots, sliced into rounds (about 2 small/medium carrots)
1 yellow onion, chopped
1 teaspoon fresh ginger, grated or minced
2 cloves garlic, minced
2 tablespoons curry powder
1 tablespoon tomato paste
¼ cup canned diced tomatoes
Pinch of kosher salt, to taste
1 cup coconut milk
½ cup chicken or vegetable broth
2 scallions, chopped
¼ cup fresh cilantro, chopped
Freshly ground black pepper
Bread and/or diced parboiled potatoes (for serving)
Instructions
Clean and inspect mussels to ensure they're fresh and alive and clear of any dirt or mud. Remove the beard and discard any mussel with an open or broken shell. Set aside.

In a stockpot, Dutch oven, or deep enameled cast iron pan with a lid, melt ghee or butter over medium-high heat. Sauté carrots for 2-3 minutes until slightly softened. Add onion and continue sautéing for another 1-2 minutes. Stir in ginger and garlic until fragrant, about a minute or so, continuously stirring to avoid burning.

Add curry powder, tomato paste, diced tomatoes, and salt and toss to coat the vegetables. Allow the tomato mixture to cook over medium-high heat for 1-2 minutes before adding the coconut milk and broth.

Bring the liquid to a low simmer, then add the mussels and lightly toss to coat with the broth and cradle them in the liquid. Immediately cover the pot with a tight-fitting lid and allow to steam for about 5 minutes undisturbed until the shells have opened. (If many of the shells are still closed, cover again and continue steaming for another few minutes.)

Once the mussels have opened, uncover and lower heat to low-medium. Toss the mussels around to coat with the broth. Top with chopped scallions, cilantro, and several turns of freshly ground black pepper.
Spoon mussels and broth into individual serving bowls and serve with bread or potatoes.