"Because who doesn't LOVE a weeknight meal that takes less than 20 minutes to make?"
Fish en papillote refers to fish wrapped in parchment paper and then baked in the oven allowing the steam to build up and cook the fish quickly and perfectly. 
I know I say this about everything, but this IS a go-to weeknight meal . . . because who doesn't LOVE a weeknight meal that takes less than 20 minutes to make?
what kind of fish to use (do you even have to use fish??)
You can use this recipe with just about any fish — salmon, arctic char, flounder, cod, and halibut.  PRO TIP: YOU DON'T EVEN NEED THE FISH. YOU CAN JUST STEAM VEGETABLES IN A PARCHMENT PAPER PACKET AND THEY'LL BE FIRE. Sorry for yelling, but this is truly a vegan revelation for me and I'm not even vegan. 
all the flavors (aka pick your flavor)
I almost always opt for a combination of citrus and light herbs with the occasional addition of garlic and butter but you can try your
Fats / Oils: I add butter and/or olive oil for flavor. But not too much because most fish, especially salmon with the skin on, already excrete their own fish oils. You'll see that the amount I use is very low to account for this.
Citrus: I love the addition of citrus to my fish in paper, but this aromatic addition is definitely optional. If you want to this flavor, I recommend lemon and/or orange for salmon and arctic char. I haven't yet tried grapefruit, but it's on my list. If you're really about the life, drizzle some citrus juice on your fish before closing up the paper.
Herbs: Play around with these. I love a dill and citrus combo. But if you are not a fan of dill or you don't have it on hand. Parsley is a great option. Cilantro, fennel, and tarragon are also great choices.
Seasonings: my go-to is salt & pepper especially when I'm in a rush, but you can season your fish with whatever you typically prefer.
Vegetables & Other Flavors: Garlic. Garlic is heaven sent in fish en papillote. Sliced shallots too. Olives and capers also make for a great mediterranean vibe. For a complete meal, throw some vegetables in the packet before sealing — broccoli florets / broccolini, asparagus, zucchini, halved cherry tomatoes are all great.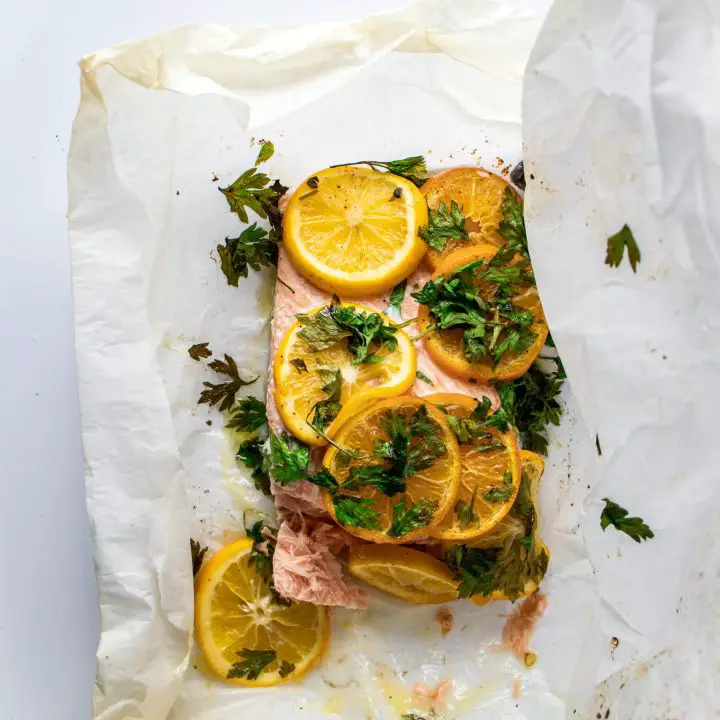 fish en papillote
Ingredients
1 one pound fillet of Salmon, Arctic char, or Cod (or 2 smaller fillets)
1/2 teaspoon kosher salt
Freshly ground black pepper (optional)
1 tablespoon butter, sliced
2 -3 cloves garlic, sliced or minced
1 small orange, sliced
1 lemon, sliced
1 small bunch of fresh herbs (parsley, dill, tarragon, fennel, or cilantro recommended)
1/2 teaspoon olive oil
Instructions
Cut a large rectangles of parchment paper - about 16 to 18 inches long — not wax paper or foil.  Place each fillet on one side of the parchment rectangle so that the other side can fold over and cover the fillet completely.
Top each fillet with salt, pepper, butter, garlic, citrus slices, and fresh herbs. Drizzle with olive oil. If you have any extra lemon or orange halves, you can squeeze a little juice over the fillets for extra flavor. 
Fold the empty half of the rectangle over the fillet and fold / crease the edges of the paper in a pleat pattern to "seal" each packet closed - but do not actually seal the packets close with kitchen tape or string. 
Place the fish packet on a baking sheet & bake at 400 degrees for about 10 to 12 minutes (about 8 to 10 minutes for fillets that are 1/2 pound or smaller) — add 1 to 2 minutes if you prefer very well done salmon. Remove from the oven and allow the fish to sit for about 1 minute before unwrapping. If the paper started to puff up and the edges are brown – it's perfect. Unwrap and serve immediately.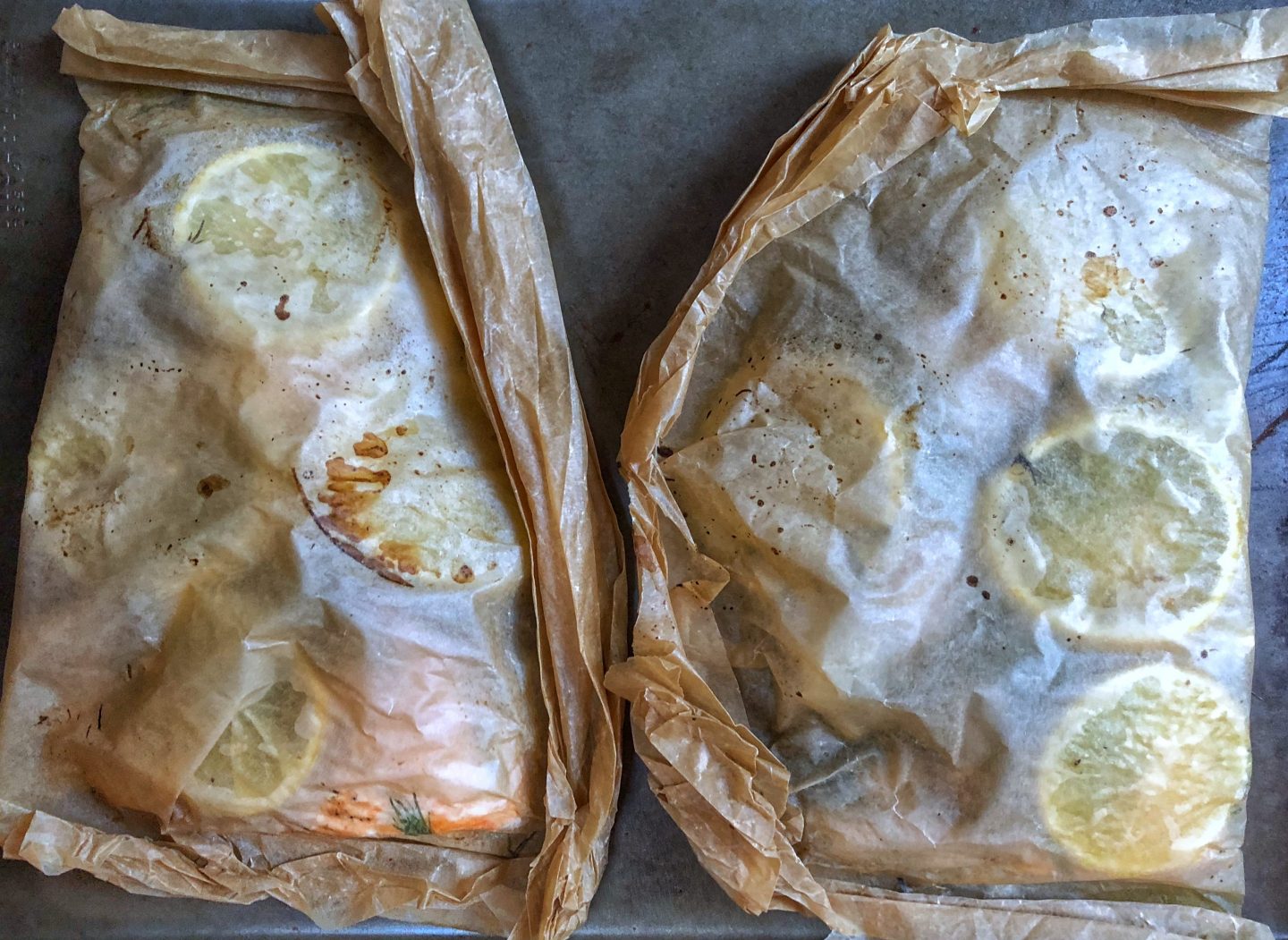 May 2020: If you're trying to keep some sense of normalcy in these crazy times, here's a low maintenance meal for those of you that managed to grab some fish before self distancing. or for those of you that don't cook cook (or allegedly can't 
. . . allegedly). I promise, minimal cooking involved here—fish en papillote is literally the simplest way you can prepare fish. all you need is some parchment paper, herbs and 20 minutes of your time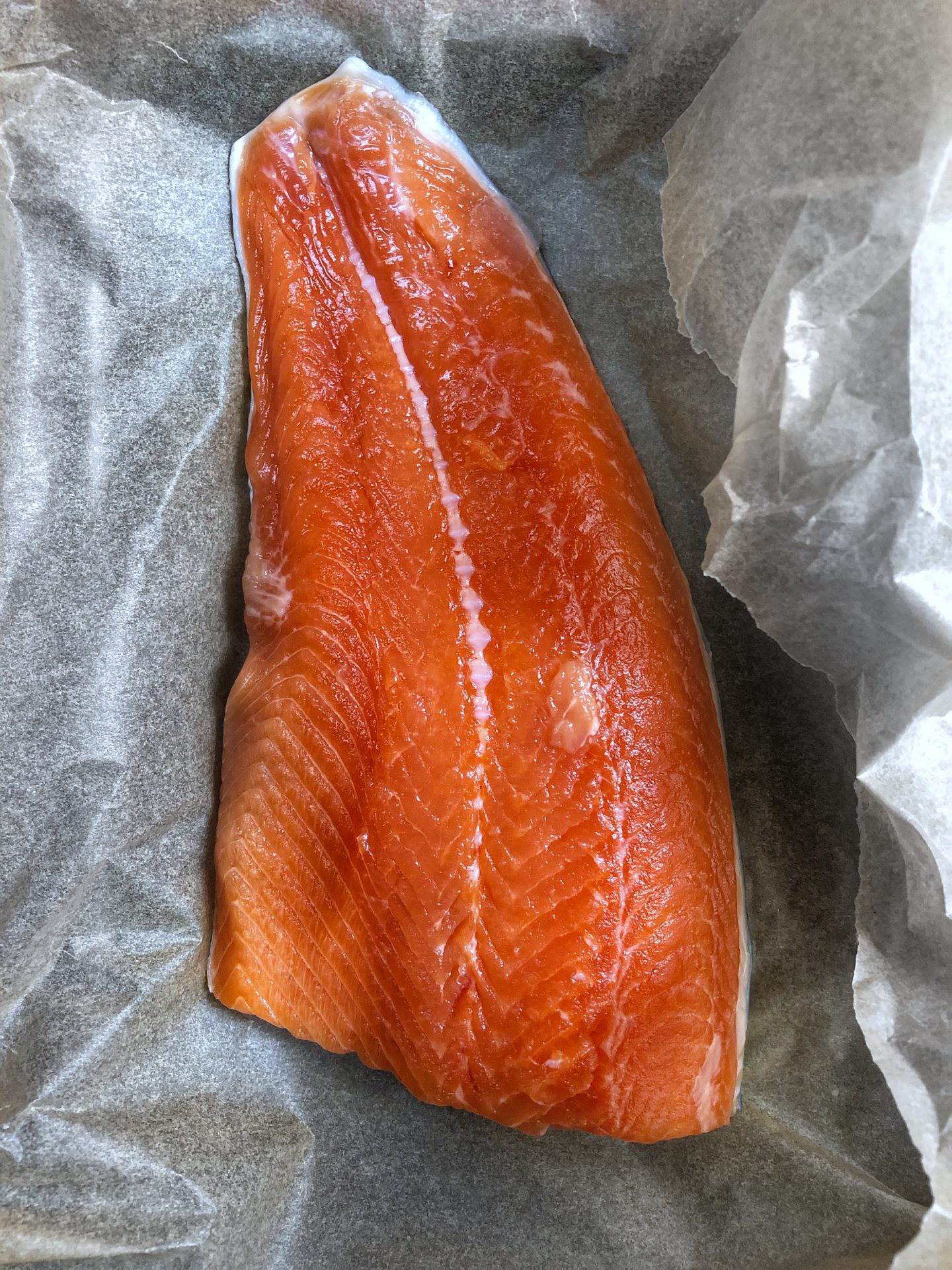 .