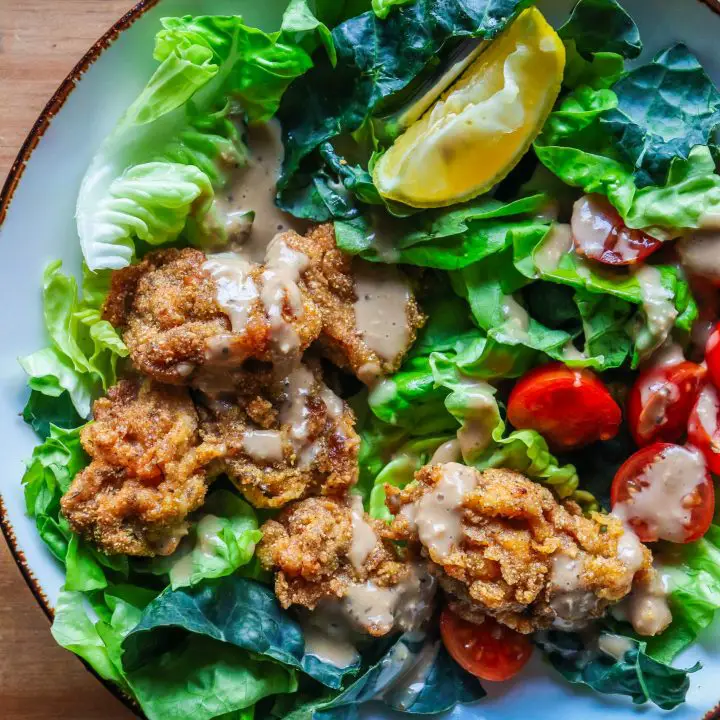 fried oysters over a butter lettuce & tuscan kale salad
Ingredients
15 ounce jar of shucked oysters
3/4 cup all-purpose flour
3/4 cup cornmeal
1 1/2 teaspoons old bay seasoning
1 teaspoon seasoning salt
1 teaspoon garlic powder
1 teaspoon onion powder
1 teaspoon dried thyme
1 teaspoon smoked paprika
1/2 teaspoon ground mustard seed
1/2 teaspoon white pepper
1 egg
Vegetable or peanut oil, for frying
butter lettuce, chopped
tuscan kale, chopped
Instructions
Pour about 2 inches of oil in a dutch oven pot and place the pot over medium-high heat.
While the oil is heating, prepare your assembly line: Drain the liquid from oysters and lay flat on paper towel-lined plate to remove excess liquid.  In a medium bowl, combine flour, cornmeal, and seasonings.  
In a separate bowl, beat one egg.  Add the oysters to the egg and then, dripping off any excess egg, coat in the flour/cornmeal mixture.  Take a pinch of the flour mixture and toss it in the hot oil – if it sizzles, the oil is ready.
Working in batches, transfer about half of the coated oysters to the hot oil and fry for about 2 to 3 minutes. Repeat with the remaining oysters.
Use tongs or a spider to transfer the fried oysters to a wire rack to drain excess oil. Serve over butter lettuce and chopped tuscan kale with your favorite savory dressing.