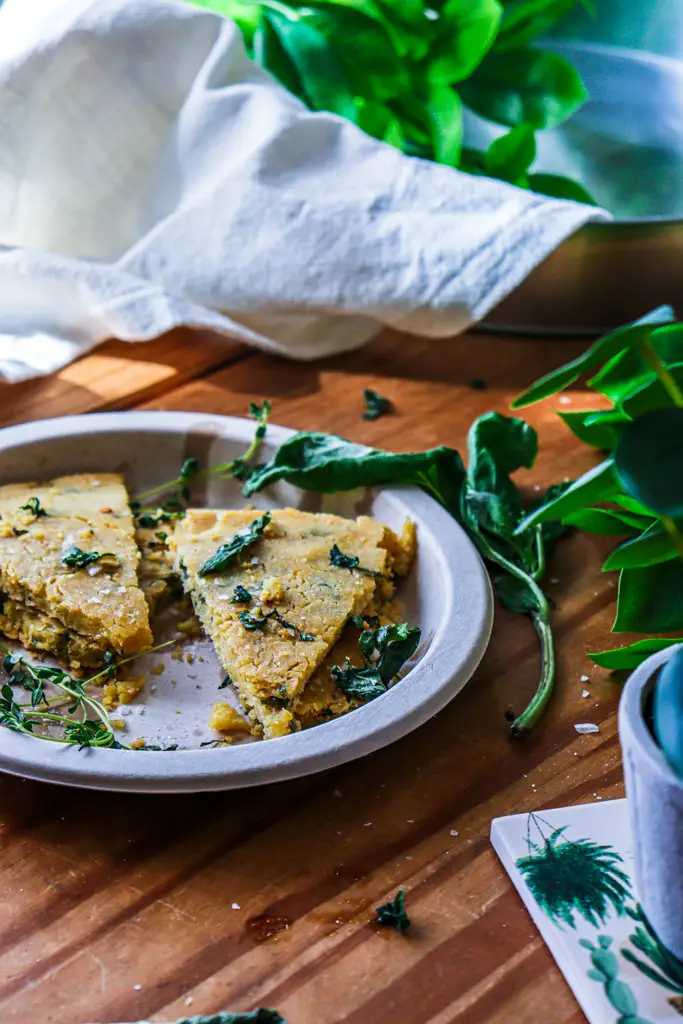 Socca.  It's earthy, it's savory, it's plane!  No, I'm totally kidding.  Socca does not fly, but it DOES make for a delicious high-protein snack or vegan, gluten-free pizza crust.  AND, apparently, it's best served with rosé.  I'll be testing that theory very soon and will report back. I am on board with anything that is best served with wine.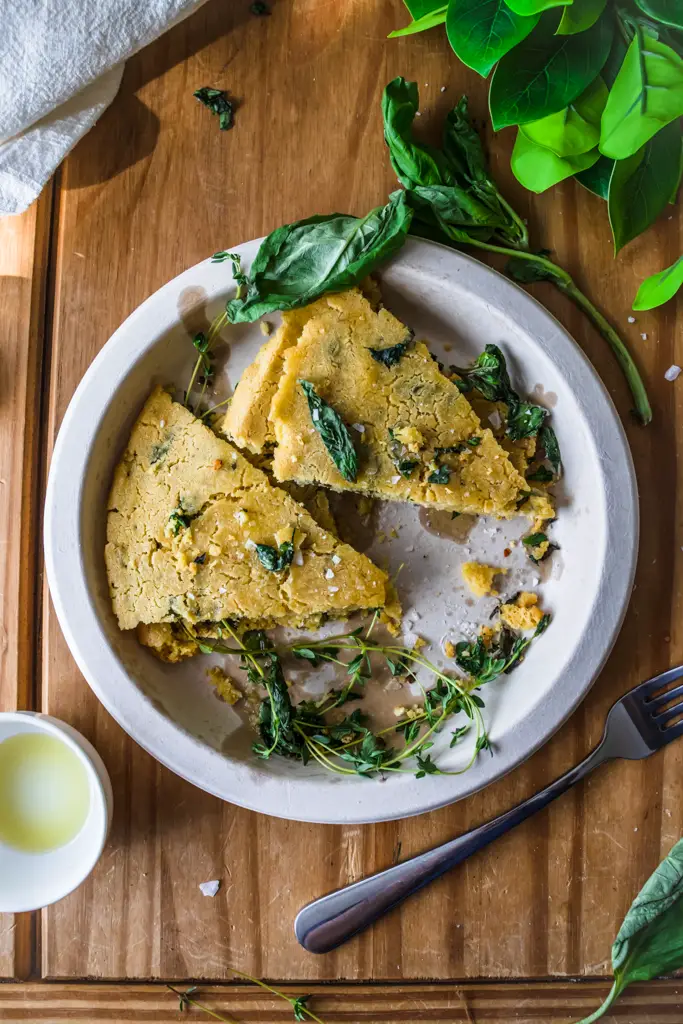 "Socca makes for a delicious high-protein snack or vegan, gluten-free pizza crust."
---
Origin
To be quite honest with you. It's a mystery to me where Socca actually originates from.  To avoid the risk of offense, I'll leave you with this: It's very popular in Provence and Nice where it is enjoyed as a street food.  The word on the street is (pun intended), it's also quite popular in Gibraltar, and Algeria and other parts of northern Africa.
Chickpea Flour: You Can Definitely Make Your Own
Yes, it's definitely made out of chickpeas – ground chickpeas.  And, like the beans, it is also known as garbanzo bean flour, gram flour, or besan flour.  Chickpea flour is quite popular in Indian dishes – it's used to make pakoras, which are one of my favorite Indian dishes. 
Not only is it vegan and naturally gluten-free, but it has a pretty high protein content (1 cup has about 21 grams of protein).  I used Bob's Red Mill chickpea flour for this batch.  If you have a high-power blender, you can make it yourself by simply blending dry chickpeas and then sifting it or straining it through a sieve to filter out any coarse pieces.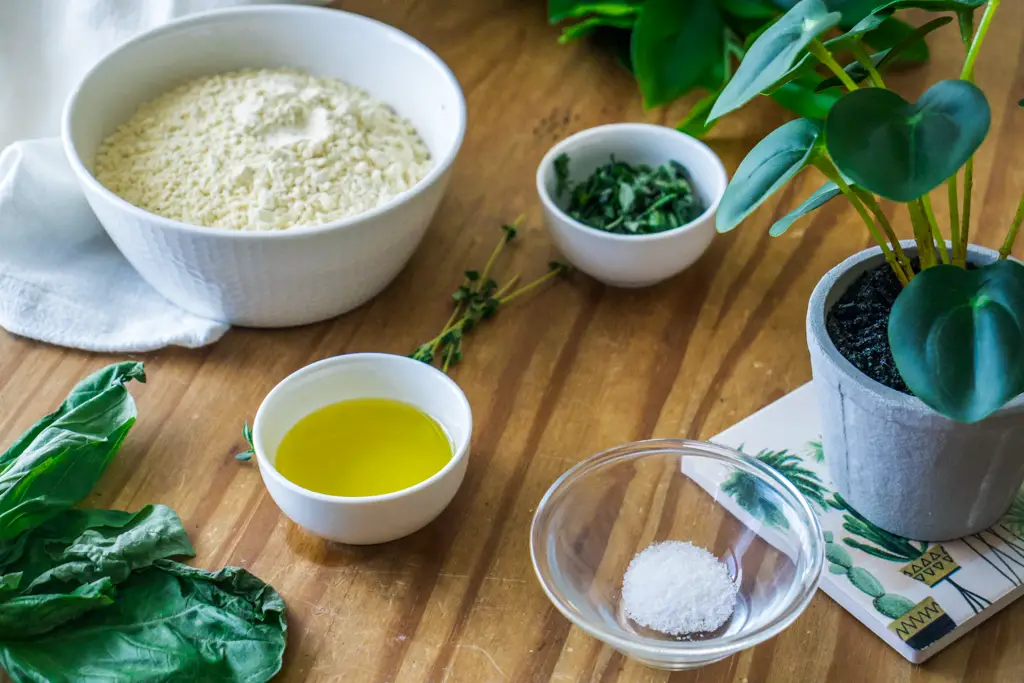 Farinata (& So Many Other Names)
Socca.  Farinata.  Torta di ceci.  Calentita.  Calentica. All refer to this socca flatbread – an unleavened, flat bread that is perfect for snacking or doubling as a vegan and gluten-free pizza crust.  You really on need four ingredients to make it — chickpea flour, salt, water, and olive oil.
It's traditionally cooked in wood ovens, but obviously I don't have one of those.  The cast iron skillet creates the perfect high-heat environment that you need to make a perfect socca.
Socca Making Tips
Let the socca batter to sit in the bowl before adding it to the greased skillet.  It's not the worst thing in the world if you don't but letting the batter sit allows the flour to soak up the water and oil for a non-dry result.  Dry socca is no fun.
Also, don't be stingy with the olive oil.  The chickpea flour really soaks it up, so using somewhere between 3-4 tablespoons of olive oil is completely expected.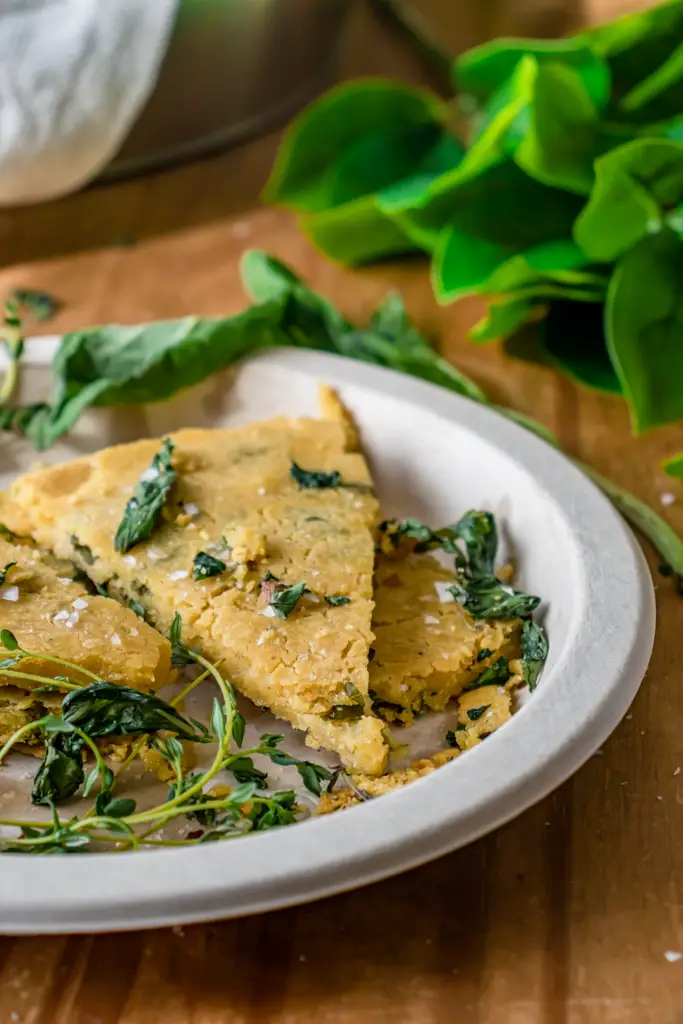 Variations
The best part of socca is you can really make it your own.  There are so many variations.  I think this rendition is probably the simplest, but feel free to explore the flavors you like.  Roasted garlic, pesto, sautéed mushrooms, sundried tomatoes, caramelized onions, harissa/cumin are some combinations that I love.  You can make these socca toppings if you don't want to add them into the batter.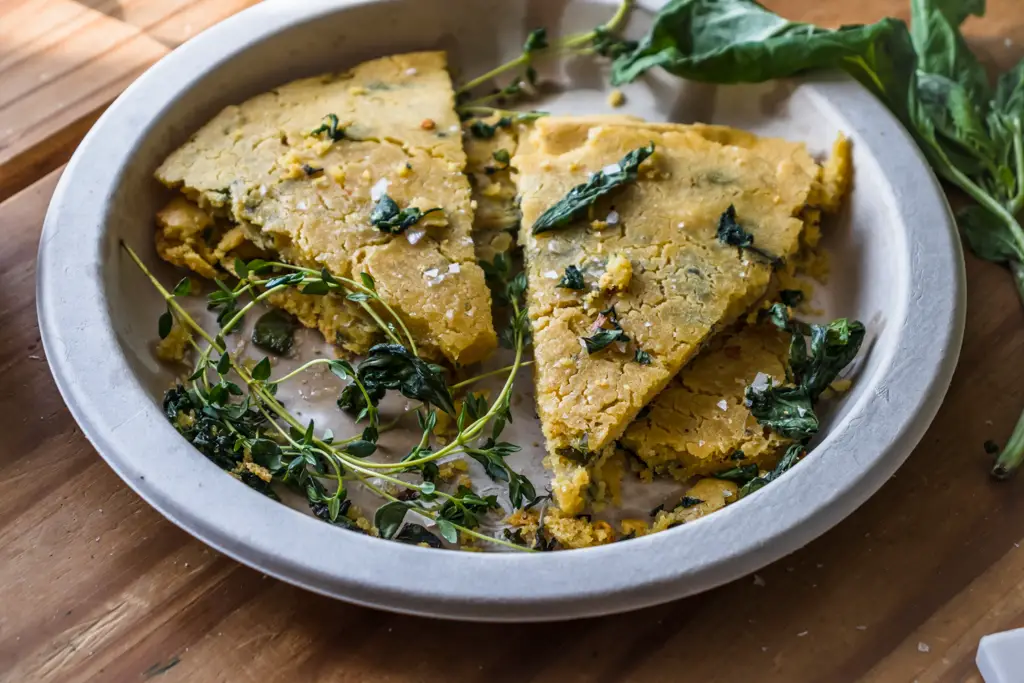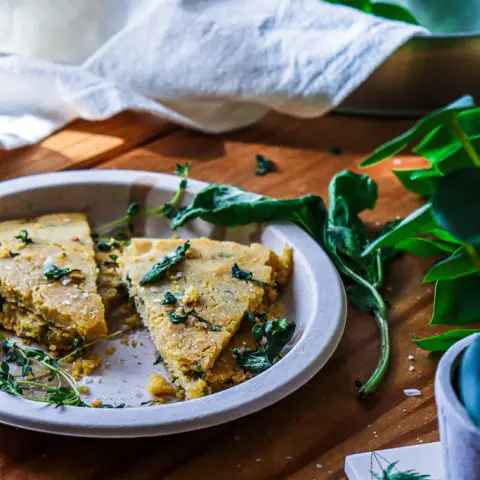 Herby Socca Flatbread
Socca (or Farinata) is a flatbread made from chickpea flour. It's very simple and quick to make, and it makes for a delicious high-protein snack or vegan, gluten-free pizza crust.  
Ingredients
1 cup chickpea flour
1/2 teaspoon kosher salt
Several turns freshly ground black pepper
1 tablespoon fresh basil, chopped
1 tablespoon fresh oregano, chopped
4 sprigs fresh thyme, de-stemmed
1 cup warm water
2 tablespoons olive oil, plus 1 tablespoon for the skillet
Flaky sea salt, for serving
Red pepper flakes, for serving
Instructions
Preheat a 9 or 10-inch cast iron skillet in a 450-degree oven. In a mixing bowl, whisk together flour, salt, pepper, and fresh herbs. Whisk in warm water and two tablespoons of olive oil until combined. Allow the socca batter to sit at room temperature for at least 10 minutes.

Remove skillet from the oven and grease with remaining tablespoon of olive oil. Pour the socca batter into the greased skillet and drizzle with any excess olive oil. Bake for 10-12 minutes until the top begins to brown then finish under the broiler for 1-2 minutes.

If you want, you can brush the top with more olive oil. Top with flaky sea salt, red pepper flakes, and more fresh herbs. Eat warm or use as a pizza crust.