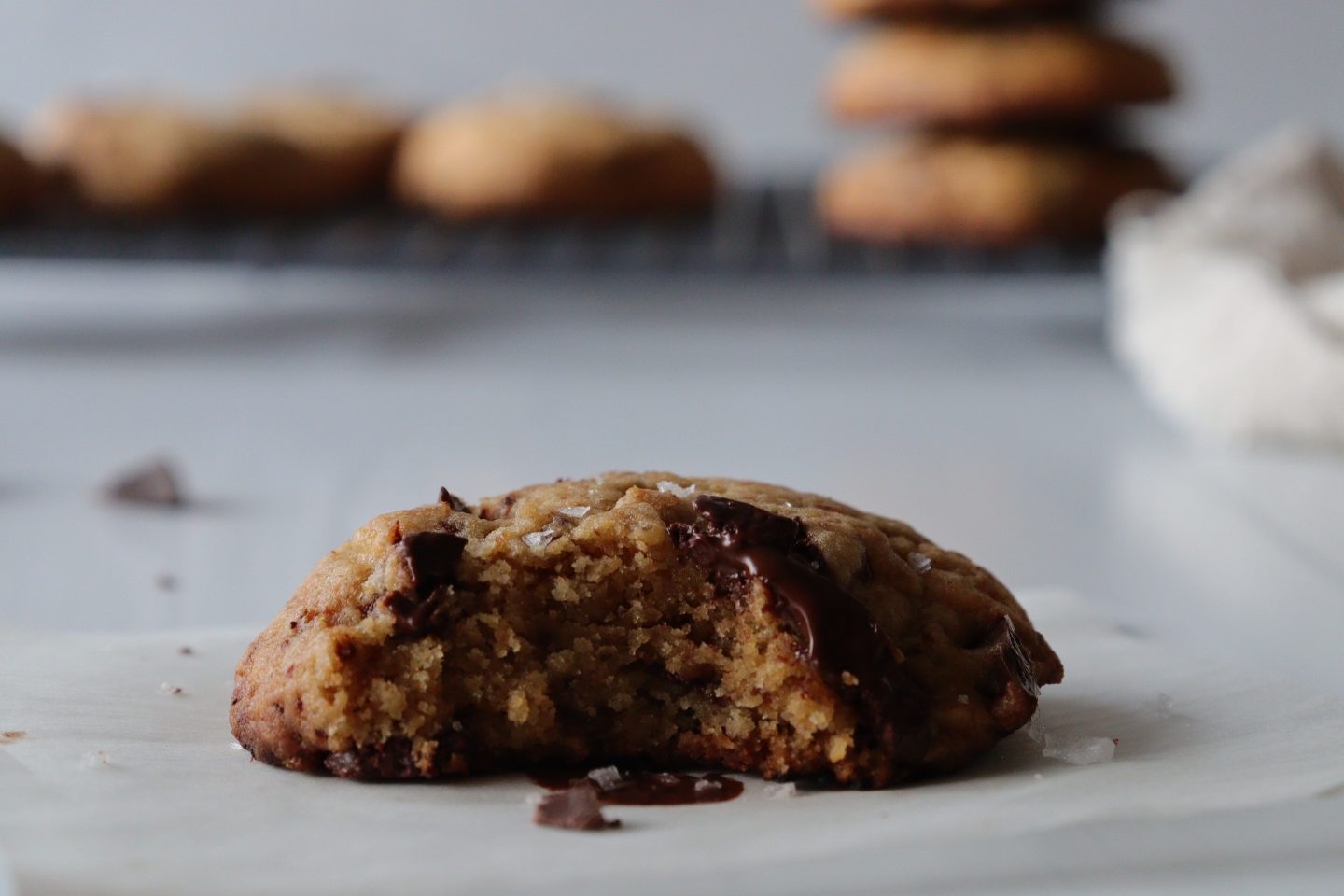 "Miso and chocolate is such an underrated combination. Think salty-sweet but with that powerful, savory umami flavor."
*sneaks into the room with another miso recipe*
. . . but I promise you will not be disappointed. 
I know it seems like I'm obsessed with miso, but that's only because I'm obsessed with miso. Miso and chocolate is such an underrated combination. Think salty-sweet but with that powerful, savory umami flavor.  Of course, I fully support making these cookies for the holidays but honestly I would devour these year round.
For the full experience : Dip them in milk or your favorite non-dairy alternative. YES.
I started by browning the butter that this recipe calls for. Anytime you want to upgrade a cookie recipe – ADD BROWN BUTTER and thank me later. Browning butter gives it (and the cookie) a bold, yummy caramelized & nutty flavor.  If you do not know how to brown butter, The Kitchn has a fabulous tutorial.
Once the brown butter cools completely, we proceed as planned always creaming butter and sugar first, adding the remaining liquid ingredients, and then incorporating the dry ingredients with the specialty ingredients (miso and chocolate) last.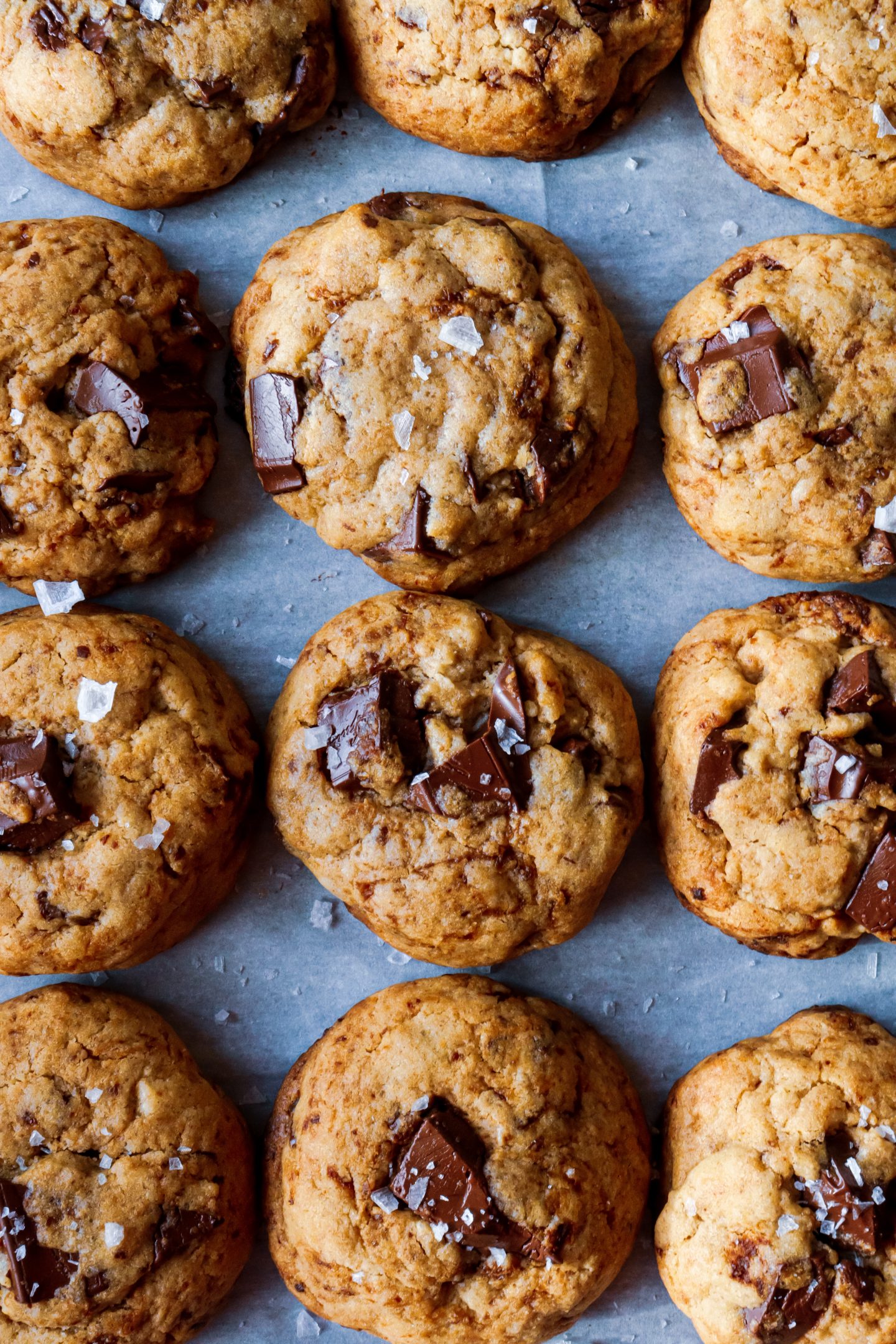 Another pro tip for updating a bland (chocolate chip) cookie recipe : use chocolate chunks instead of chips.
I keep several bars of semi-sweet baking chocolate on hand for this very reason.
Chocolate chunks are heavenly and cutting your own adds an element of surprise and purposeful inconsistency to each bite of the cookie. As opposed to chocolate chips which are typically even sized and fairly evenly dispersed in cookie dough.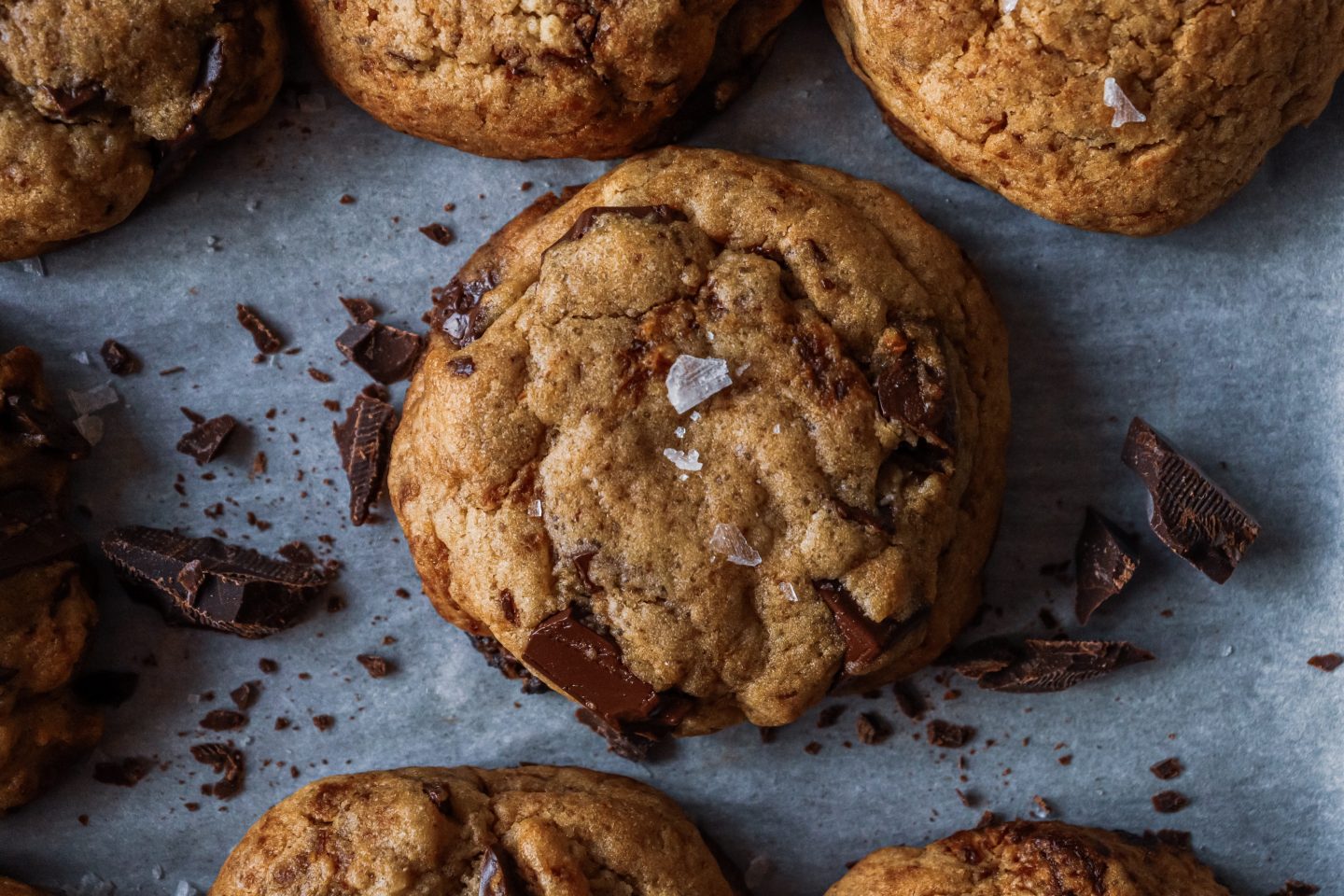 To keep your cookies from flattening / over spreading : refrigerate the dough before baking.
At times, flat cookies are perfect but only when it's done on purpose. I get so annoyed when I bake a tray of cookies and they literally turn into cookie pancakes (*eye-roll*).
Cookies flatten when the fat (i.e., the butter) melts too quickly.  But obviously, we can't brown butter without melting it, right? Refrigerating the dough cools and stiffens the butter so it's as if you added un-melted butter and makes for perfectly browned cookies with chewy centers.
I am a fan of forming the cookies and then refrigerating, so when they come out of the fridge, I can just pop the tray in the oven. By all means, feel free to just stick the dough in the fridge and form the cookies on the tray afterwards (but, don't let them "defrost" for too long).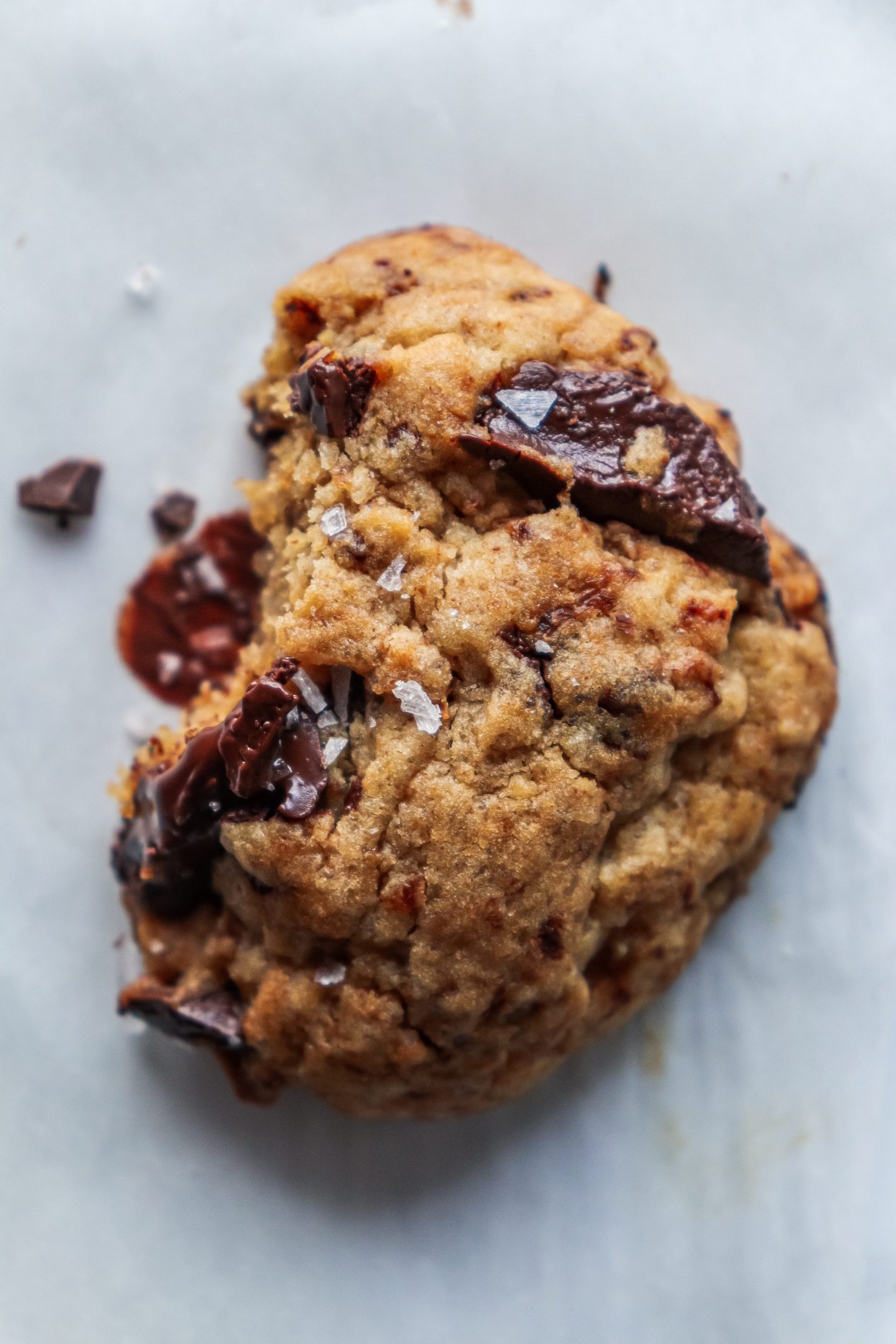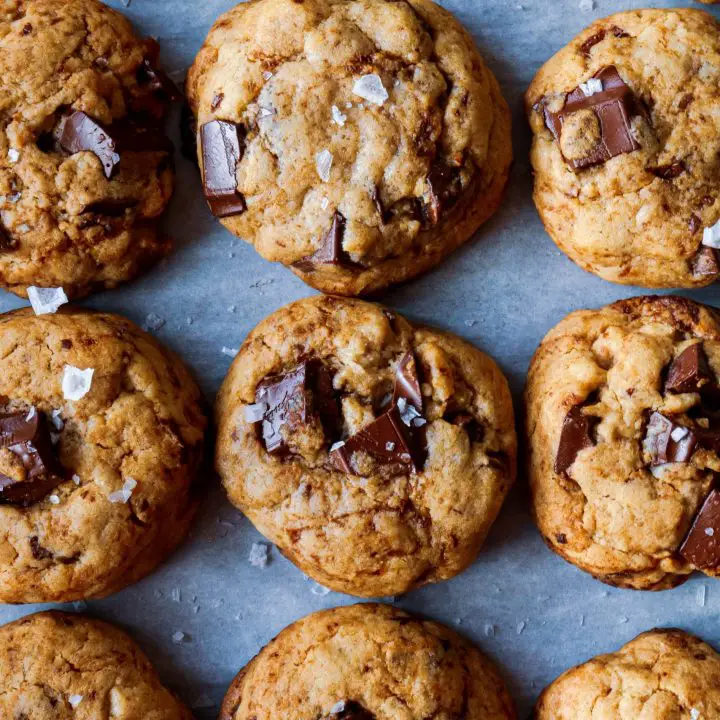 miso chocolate chip cookies
Yield:
Makes about 24 cookies
My miso obsession takes full cookie form with these miso chocolate chip cookies (with brown butter). The best part is the umami-sweet combination that is so bold and will definitely have everyone thinking you're a cookie-baking mastermind.
Ingredients
1 cup (2 sticks) butter
1 cup brown sugar, packed
1 egg + 1 egg yolk
1 1/2 teaspoon vanilla extract
2 cups flour, all-purpose
1/4 teaspoon kosher salt
1/4 teaspoon baking soda
Scant 1/2 cup miso, red or white
5-6 ounces semi-sweet chocolate, cut into chunks
Flaky sea salt (optional), for serving
Instructions
First, brown the butter : In a saucepan, heat butter over medium heat and continue past the melting point. After several minutes, you'll see the milk solids start to separate – continue heating and stirring until the butter starts to brown and gives off a nutty, caramelized aroma. Once the butter is brown, remove from heat so the butter doesn't burn or continue cooking. Cool completely.
Mix the wet ingredients : In a large mixing bowl, either by hand or using an electric mixer, cream together cooled brown butter and brown sugar. Once fully combined, incorporate 1 egg and a yolk and vanilla. 
Mix the dry ingredients : In a separate mixing bowl, combine flour, salt, and baking soda. Add the flour mixture to the wet ingredients and mix until fully combined. Set the electric mixer aside.
Incorporate the miso & chocolate : Using a spoon, fold miso and chocolate into the dough. Form cookies and place onto baking sheets lined with parchment paper and refrigerate for at least 30 minutes or overnight(or just stick the whole bowl of dough in the fridge and form them afterwards). Bake cookies in batches at 350 degrees F for 12-14 minutes. Transfer to a wire baking rack to cool.
Notes
Either red or white miso will work here. I find that the miso taste is typically stronger when red miso is used.
If you're just dying to make these & you don't have chocolate bars for chunks on hand, opt for about 2 cups of semi-sweet chocolate chips.