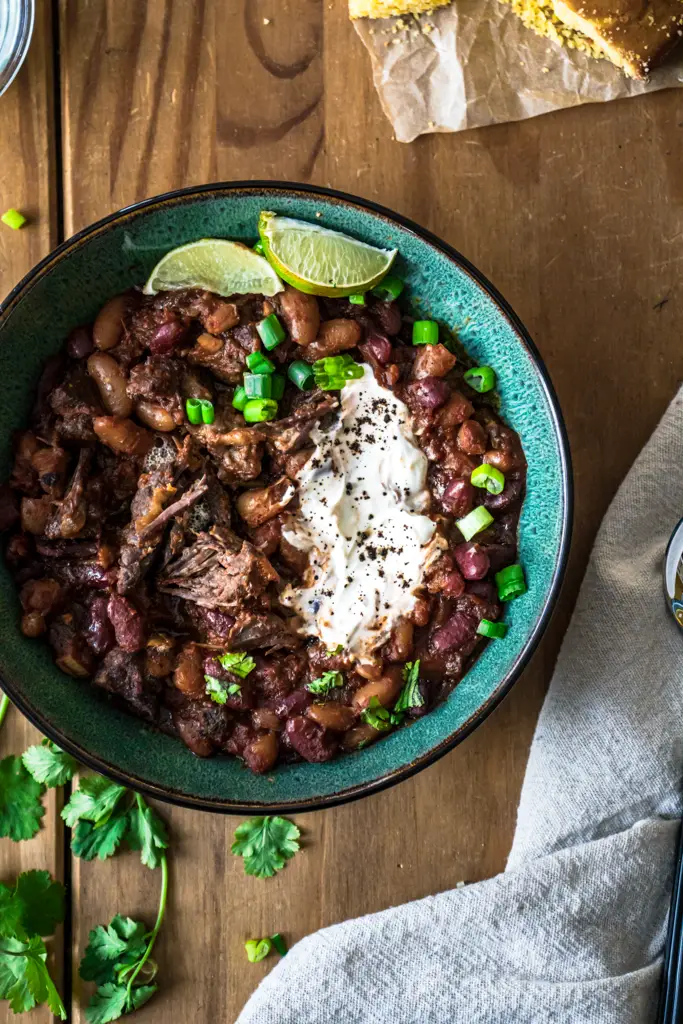 Coffee makes everything taste better.  This short rib chili is my proof (and also an integral recipe in my coffee series).
Coffee isn't much of a secret ingredient in chili recipes.  I feel like it's a fairly common addition at this point.  But that goes to say, that if you're not already adding coffee to your chili – now is the time.  I also added stout and a bit of cocoa for added depth.
Coffee almost always pairs perfectly with meat especially beef.  It has a tenderizing magic to it while still adding a whole depth of flavor.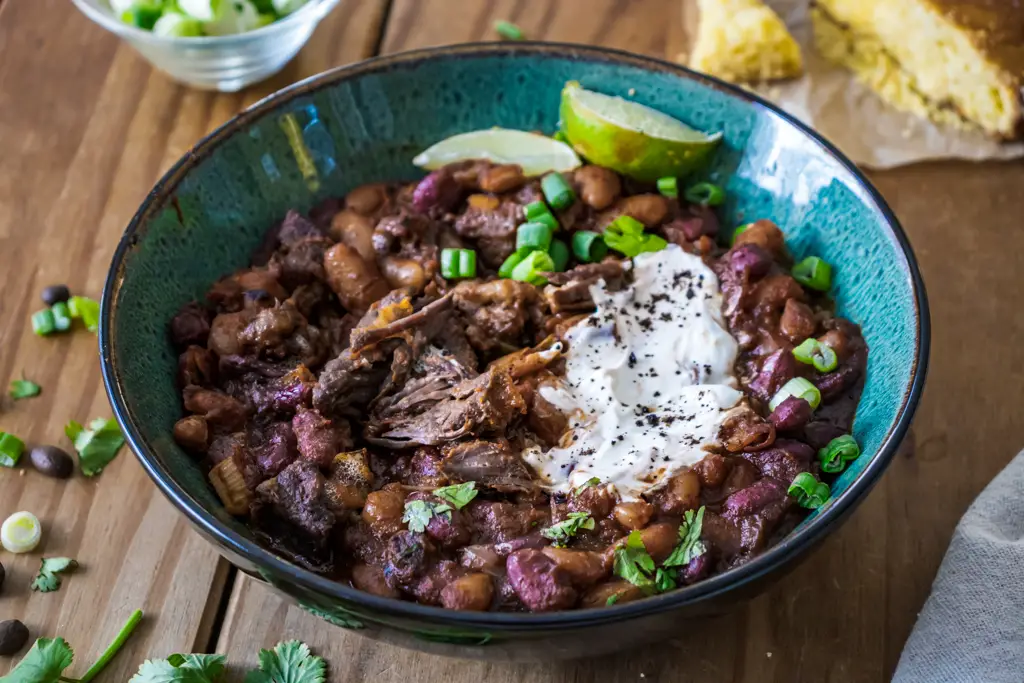 This isn't a quick recipe, but it's 1000% worth the wait.  Good things take time, so don't rush the process. Not with short ribs ever. I start by soaking dried beans overnight and trimming and salting the short ribs.
This chili works with either bone-in or boneless short ribs . . . which is only a partial lie.  The last time I made a pot of this, I accidentally bought bone-on short ribs when I meant to buy boneless. I honestly think I was just so excited that I beat the short rib rush.
Anyways, slow cooking the bones in the chili WORKS. Like that bone marrow flavor added to the base is everything.  At this point, I might even recommend bone-in ribs.
"Good things take time, so don't rush the process."
The beans are pre-boiled in seasoned water and the water is added to the chili base. I borrowed this technique from a Food52 recipe and it makes all the difference. I think canned beans will work in a pinch.  You won't have any reserved seasoned water to add to the chili base, but you can use water or broth instead.
 For heat, I use poblano peppers in two forms — fresh poblano peppers and a chopped dried ancho chile.  You can omit for no heat and replace the fresh pepper with some green bell pepper.
The chili is tomato-based with additions of coffee, beer, seasoned water and cocoa powder.  And the beans and short ribs are slow cooked for approximately 3 hours until tender.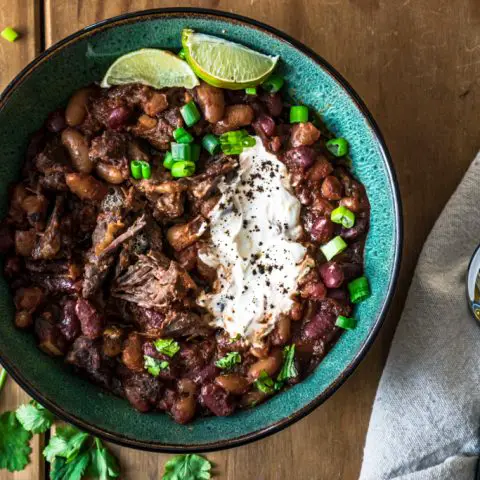 Short Rib Chili
Additional Time:
12 hours
Total Time:
15 hours
30 minutes
I feel like we all already know all of the wonderful things about chili. Right? But when you add short ribs instead of ground beef and coffee and beer AND cocoa powder and you've got next level chili. This one right here is THAT chili. You are so very welcome.
Ingredients
2 cups dried kidney beans and/or cannellini beans
1-2 pounds boneless short ribs, trimmed and cut into chunks
1 bay leaf
Vegetable or another neutral oil
1 yellow onion, chopped
1-2 green bell OR several poblano peppers, sliced and chopped into ½ inch pieces
3 cloves garlic, minced
1 dried ancho chile, stemmed, seeded and chopped (optional, omit if you don't want the heat)
1 tablespoon cumin
1 tablespoon coriander
1 tablespoon tomato paste
2 cups canned diced tomatoes
¾ cup stout beer
½ cup strongly brewed coffee
3 tablespoons brown sugar
1 teaspoon cocoa powder
Kosher salt, to taste
Instructions
The day before: Soak the beans for at least 8 hours or overnight changing out the water out 2-3 times.  Trim and salt short ribs and store in the refrigerator for at least 12 hours.
When ready to cook: Add drained beans and a bay leaf to a large saucepan with 3 cups of water – boil for about 5 minutes.  Discard the bay leaf and remove the beans from
the water but RESERVE the seasoned water. Set aside.
Cut the short ribs into ½ to 1-inch chunks.  Add a small out of oil to a dutch oven and sear the short ribs for about 2-4 minutes on medium high heat. If you accidentally bought bone-in short ribs (like I once did) – see my notes below. Transfer the short ribs to a plate and set aside.
You probably won't need to add more oil at this point. Lower heat to medium and sauté onions, peppers, and garlic until they begin to soften. Season with cumin and coriander, stir continuously for another minute.  Add tomato paste and diced tomatoes and bring to a simmer for several minutes to get rid of any metallic-ey taste. For heat, toss in the chopped ancho chile.
While simmering, stir in stout, coffee, 2 cups of the reserved seasoned water, sugar, cocoa powder, and salt.  Toss in the drained beans and add short rib chunks back to pot tucking them into the liquid.  Slow cook on top of stove or in the oven at 325 degrees F for about 3 hours until the ribs are tender and the beans are fully cooked.  Garnish with any combination of all of the delicious things like cheese, sour cream, cilantro, scallions, red onion, chopped poblano or jalapeno peppers, avocado, tortilla chips, and wedges of lime.


Notes
If you don't have as much time, skip the soaking of the beans and use about one and a half 15 oz. cans of kidney beans. Since you won't have any seasoned water from pre-boiling the beans. Use water or broth instead of reserved water.
If you accidentally bought bone-in short ribs or if bone-in short ribs are just what you have on hand, You're in for a treat and all of the added bone marrow flavor:

In Step 3, cut the bone away from the meat and then cut the short ribs into chunks. DON'T discard the bone. This is the good part.

In Step 4, sear the bones along with the chunks (they will be cooked in the chili for added flavor). 

In Step 5, add the short rib bones back into the pot along with the meat and cook as you would.

The bones are great indicators for doneness. You'll know when the chili is done when all meat has fallen completely away from the bones. Remove them before serving.