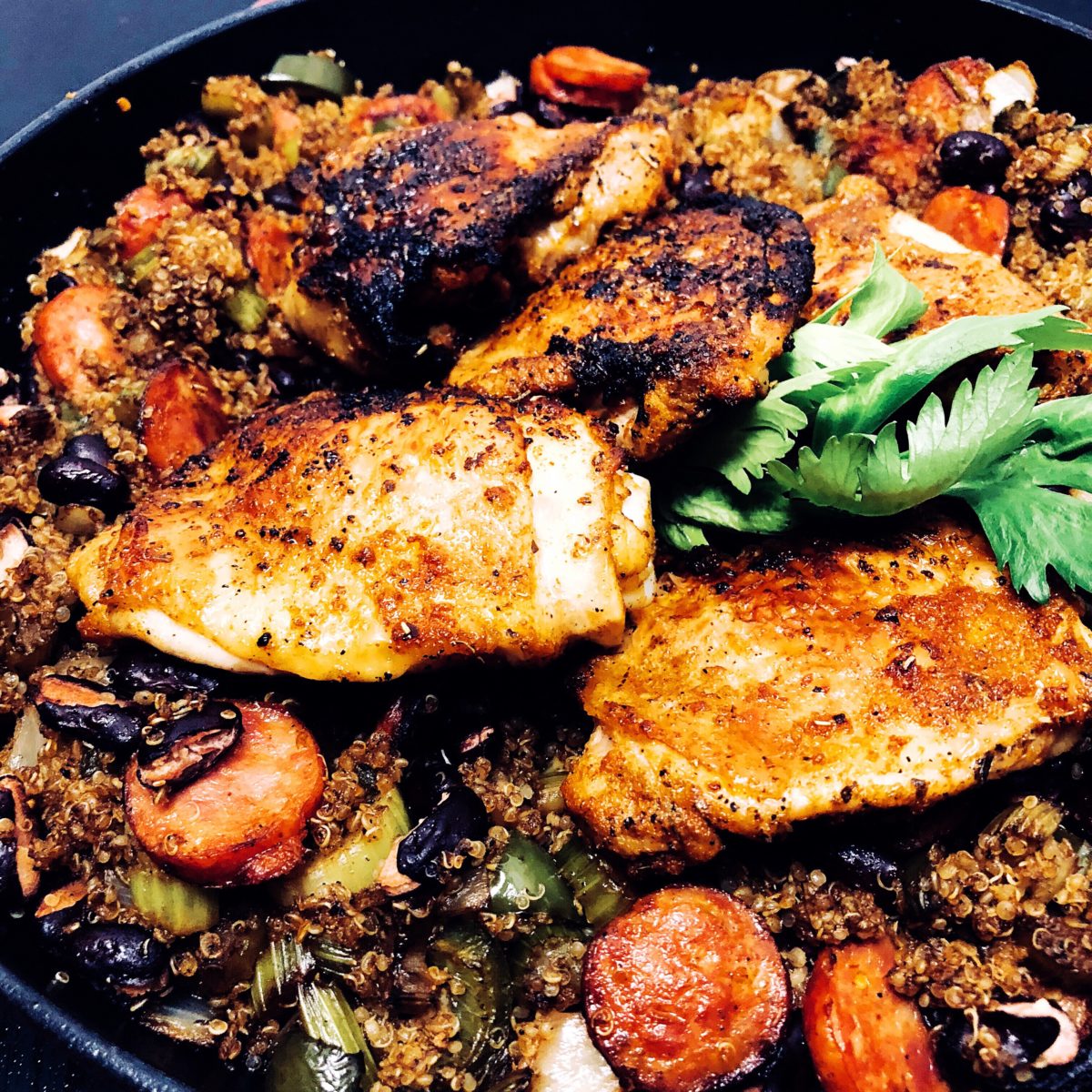 It's LIT. And by it, I mean my mouth. My taste buds are literally on fire from just thinking about the andouille sausage + jalapenos + red pepper all in one pan. Brace yourself. I came up with this recipe on a whim. Probably because I have been craving a trip to New Orleans, especially with Mardi Gras approaching. I've never been and I'd love to take a long weekend in the city and just eat myself to death. No shame here.
I'm actually in love with this recipe. If you follow me on Instagram (or have scrolled through some of my recipes), you'll know that I love love love cast iron cooking. Tell me the cast iron skillet isn't the best culinary creation to bless this earth. I'll wait.
Dirty Quinoa is a stovetop to oven recipe. We cook pretty much everything on the stove, but we finish it in the oven and let the flavors of the chicken, andouille and peppers sink into the quinoa. The quinoa is cooked with half water and half chicken broth, and some seasonings. Afterwards, you basically just brown the meats. I used fully cooked (smoked) andouille sausage, but I still cooked it on the stove for a minute to give it a nice char. The chicken is seasoned and slowly cooked about 75 percent through on top of the stove. From there, everything is pretty much a straight sautéed shot to the oven.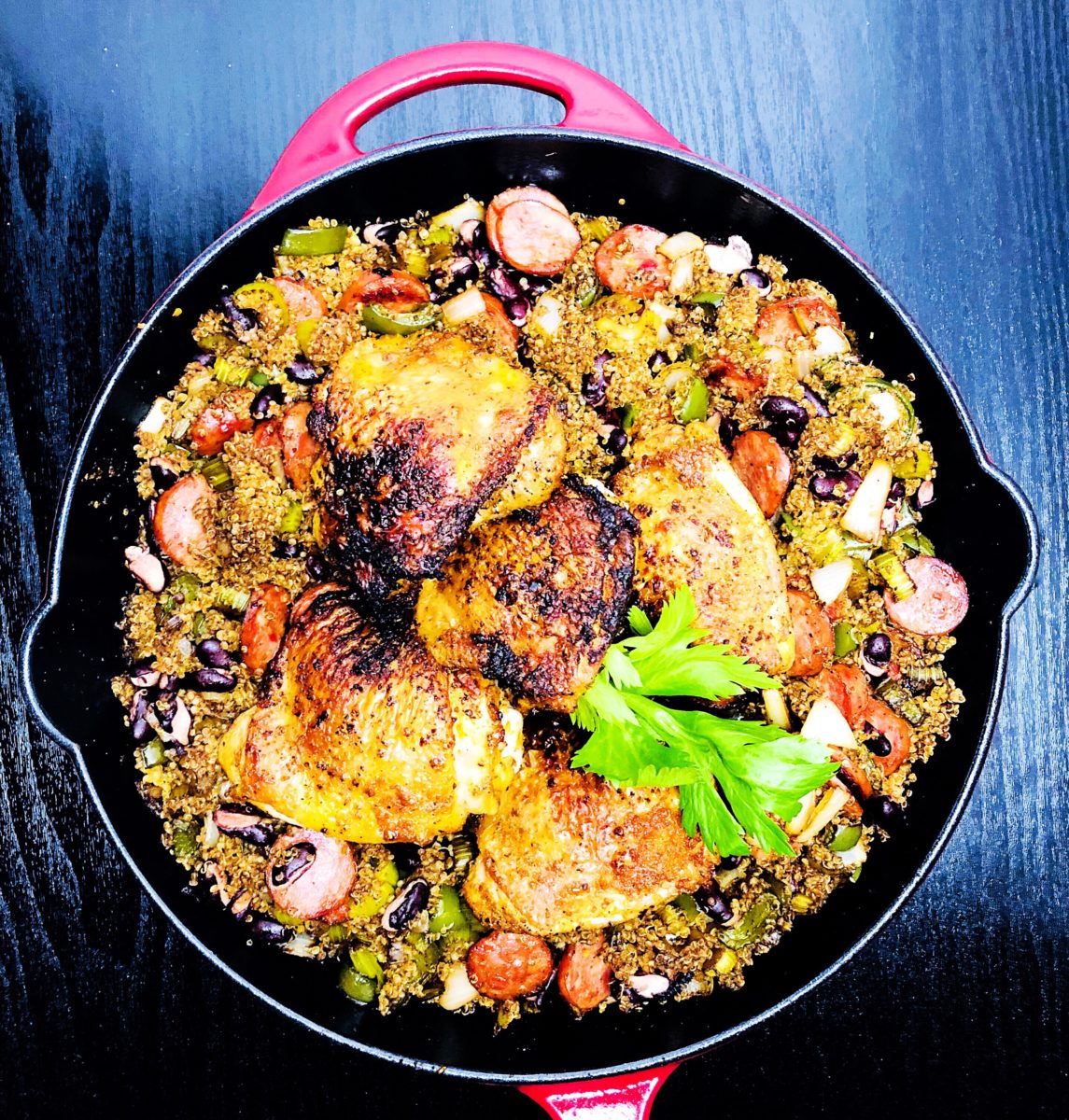 "Dirty Quinoa" & Red Beans with Chicken & Andouille Sausage
Ingredients
For Seasoning the Chicken:
1 ½ tsp salt
2 teaspoon garlic powder
2 teaspoon onion powder
½ tablespoon smoked paprika
½ teaspoon freshly ground pepper
1 ½ teaspoon dried oregano (or Italian seasoning)
juice of half a lemon
½ tablespoon olive oil
–
For the Dirty Rice and Sausage:
4 bone-in, skin on chicken thighs
1 cup chicken broth, plus ¼ cup reserved
½ tablespoon olive oil
1 teaspoon garlic power
1 teaspoon onion powder
1 cup quinoa
2-3 links of andouille sausage, cut into ¼ inch slices (I used smoked sausage already fully cooked)
3 celery stalks, diced
3 jalepeno peppers, diced (and seeded if you want a less spicy flavor)
1 medium yellow onion, diced
red pepper flakes
a pinch of kosher salt
1 15.5 oz can of dark kidney beans
sliced scallions for garnish
Directions
Step 1

Combine all seasonings for the chicken in a small bowl. Place the chicken thighs in a large glass bowl and coat with lemon juice and olive oil. Rub chicken with seasoning mixture, and set aside.

Step 2

Make quinoa: bring 1 cup of water and 1 cup of chicken broth to a boil. Add olive oil, garlic powder, onion powder, and quinoa. Reduce heat to low and cover. Simmer for about 15 minutes. Turn heat off and let steam for another 5 minutes.

Step 3

Preheat oven to 375 degrees. In a large cast iron skillet, brown sausage and transfer to a plate. Leaving any grease from the sausage in the pan, add chicken thighs and sear on both sides for 3-4 minutes on medium heat. Chicken should have a nice crispy skin, but only cooked about 75% through. Transfer to a plate.

Step 4

Lower heat to medium and without rinsing the pan, sauté celery, peppers, and onions while scraping up any brown bits from the bottom. Add quinoa, ¼ cup of chicken broth, red pepper flakes, and a pinch of kosher salt. Mix in sausage and kidney beans. Top with chicken thighs and transfer cast iron to oven for about 25-30 minutes. Top with scallions before serving.