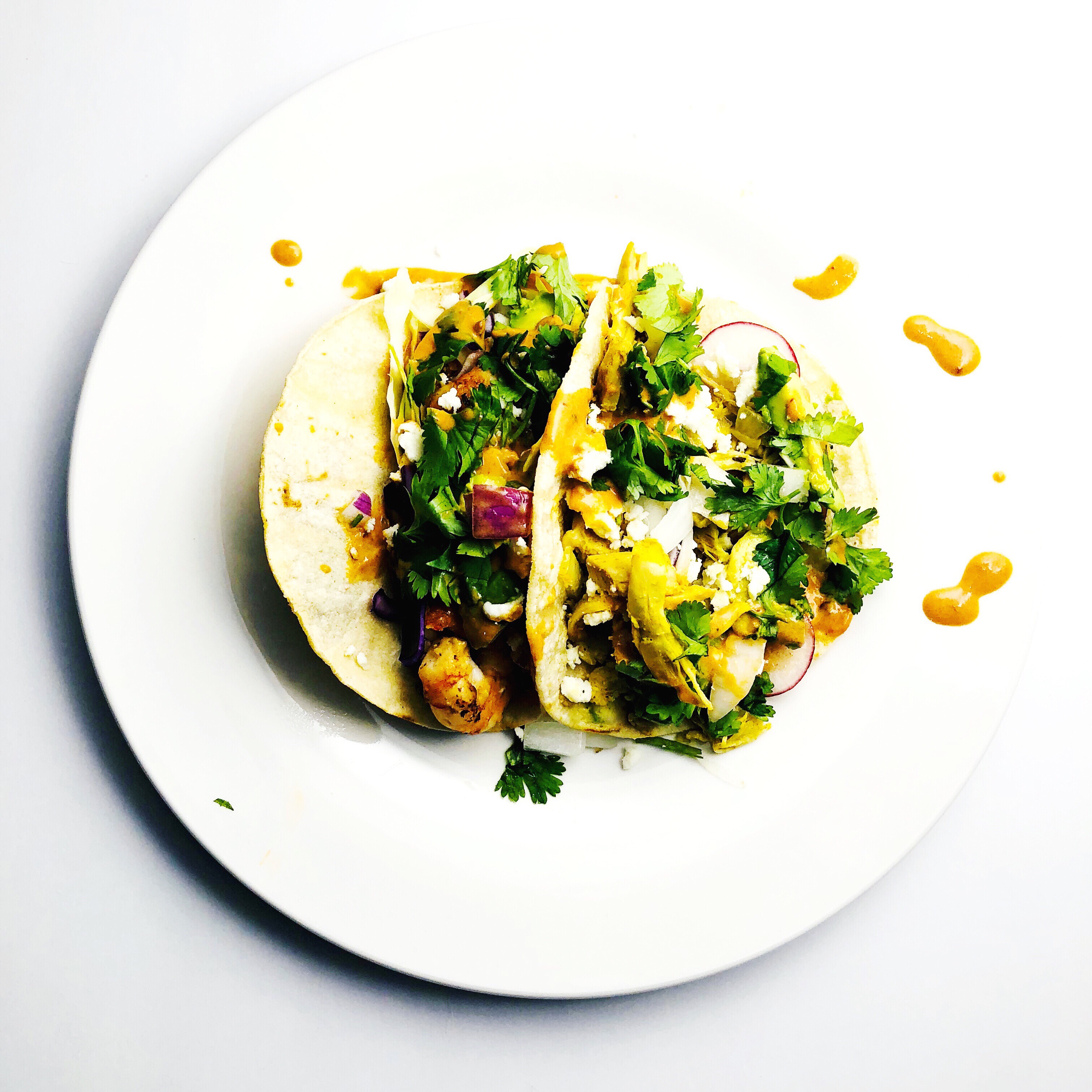 ---
street tacos with chipotle aioli.
---
for a chicken filling:
1 ½ pounds bone-in chicken thighs (about 4)
4 scallions, whole
½ yellow onion, peeled and quartered
4 cloves garlic, lightly crushed
2 bay leaves
3 sprigs thyme
1 tablespoon ground cumin
½ teaspoon, whole peppercorns
salt and pepper to taste
1 teaspoon vegetable oil
½ yellow onion, finely chopped
1 teaspoon cumin
¼ teaspoon turmeric
2 chipotle chiles in adobo sauce, chopped
¼ cup broth (from simmered chicken)
for a shrimp filling:
1 pound medium raw shrimp
2 teaspoons cumin
½ teaspoon garlic powder
juice of half a lime
salt and pepper to taste
for the chipotle aioli:
1 tablespoon mayonnaise
2 ½ tablespoons adobo sauce, from the can
juice of half a lime
assembly and additional toppings:
fresh corn tortillas
sliced avocado, radishes, onions and/or cabbage (purple or green)
fresh cilantro, chopped
crumbled cotija cheese
lime wedges
---
one.
make the chicken filling. put chicken thighs in a large pot and fill with water until chicken is completely covered. add scallions, onions, garlic, bay leaves, thyme, cumin, peppercorns, and salt. bring water to a boil and lower heat to maintain a rapid simmer. simmer for about 35-40 minutes.
---
two.
remove transfer cooked chicken to another dish. once cool, shred chicken off the bone with hands. reserve ¼ cup of the broth from the pot and set aside.
---
three.

put vegetable oil in a skillet over medium heat. add chopped other half of the onion, cumin, and turmeric and cook until onions are slightly browned. add chipotle chiles (optional, leave this step out if you're trying to control the heat!) add shredded chicken meat and reserved broth, and cook for about 2 minutes. Set aside.

---
four.
make the shrimp filling. add a spoonful of vegetable oil in a skillet over medium-high heat. allow skillet to fully heat up before cooking. place shrimp in the pan and season with cumin, garlic powder, salt and pepper. Cook on medium to medium-high heat for about 2-3 minutes on one side until pink. squeeze lime juice over shrimp and finish cooking for about 2 minutes on the other side.
---
five.
make the chipotle aioli. in a small bowl, combine mayonnaise, adobo sauce, and lime juice.
---
six.
assemble. heat each corn tortilla, as preferred. I use a cast-iron pan on medium heat. once the tortillas are heated, fill each tortilla (double if needed) with meat, additional toppings, and chipotle aioli. serve with fresh lime wedges.
---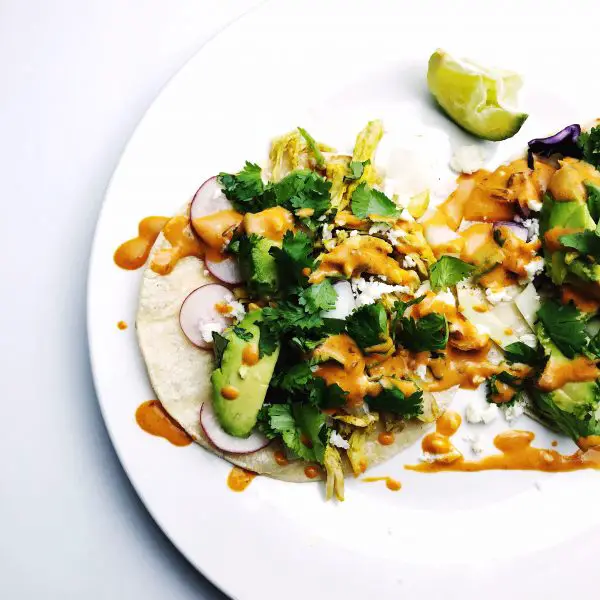 ---